The resignation of attorney general Jeff Sessions this week highlighted fears his replacement, Matthew Whitaker, could imperil special counsel Robert Mueller's investigation into possible collusion between Donald Trump's 2016 election campaign and Russian operatives.
After Sessions recused himself from the investigation last year, deputy attorney general Rod Rosenstein had oversight of Mueller's investigation. But with Sessions out, Whitaker, who has openly voiced criticism of the Russia probe, including calling Mueller's appointment "a little fishy," could take over that authority.
MoveOn and other activist groups organized #ProtectMueller and "Nobody is Above the Law" protests around the country, kicking off at 5pm local time in each city on Thursday (Nov. 8). They're calling for Whitaker to recuse himself, like Sessions did after it was revealed he had two meetings with Russia's US ambassador he didn't disclosed during his confirmation hearings.
In New York City, a protest began in Union Square and made its way to Times Square…
… in Washington, DC people made their way towards the White House…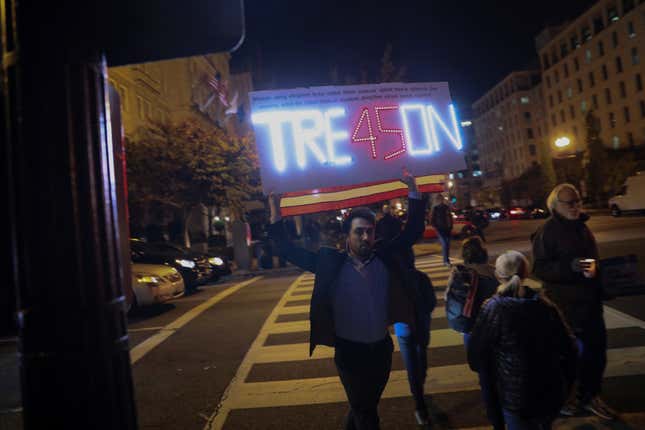 … and in Los Angeles, lovers of puns and Harry Potter fans were out to resist dark forces.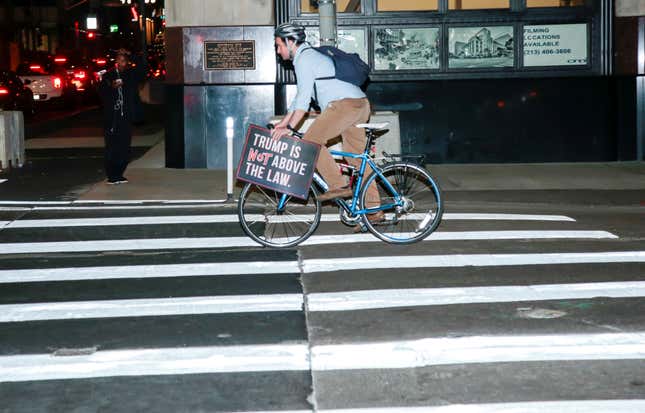 Protesters also gathered in Chicago…
… Juneau, Alaska…
… Valparaiso, Indiana…
… Hickory, North Carolina…
… and Seattle, Washington.
As many as 400,000 people signed up for at least 900 protests, according to MoveOn, but it's unclear how many turned out across the country.
The backlash against Whitaker's appointment as acting attorney general is also reportedly causing disquiet among some members of the Trump administration itself.