No one was ever truly ready for M-Pesa's incredible success—not even Safaricom, the Kenyan telecom operator that launched the mobile money service in March 2007.
Created as a simple tool for texting small payments between users, the service registered a million customers in its first year, well ahead of the expected 350,000 users. M-Pesa ("Pesa" means "money" in Swahili) proved disruptive because it married the functions of telecommunications services with those offered by banks, credit, and microfinance institutions. It also proved to be an innovative payment service for the unbanked who, living far from formal banking outlets or any financial infrastructure, routinely faced challenges to their physical and financial security.
A decade later, the mobile money system has become the pride and anchor of Kenya's homegrown tech community. With almost 24 million subscribers, 160,000 agents, and more than 6 billion transactions annually, M-Pesa has become crucial to Kenya's economy. Besides sending and receiving money, M-Pesa has become the most common way to pay household bills and salaries, distribute pension payments, and disburse small microloans. The service has also been lauded for reducing poverty, encouraging a savings culture, and helping families weather financial storms.
Yet M-Pesa's dominance is now being tested as mobile financial services take hold not only in Kenya but across Africa. Banks with large customer bases like Kenya's Equity Bank are striking deals with operators like Indian-owned Bharti Airtel to target mobile banking customers. Fintech startups like PesaPal are also plugging gaps by building systems that benefit smaller and more informal businesses. And despite M-Pesa's market penetration when it comes to peer-to-peer payments, the platform has yet to beat cash in retail payments, all while credit and debit cards witness a significant growth.
Safaricom is responding to these challenges by developing an ecosystem that favors M-Pesa as a de facto payment system for other services. By building this proprietary infrastructure, the aim is to not only make the payment service indispensable to customers, but also yield a consistent experience on a daily basis.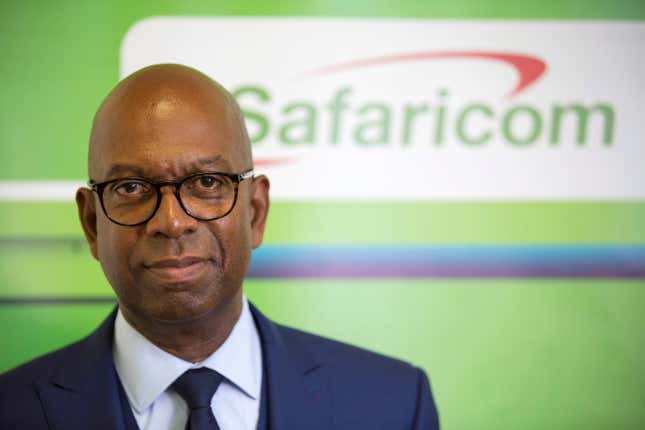 Over the last few years, Safaricom opened up M-Pesa's application programming interface or API, making it easy to integrate it with mainstream financial transactions. Additionally, the company launched the ride-hailing service Little, e-commerce platform Masoko, the music streaming service Songa, and a home internet plan: all services that integrate with the mobile wallet. Subscribers can also use M-Pesa as a money-saving platform, purchase train tickets, and buy electricity on credit.
Last year, the operator also launched the innovation lab Alpha which created a WeChat-like app that integrated M-Pesa into a messaging service known as Bonga. And in a bid to widen M-Pesa's network, Safaricom has made deals this year with worldwide payments systems like Western Union and PayPal besides the digital distribution service Google Play.
The effort to broaden M-Pesa's application is reminiscent of US tech companies' endeavors to entrench themselves at every touchpoint. Adding "layers of value" to M-Pesa, Kenyan technology analyst Moses Kemibaro says, will help Safaricom transcend the traditional telcos business. "It becomes very very difficult to dislodge a competitor of that nature," Kemibaro says.
Yet not all M-Pesa-linked tryouts have been successful. Last year, the operator launched M-Pesa 1-Tap, with the aim of reducing the number of steps required by customers to make a payment. Its performance has so far been disappointing with users reporting major hiccups.
Yet Safaricom knows what it can't achieve at home with M-Pesa, it could hopefully attain abroad. The mobile operator is already mulling over establishing the service in Ethiopia, where the country's more than 100 million inhabitants would significantly boost its network. This is, of course, in the hope that it overcomes challenges with traditional lenders and regulators who have stifled the launch of mobile money services in the past.
The hype around M-Pesa has been great, but Safaricom's own chief executive Bob Collymore once described the technology as "clumsy." As traditional services like voice and SMS slow or shrink, Kemibaro says officials at Safaricom know they have to innovate around M-Pesa or die. "Disruption happens when you least expect it because the thing that disrupts you looks like a toy when it arrives," he says, "and you don't take it seriously and then it's too late for you to respond."