Kenya mobile network operator Safaricom is launching a platform that will allow its customers to send and receive money while they chat. The move is set to reinforce the dominance of the world's mobile money transfer service M-Pesa, advance its ambition to become an innovative global business, while also facilitating a further connection between tens of millions of subscribers.
The messaging service, known as Bonga (which means "to chat" in colloquial Swahili), was partially-launched on April 26, in closed beta testing for select users on Android devices, according to documents seen by Quartz. The app will allow users to review their balance on M-Pesa, besides letting customers transact money without leaving the platform. The service was first conceived of in August 2017 and was produced by the company's innovation arm Alpha, which was established last year to leverage M-Pesa to drive financial inclusion.
The Bonga chat service is not to be confused with Safaricom's Bonga Points service, which allows customers to accumulate and redeem free talk-time, data or SMS every time they pay for services.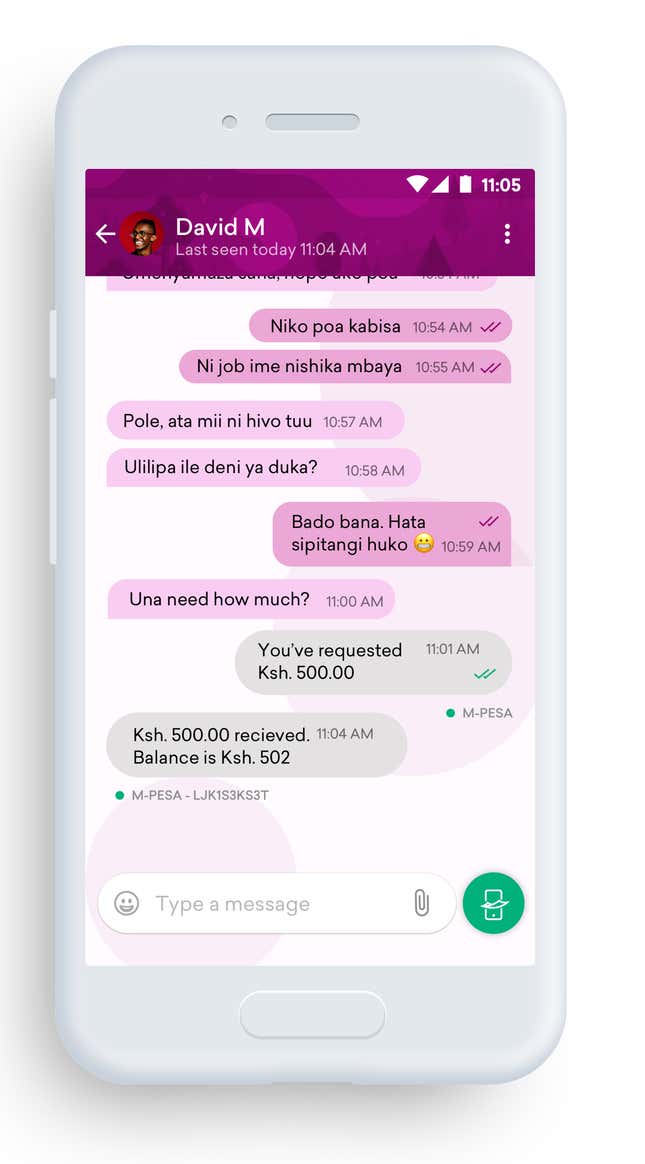 The release of Bonga also positions Safaricom as a social networking site, allowing its near-30 million subscribers to not only send direct messages on a singular free platform but it will also help them conduct business meetings and enhance their commercial experience. Users will have access to a special M-Pesa button that will allow them to send and request money.
The integration of M-Pesa into a chat service underscores how technological innovation has become a central feature of the mobile money story. When M-Pesa was established in 2007, it kickstarted a mobile money revolution beyond Kenya's borders, leading to its adoption in 10 countries across Africa, Europe, and Asia.
Kenya's government holds a 35% share in Safaricom which is majority-owned by the UK's Vodafone Group. But as adoption rates peaked, officials recognized the "clumsy" and "far from elegant" nature of the service, saying it was time to plug the e-wallet system into third-party, innovative applications.
Over the last two years, through in-house development or partnerships, Safaricom has tried to diversify its products to help widen its mobile and fintech network and attract more users. The company launched Little Cab to compete with ride-hailing services like Uber, partnered with pay-as-you solar-power lighting company M-Kopa, established the e-commerce platform Masoko and music streaming service Songa, and enabled users in Kenya to purchase apps on Google Play via M-Pesa. This month, it partnered with PayPal to allow Kenyan entrepreneurs to trade on global marketplaces through their mobile wallets.
Safaricom's recent efforts are similar to moves undertaken by popular apps like WhatsApp, who have introduced a standalone business app in Kenya, Nigeria, and South Africa to help connect customers and businesses faster. The move to deepen M-Pesa's integration into a chat service follows on the footsteps of all-in-one communications platforms like China's WeChat, which integrates messaging with access to social media, call services, digital payments, besides boosting e-commerce.
The move to expand and innovate around M-Pesa's network comes amid concerns from regulators over its market dominion in Kenya. In February, the global consulting firm Analysys Mason reversed an earlier recommendation to the Kenyan government to split Safaricom's voice and data services from M-Pesa. Smaller competitors like Airtel and Telkom have in the past insisted that Safaricom's dominance was anti-competitive.
However, the recent introduction of wallet-to-wallet interoperability in Kenya is set to deepen the various networks' platforms and grant more users the ability to move money seamlessly. But given Safaricom's hegemony in the market, this move could even help expand M-Pesa and Bonga's pan-African and global success.