One part movies; one part original programming; one part bundle. WarnerMedia's recipe to take on Netflix is starting to come together.
The AT&T-owned media company revealed more details about its upcoming on-demand subscription video service that will compete with streaming giants like Netflix and Amazon, during a meeting with analysts on Nov. 29. The company also gave a glimpse of what AT&T's streaming platforms may look like beyond next year, when the new service is expected to launch.
The WarnerMedia subscription service, set to be released as a beta test during the fourth quarter of 2019, will have three tiers, John Stankey, CEO of WarnerMedia, said at the meeting. The first, and cheapest, will have movies. The second will have original series and movies, as well as some big theatrical releases. (Which sounds rather like WarnerMedia's existing HBO Now service.) The third will bundle the first two offerings, and have a library of other WarnerMedia stuff, like classics, comedies, kids and family programming, and a larger collection of films.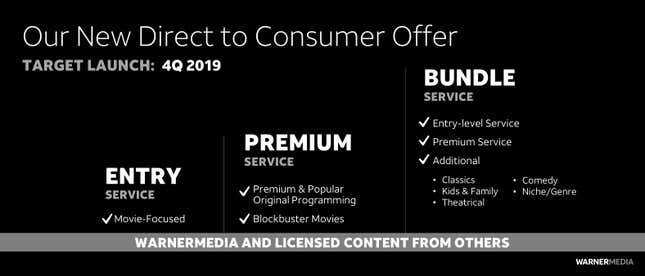 The company plans to license content from other studios for all three tiers, as well. But Stankey said he thinks the robust collection of rights that WarnerMedia already controls, like HBO's Game of Thrones, Warner Bros. films like Wonder Woman and the Harry Potter movies, and TV shows like Friends, will give it an edge over the big streaming players like Netflix that still rely on licensing some content from other studios. Media companies like Disney are starting to pull content from outside platforms as the existing rights deals expire, and the companies prepare to launch rival streaming video services. WarnerMedia might, too.
"Some of the incumbents that are in that space today should expect that their libraries are going to get a lot thinner as we get out 18 to 24 months in the number of hours that they have available for their consumers," Stankey said, whose Warner Bros. TV division currently licenses Friends and other TV shows to Netflix. "Their pressure is they've got to make this pivot… to get people off of viewing the license content that maybe sits in our library or sits in a Disney-Fox library and get it onto their own."
Netflix has been preparing for this by producing and releasing more originals that are exclusive to its platform.
WarnerMedia is also toying with the idea of an ad-supported streaming service, Stankey said, although he didn't reveal many details. "It's not just subscription, it's going to be subscription and advertising," he said, adding that advertising would allow the company to offer more content at a better price. It would also take advantage of what Xandr, WarnerMedia's sister company, is doing with its ad platform. The advertising and technology company is trying to use the full breadth of AT&T's data and distribution services, from its wireless, broadband, TV, and entertainment businesses, to better target people with ads across all of their screens.
Eventually, Stankey expects all of AT&T's streaming services, including live TV packages, like DirecTV Now, to converge into one platform. Stankey said that a lot of the fragmentation in streaming video right now—with different platforms for live TV, on-demand video, niche, genre programming, and ad-supported video—stems from companies trying to figure out what people want and are willing to pay for as they move away from traditional TV. In the next three years or so, he predicts that a lot of the big streaming companies will start to offer multiple services within the same platform. Stankey said AT&T is building the technology for its separate platforms—for live TV services, on-demand video, and ad-supported video—to be able to come together down the line.
"A customer may choose to buy some or all of what you put on that platform, but I think that's where things are going," Stankey said.
Want a better understanding WarnerMedia and its streaming rivals? Check out our guide to the streaming-TV wars.