Australian newspapers are in trouble, struggling with the same transition from print to digital that triggered waves of reorganizations in the US and the UK. The latest ABCs made for grim reading. Redundancies have been made at Rupert Murdoch's dominant News Limited, while the wobbling Fairfax empire has witnessed several unsuccessful restructures.
Who can blame the papers, then, for making the most of the current Ashes series, which began in Brisbane this week? The series—which comprises games in five of Australia's biggest cities over the next six weeks—is a boon for local media. For a week each, the local newspaper coverage is the center of the nation's attention.
This fact has not been lost on Brisbane's Courier-Mail, which has tied its coverage to a highly personal campaign against England fast bowler Stuart Broad. The paper decided in advance of the Brisbane Test to impose a ban on references to Broad by name, describing instead "a 27-year-old English medium pace bowler," and to remove all images of his face. Broad became highly unpopular in Australia during the previous Ashes series, held in England in July and August, for failing to walk from the wicket after hitting a ball to a fielder. The umpire missed it and England went on to win a very tight match. England fans might add that Australia has another, very legitimate reason to boo Broad: it was he who bowled England to a series win in 2009.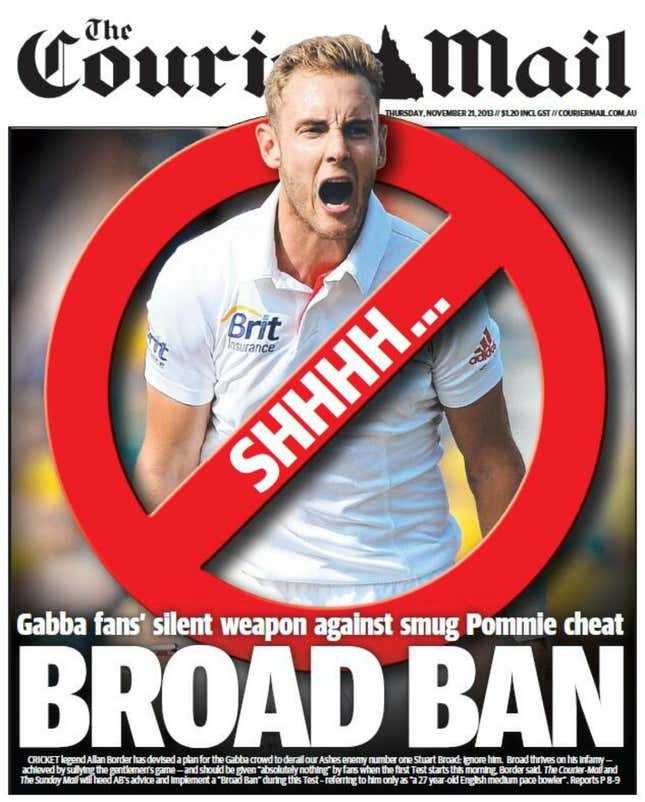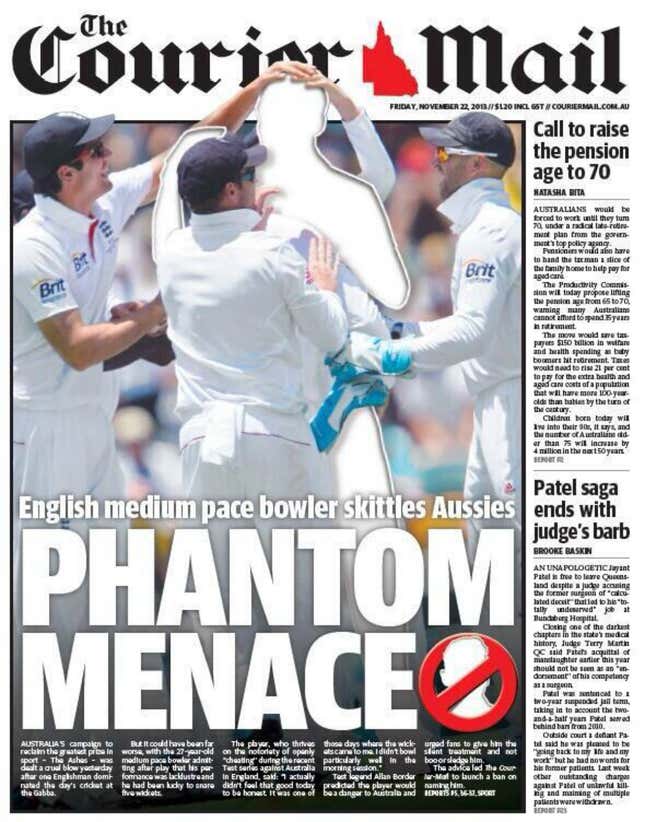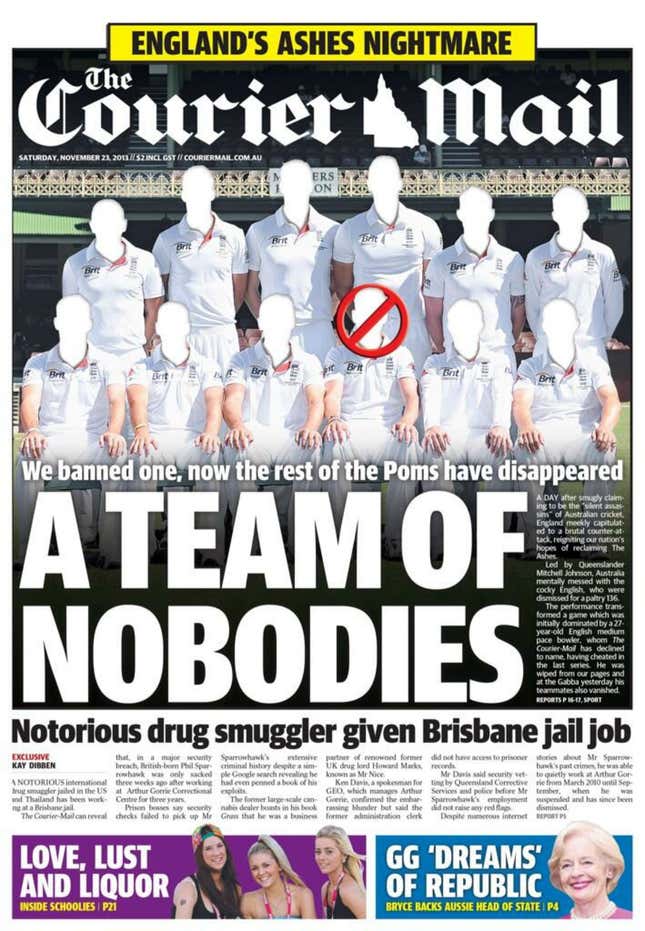 The campaign has attracted criticism from both sides, with Australian journalist Dan Liebke lambasting its "teenage girl sullenness" and Alec Swann, the brother of England spinner Graeme (and a sportswriter on the Northamptonshire Telegraph), describing it as "immature" and "petty and daft." The editor of the Courier-Mail, Chris Dore, would doubtless agree. But the campaign has also given the paper a raft of free publicity and produced a series of superb covers, the latest of which succinctly shows the failure of the entire England team on the second day of the match.
Ironically, the one man who has risen above it all is Broad himself, who has amassed six wickets and 32 runs so far in the match. He also carried a copy of the newspaper into a press conference with him, mindful of the fact that if there is one thing Australians cannot stand, it is an Englishman with a sense of humor.
After two days of the Ashes, it is advantage Brisbane, and advantage Broad.