US military veteran Brian Kolfage, who has so far raised $20 million for Donald Trump's border wall with #FundTheWall GoFundMe campaign, said Friday (Jan. 11) that he plans to shift the money he raised for the border wall into a non-profit company. The federal government "won't be able to accept our donations any time soon," Kolfage wrote on the campaign's page. "We are better equipped than our own government to use the donated funds to build an actual wall on the southern border," he wrote.
The new non-profit, We Build the Wall, includes outgoing Kansas Secretary of State Kris Kobach and private security company founder Erik Prince as board members, Kolfage said. But a GoFundMe spokesman told The Hill it would refund all donor money because the destination had changed.
The shift echoes the transformation another politically charged crowdfunding effort that Kolfage said he was involved with: an unasked for, and ethically murky GoFundMe campaign for the family of Donald Trump's Supreme Court choice Brett Kavanaugh. That campaign raised over $600,000. However about $160,000 of it never reached its final destination.
The Kavanaugh campaign was started in late September of 2018 by John Hawkins, founder of a conservative news site called Right Wing News, which was banned from Facebook for spreading fake news; Kolfage helped raise the money for it too, he told Fox News and Quartz. Hawkins, however, told Quartz that Kolfage's "was not part of the fundraising" for the Kavanaugh campaign.
The campaign ran for about a month, and raised over $600,000 "for Brett Kavanaugh's family to use for security or however they see fit," as the GoFundMe page explained; much of it came in donations of $25 or under. However, Kavanaugh refused to accept money, because judicial ethics guidelines prohibit him from doing so, Hawkins told donors. So Hawkins decided to donate the money to the Roman Catholic Archdiocese of Washington DC, he wrote on the GoFundMe campaign page on Oct. 30. Donors had a week to withdraw their funds, he wrote then.
Some people did, and the campaign ultimately closed with a total of $488,375 raised from 11,232 donors, according to its current page: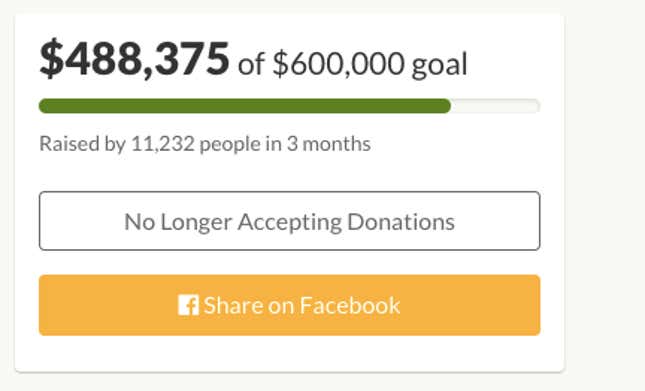 Yet about $160,000 of the money raised by the Kavanaugh campaign has never reached its intended destination. More than two months after the campaign closed, the Archdiocese had received only a portion of the total amount raised. In an email to Quartz on Dec. 21, a spokesperson for the Archdiocese said:
To date, the Archdiocese of Washington has received approximately $322,600 from the Brett Kavanaugh GoFundMe campaign. As the archdiocese has disclosed previously, the funds will be used to support education scholarships and youth activities and sports.
That portion is being held by GoFundMe in case the people who donated it want their money back, Hawkins told Quartz. GoFundMe didn't answer multiple requests for comment from Quartz. When asked about the discrepancy, Kolfage told Quartz that he just helped raise money, but was not involved in its delivery, and that Hawkins said the donation had been made.
Hawkins said he, too, was not ultimately involved in the delivery, and that the missing amount is in GoFundMe's hands, which negotiated directly with the Archdiocese. In an email to Quartz, he wrote:
Per GoFundMe, $322,676.71 has been sent to the Archdiocese and the rest is being held to cover potential refunds & chargebacks. GoFundMe and the Archdiocese negotiated the amount for GoFundMe to hang onto until February without me being involved.
GoFundMe didn't respond to multiple requests for comment; the Archdiocese didn't respond to any requests for additional information.