A lot of men who shop at Lululemon got their introduction to the brand through a woman. They were boyfriends or husbands who tagged along on a shopping trip, or a woman may have just gone ahead and bought them something herself.
"About 40 percent of our men's product sales today are to women," says Stuart Haselden, Lululemon's COO. "It's an important catalyst for our men's business, and has been in building it to where it is today."
The brand built on premium women's yoga pants is now working hard to get men to think of it as a shopping destination for them, too. Its men's business is still "a bit of a secret," Haselden says, even though Lululemon made its first big effort to develop key men's styles about four years ago. A couple years back, it developed a complete strategy to target men that is currently paying off as sales to guys ramp up. It's now ahead of schedule on its goal to reach $1 billion in men's sales—representing a quarter of its business—by 2020, and 30% of new customers it attracts are men. If that business can be called a secret, it's a successful one, particularly in a competitive market dominated by labels such as Nike and Under Armour.
Ironically, most men don't to seem to be using Lululemon's products for yoga. "The number one activity is running," Haselden says. After that comes "training," which includes everything from CrossFit to—yes—actual yoga. The company's top men's sellers include products for these sports, such as its sweat-wicking pace breaker shorts and its stretchy metal vent tech shirt with "anti-stink technology," which basically means the material's fibers have metallic silver bonded to the surface to keep odor-causing bacteria from growing.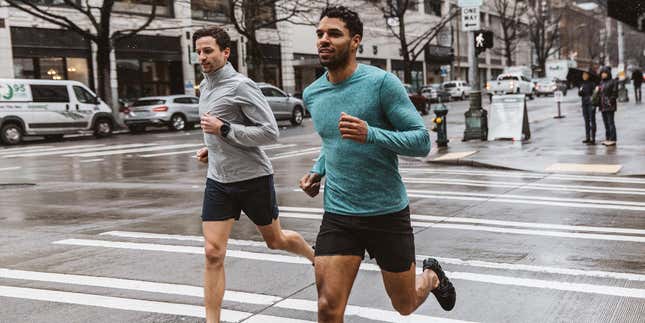 Even if men aren't flocking to Lululemon for yoga gear per se, the practice is central to the company's philosophy in making activewear, explains Ben Stubbington, Lululemon's senior vice president of men's design. "What that does [to] the mental and physical centers is really important to us," he says. "There's a lot of conversation around flow. We're not saying that everybody has to do yoga in that sense. It's finding that space and that thing that works for you and gives you that sense of flow and gives you a sense of meditation. That can be through cycling, that can be through running, that can be through CrossFit."
The designers try to make sure that the technical performance and feel of the clothing on the body—an obsession of Lululemon's—enable that flow. Running gear is lightweight and as quiet as possible to eliminate the sound of swishing fabric. Products for lifting weights, or anything where you might lie on a mat, are made with a heftier fabric to create a feeling of protection.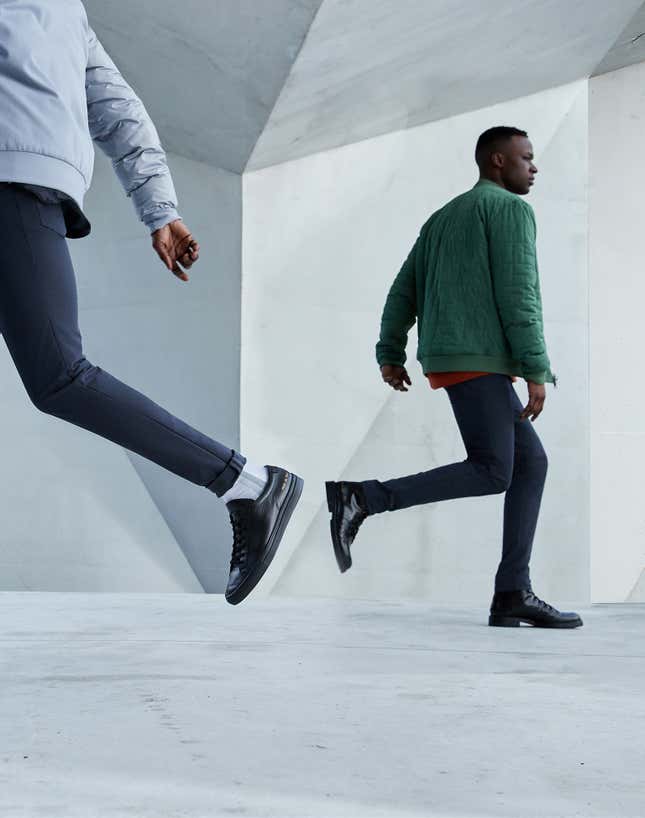 Guys are also buying clothes that they can wear on weekends or throughout the day, such as the ABC pant, another top seller that looks like a pair of five-pocket chinos made of tech fabric. The "ABC" stands, not so subtly, for anti-ball crushing. The crotch is constructed with a gusset to make for a roomier fit, which then tapers through the leg. Lululemon even sells office-appropriate, wicking button-ups cut to allow more movement in the arms, in case a guy wants to, say, bike to work in it. The company, Stubbington says, tries to create a "holistic wardrobe for a guy that's always on the move."
The brand's marketing to men has focused mostly on the technical advantages of the clothes, according to Haselden. But, he adds, "we also see an opportunity to build on the DNA of the company as rooted in yoga, to build on the notion of mindfulness and how that is gaining traction in the world, and certainly connecting that to performance."
There's certainly a growing audience to capitalize on. According to one estimate, the number of American men doing yoga rose from 4 million in 2012 to 10 million in 2016, outpacing the growth in women taking up the exercise (though far more women than men still do yoga). Though of course Lululemon isn't the only one that sees the money to be made. In December Nike revealed that it would be launching a men's yoga line for the first time.
Lululemon's big challenge, Haselden says, is building brand awareness with men, which it's doing through digital marketing and opportunities like its recent capsule collection for high-end men's retailer Mr. Porter. It marked the start of the site carrying Lululemon, which now sits on Mr. Porter's extensive brand list alongside names such as Prada and Gucci, as well as athletic brands including Adidas and Nike. Lululemon is also expanding the men's areas in many of its stores, in some cases as much as doubling its floor space. In instances where it has done that, Haselden says sales of men's products have risen 50% to 100%.
"We feel like we're just getting started in men's," he points out. "We see Lululemon growing into a dual-gender brand, and in time we will be known for more than just women's yoga pants."