The telltale sign of athleisure's rise in countries such as the US is the very visible spread of yoga pants and other stretchy leg coverings, which have migrated out of workout studios and into the streets (and sometimes offices).
Lululemon, the Canadian purveyor of yoga and other fitness gear, is one of the companies driving the phenomenon—and benefiting from it. Women's yoga pants are its core product, and the foundation from which it has successfully expanded into numerous other categories, including menswear, outerwear, accessories, and more. It's becoming a global activewear empire built on pants, and the business of bottoms continues to fuel its growth.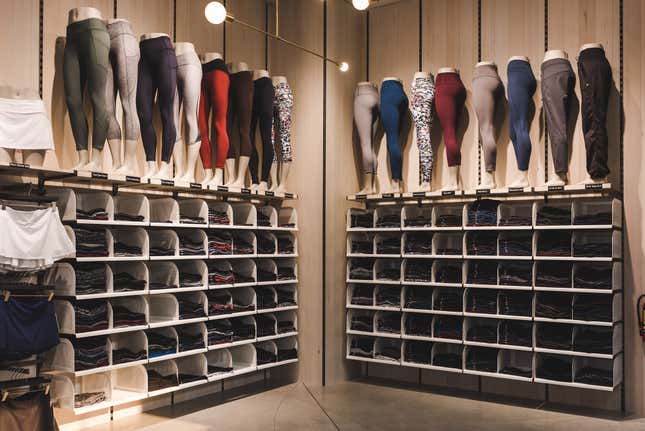 The secret to Lululemon's success with pants, it says, is how they feel. It has a research-and-development lab called Whitespace that devotes a good deal of time and energy to examining the human sense of touch. Dr. Tom Waller, the head and founder of Whitespace, is a little obsessed with the subject, and believes it has a significant effect on athletic performance.
Out of Whitespace's research have come products including pants that make you feel you're being embraced in a hug, and pants that Lululemon says feel like you're not wearing pants at all. That naked sensation is a selling point of the company's number-one women's pant style, called Align.
Men's needs aren't ignored either. It has a popular range it calls ABC, for "anti-ball crushing." They're constructed with a gusset in the crotch to make the top a bit roomier, and they're made of a sweat-wicking, four-way-stretch fabric. On a March 27 call with investors to discuss its latest earnings, the company said the ABC jogger is now its top pant style in its men's line, and it's scaling its ABC engineering to even more products.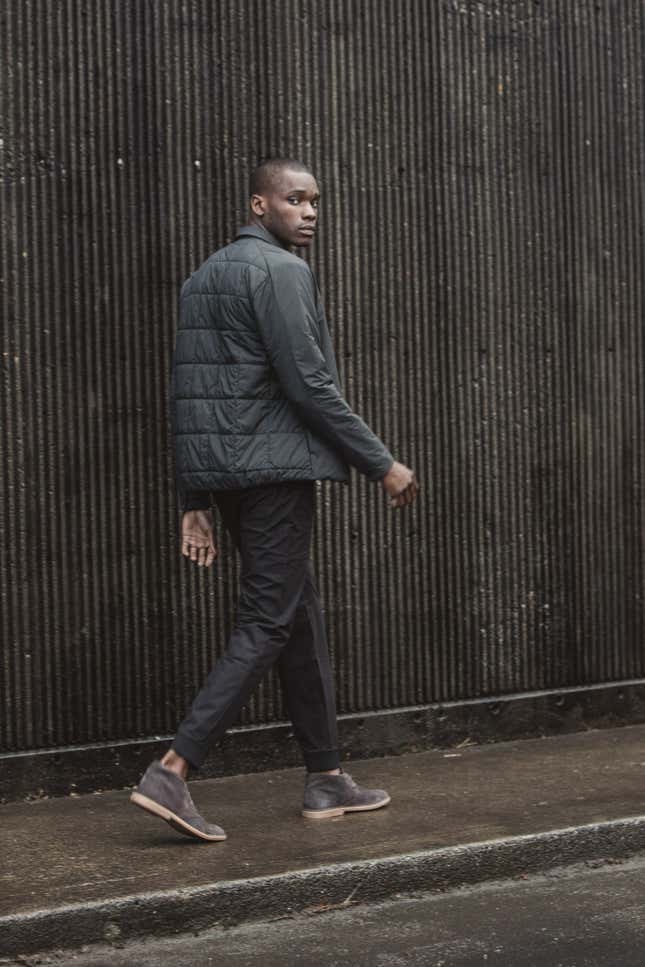 These pant innovations are paying off. Its recently ended quarter was its best in more than a year—undoubtedly a welcome relief after its CEO abruptly resigned last month after he "fell short" of Lululemon's standards of conduct. Overall sales grew 18%, reaching $928.8 million, propelled by Lululemon's thriving e-commerce and international businesses.
As far as which products sold well, women's tops and men's outerwear drew shoppers, but pants were the highlight. Sun Choe, Lululemon's senior vice president of global merchandising, said on the call that sales of women's pants grew 19% in the quarter, and sales of men's pants in stores that have been open at least a year grew 21%. The company is currently increasing the range of colors, patterns, and lengths it offers in some of the best-selling styles.
A pair of Lululemon pants doesn't come cheap. They routinely cost about $100 to $130, for both women and men. But the brand has hit on the mix of performance and fashion that a lot of shoppers are seeking today. Several of their bottoms, in fact, may not be designed for any specific sport or activity. Those top-selling men's joggers, for example, are mostly meant for casual use.
In the US, athleisure is starting to slow down, though it remains a driving force in clothing sales. But Lululemon doesn't show any signs of slowing. That has to feel pretty good.