Humans have been able to grow plants in the space—including zinnias, sunflowers and leafy greens on the International Space Station—but never on the Moon. Now China's trying to see if it can keep plants alive there, as part of its research efforts toward one day having a lunar base.
Cotton seeds that traveled to the Moon with China's spacecraft Chang'e-4 have sprouted, according to CGTN, the global arm of state broadcaster CCTV. The news came about two weeks after the lander and rover touched down on the Moon's far side to conduct a series of experiments including testing the sustainability of plant life, studying the celestial body's composition and history, and looking for clues to the universe's origins.
For the "mini lunar biosphere" experiment, southwestern China-based Chongqing University sent along a 7-inch-tall bucket-like tin with air, water, and soil that contains cotton, potato, and arabidopsis seeds—the latter is a plant in the mustard family—as well as fruit fly eggs and yeast. The team was originally planning to send silkworm cocoons at the time the project was revealed to the public in April but later opted for fruit flies instead, state media Guancha reported in December (link in Chinese). It's unclear why they swapped, but it could be that fruit fly is a better fit for a demanding growing environment.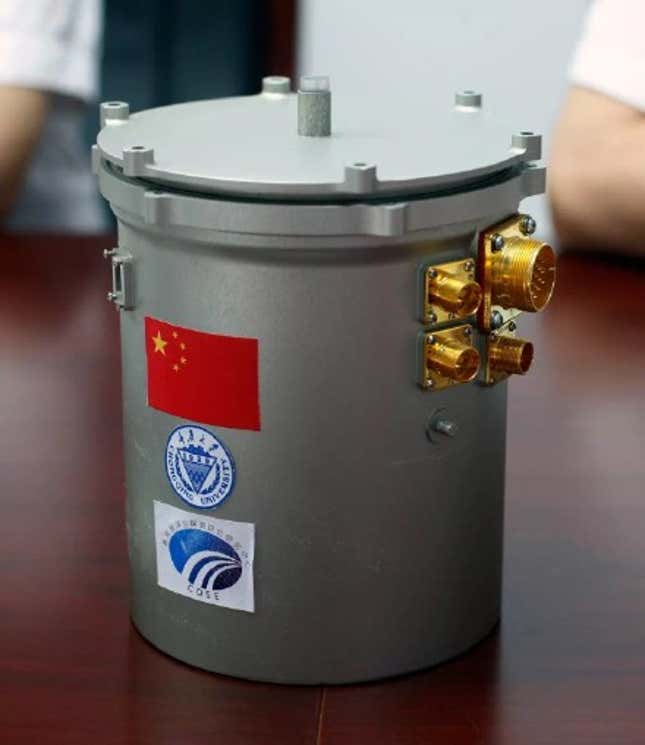 Scientists at Chongqing University explained earlier that a tube inside the tin will direct natural light from the moon for photosynthesis, while any plants that grow will emit oxygen, hopefully creating a little ecosystem. The team hopes to live broadcast (link in Chinese) the progress of the organisms. The Institute of Advanced Technology of Chongqing University, which is in charge of the experiment, couldn't be immediately reached for comment.
In 2013, NASA announced a plan to conduct a similar experiment to study how seeds including basil, turnips, and arabidopsis could grow on the Moon. But the plan was not carried out.
"It's the first time humans have achieved growing living things on the Moon," a challenging environment of low gravity, high radiation, and huge temperature differences, CCTV said.
"The sprout will keep growing and we can expect it to become the first green leaf on the Moon," said CGTN (link in Chinese).
Looking for more in-depth coverage? Sign up to become a member and read more in-depth coverage of the history of moon exploration.