For at least a year, a growing chorus of financial analysts and CFOs has predicted that a recession is going to hit the US sooner than later—perhaps even by the end of 2019.
Now Deloitte, a global accounting, consulting, and auditing firm, has chimed in to say that the worrying signals are growing. To determine how retailers can survive the likely turmoil, the firm studied the dot-com bust that started in 1999 and the great recession that came along in 2007, as well as how individual retailers emerged from them. Its new report concludes that brands need to prepare for a period of rapid change, and they must be ready to invest and innovate, even in the midst of the economic upheaval.
The signs of a coming recession Deloitte points to include tightening monetary policy, ultra-low unemployment, and asset prices for public companies that are much higher than average, setting up the market for a correction that could hurt consumer confidence and spending. Not least of these indicators is a flattening yield curve, which is often seen as one of the leading predictors of a recession (though a recent study found peaks in financial cycles are a better indicator).
In the last two recessions, retailers suffered falling sales and shrinking margins, coupled with rising store closures and bankruptcies—as one might expect. "But what was more surprising," Deloitte notes in its report, "was the degree to which the structural change of the industry not only continued unabated during the periods of downturn, but actually appeared to accelerate, leaving many of those that failed to reposition during the downturn even more exposed when the market returned."
Digital sales, instead of slowing, actually took off; a number of new competitors to legacy brands popped up; and discount outlets grew. These changes have continued to shape retail: E-commerce is still driving change in the industry; direct-to-consumer brands and private labels are chipping away at established names; and low-cost retailers are flourishing, while mid-market brands shrink.
Some companies emerged ready to face this new landscape. Others didn't. To discern why, Deloitte looked at a wide range of financial metrics, and found that two stood out as "telltale signs for success": a company's debt load and its reinvestment rates.
Companies weighed down with debt faced cash-flow problems, and their high debt-servicing costs only grew as interest rates rose, siphoning funds away from investment. "The companies we studied that experienced this tended to be reactionary—they cut, looked inward, and were not able to position well for a future recovery," the authors write. These brands saw much slower growth during the recovery periods after the recessions. Some went bankrupt, while others watched competitors stealing their customers.
But companies that fared well tended to have a high reinvestment rate, measured as the ratio of capital expenditure to depreciation. They were effectively renewing their businesses and planning for the future.
If a recession does happen in the near future, many retailers wouldn't be well-positioned to face it, Deloitte warns. The firm points to a measure called "return on assets" that includes a company's sales, profitability, and efficiency. Right now, it should be high across the industry, but in fact, it has been falling, due to factors such as weak sales and the risky debt spread around the industry. For a number of companies, a recession could be disastrous.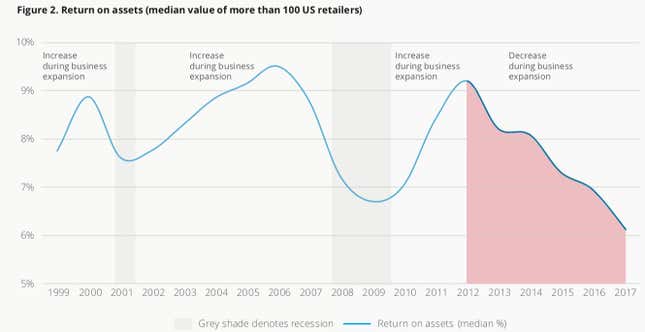 Deloitte's advice to brands is to figure out why they matter: "Ask yourself: 'If we went away, can the customer's need be met by others at the same or better price with the same or better service?' If the answer is yes, we would suggest you redefine your customer value proposition immediately and perhaps narrow your focus."
Then they should cut the fat. Retailers should reconsider their capital spending and sell underperforming assets to build a war chest. They should also look to technology, automation, and possible new partnerships that could reduce costs in their supply chains.
The report includes a famous quote from the American statesmen Benjamin Franklin: "By failing to prepare, you are preparing to fail."