Somewhere in the distance, a beautiful melody rings out.
Nokia phones were once indestructible, ubiquitous, and revolutionary. But then the smartphone came along, and the Finnish company struggled to adapt to the mobile web. Nokia ended up selling its mobile devices division to Microsoft in 2013, which ran it into the ground within a few years. After a small hiatus, the Nokia name returned, thanks to a new company called HMD, which was backed by FIH Mobile, a subsidiary of manufacturing giant Foxconn. Nokia sold naming rights to HMD, and in 2016 the new company, also based in Finland, bought Nokia's old feature-phone division from Microsoft for $350 million.
HMD has spend the past few years rolling out consistently affordable and well-built devices, an effort to stay true to Nokia's reputation for durability. Like Nokia of old, HMD split its business between selling feature phones, like the nostalgia-packed reboots of the 3310 and 8110 phones, and smartphones that offer a lot at relatively low prices. As 9to5Google put it: "Nokia's comeback isn't just thanks to a recognizable name. This is a company that is doing things right." It has already managed to sneak into the top 10 smartphone brands in the world, and now has its sights on a far more difficult—and potentially lucrative—task: cracking the US market.
Up to now, HMD has sold some of its handsets direct to US consumers through sites like Amazon and stores like Best Buy. But the overwhelming majority of Americans buy their phones through their cellular carriers; companies that don't work with those carriers are effectively invisible to most of the market.
The company told Quartz that it has seen success with younger generations, including consumers who may have had a Nokia as their first phone, and others too young to have experienced the company's heyday. HMD believes it can ride a wider wave of nostalgic brands having success right now, like Nintendo, Fila, Patagonia, and Mini. That's a big ask in a smartphone market almost entirely defined by Apple and Samsung.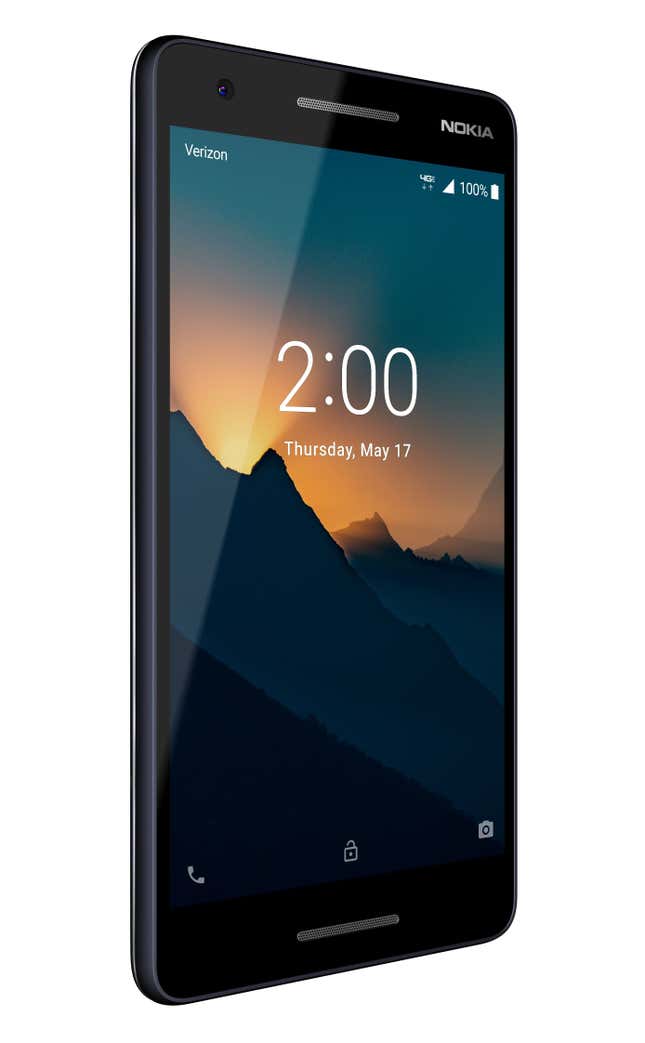 HMD has a two-pronged approach for stealing market share away from other low-cost phone makers. Today (Jan. 25), it announced partnerships with Cricket Wireless (the low-cost subsidiary of AT&T) and Verizon, offering exclusive phones through both carriers. For $160, Cricket customers will be able to purchase the Nokia 3.1 Plus, which after the few minutes Quartz spent with the device feels like an exceedingly impressive bargain. The phone features a massive 6-inch HD display, two rear cameras for portrait shots, a large 3,500 mAh battery, and up to 32 GB of storage. It's available from Cricket's website and retailers today.
Prepaid Verizon customers will be able to buy the Nokia 2 V, which features a 5.5-inch display, a huge 4,000 mAh battery that HMD says should last two full days, and a single rear-facing camera. There's no price on Verizon's phone yet, but it'll be available from Jan. 31.
HMD has a challenge ahead of it—the company's successes to date have largely been driven by feature-phone sales, rather than smartphones—but the Finnish startup already managed to turn itself into a unicorn, and has pledged to market its phones aggressively. The company is hoping its low prices, and its heritage, will be enough to win people over (HMD is stacked with former Nokia execs). But it's entirely possible the pull of devices customers are already comfortable with is too strong for US consumers.