An app to study Communist Party's ideology has become the most popular free download on Apple's China app store, surpassing live-streaming app Douyin, Tik Tok's China version, and WeChat, a popular messaging app, late last week.
The app, known as Xuexi Qiangguo (学习强国), which can be translated as "Study to make China strong" or "Xi study, strong nation" is the most popular app as of today (Feb. 19).  Although on the app store, the app's developer is identified as the research center of the Communist Party's propaganda department, Reuters reported yesterday that an arm of Chinese e-commerce giant Alibaba actually helped develop the app.
Easily available next to games or the all-in-one WeChat messaging app, the app provides easy reach to 90 million party members, and other citizens. The app functions similarly to dozens of other apps the Communist Party has begun using visibly in the last three years to promote its ideology, and president Xi Jinping's thinking, amid a tightening control of the internet—a crucial battlefield in the eyes of Communist leaders.
Alibaba's reported development of the app is the latest example of a Chinese tech company making statements or undertaking projects that appear to be taken on mainly to further official goals—and underscores the tightrope China's tech giants must increasingly walk (paywall) when it comes to the Party.
Alibaba declined to comment to Quartz on whether it had developed the app, or whether the Y Project Business Unit—the unit tasked with the app development, according to Reuters—exists.
According to a June 2018 job post by Alibaba's UC browser on a recruitment site, the firm was seeking a web developer for a "company strategic project" in which Alibaba and the national ministries and commissions would develop an educational platform for nearly 90 million party members. The project has more than 200 people alone from the UC browser team. "To ensure the success of the project, Alibaba is willing to do it at any cost," read the job post (link in Chinese).
The app has a series of functions through which users can earn study points, including a news feed, history lessons, quizzes about China's policy, online meetings, and making calls. In the section for news on Tuesday (Feb. 19), the top five articles are about Xi's latest speeches and meetings with political leaders.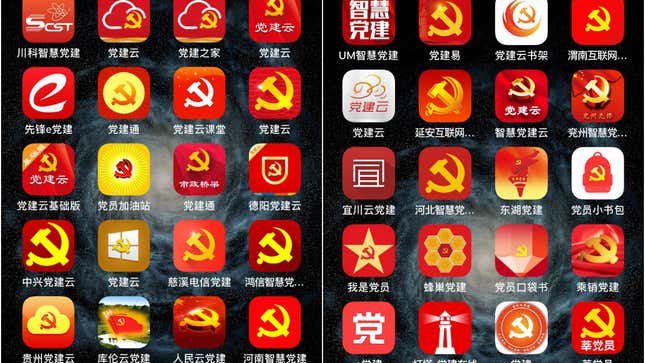 New users aren't able to register directly with their mobile phone numbers, Quartz found, but instead need to download DingTalk, Alibaba's own messaging app, and create a login. Existing users of DingTalk can use their login information to sign in the app, according to Reuters, which noted that the app has close to 44 million downloads on Apple and Android devices since launched in January. That's in part due to official directives to use the app.
A DingTalk representative said that it's "committed to providing stable, safe, and efficient technical support to fulfill the needs" of their customers in an email to Quartz, but didn't address specific queries on the DingTalk-linked registration process for Xuexi Qiangguo.
The news comes as the country's tech giants are increasingly under scrutiny, both at home and abroad. Abroad, China's tech giants like Huawei are facing questions over their trustworthiness and ties to Beijing. At home, tech firms have faced continuous crackdowns for products considered to be violating the country's "major principles and policies," from video games to online news apps, as the Party has sought to rule the tech sector more tightly as part of broader efforts to exert social control.
Multiple times in the last year, Alibaba has shown it's aligned with Beijing's thinking. Late last month, Alibaba's vice chairman Joe Tsai said that US efforts to curb Chinese telecom equipment maker Huawei's market access is "extremely unfair." (Huawei and its CFO Meng Wanzhou, arrested at the request of the US in Canada in December, were charged in January with multiple crimes related to violating US sanctions and trade secret theft.)
Jack Ma, Alibaba's founder, recently revealed to be a party member himself, last year pulled his promise to Donald Trump to create a million jobs in the US two months into the US-China trade war. Before that, Alibaba announced the acquisition of a chip company after US authorities prevented American companies selling components to China's smartphone maker ZTE, whose phone production depends on US chips.