China's growth is widely expected to keep slowing over the next year. And economists have been debating (paywall) whether the powers-that-be in the People's Republic are likely to acknowledge that fact by trimming next year's growth target down to 7% from this year's 7.5%.
But what is somewhat worrisome is that it seems China is returning to some bad habits in order to shore up the economy, including relying on expansion of lending to boost growth.
Fresh numbers on lending in China out today showed sharp increases in loans. And that seems like a shift. Policy makers have talked tough—and taken some action—in order to rein in runaway credit growth over the last year. (Chinese monetary authorities even went as far as engineering a mini-cash crunch over the summer in a strange attempt to scare Chinese bankers straight.)
The tactics seemed to work. The total volume of bank loans has declined sharply over the last year. On the other hand, the just-released numbers for November show a much-bigger-than-expected jump to nearly 625 billion yuan ($103 billion). Check it out.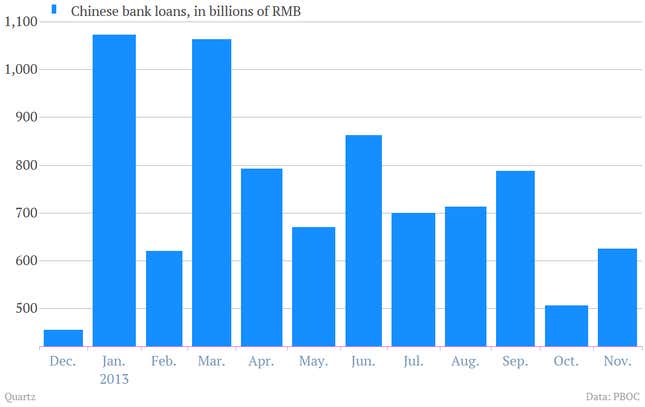 There was also a somewhat troubling jump in so-called trust loans, a shadowy form of lending that is often packaged up by banks into high-yielding and poorly understood "wealth management products" that are then peddled to Chinese savers. Trust loans more than doubled in November compared to the prior month, though they are also down significantly from earlier this year.