The skies over Europe will be free from Boeing 737 Max jets, after the European Union Aviation Safety Agency today (March 12) announced it is suspending "all flight operations of all Boeing Model 737-8 MAX and 737-9 MAX aeroplanes in Europe."
The decision comes two days after one of the planes crashed on a journey from Addis Ababa, Ethiopia, to Nairobi, Kenya, killing all 157 people on board. It was the second fatal crash involving the Boeing 737 Max in less than five months, prompting questions and concerns about the safety of the model.
Australia, Singapore, Malaysia, and Oman, among other countries, had already taken steps to ban the plane from their airspace since the March 10 crash, while nearly 30 individual airlines across the world have grounded their own 737 Max planes. Boeing, which manufactures the 737 Max, maintains that the model is safe, while the US Federal Aviation Administration has issued a directive confirming their belief that the planes are airworthy.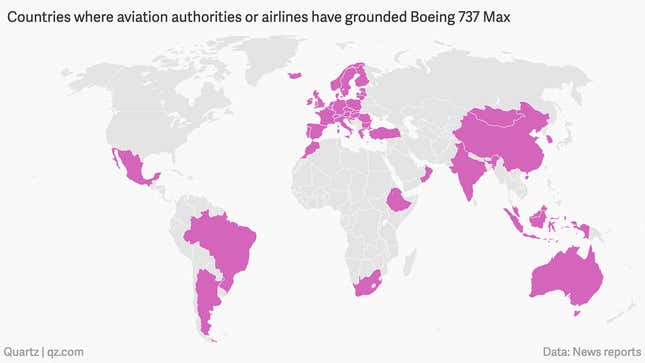 "External reports are drawing similarities between this accident and the Lion Air Flight 610 accident on October 29, 2018," the FAA said, in a statement (pdf). "However, this investigation has just begun and to date we have not been provided data to draw any conclusions or take any actions."
At least 18 airlines continue to fly the model, though the EUASA decision may make it harder for those planes to circumnavigate the globe.
Boeing shares fell more than 5% today to around $378. They tumbled of nearly 14% over the weekend following news of the crash. The airplane manufacturer has announced plans to release a software update intended to make its 737 Max plane safer.