Goldman Sachs, in addition to running one of the world's storied investment banks, is also an avid investor in financial startups. As venture capital money pours into the sector and valuations climb, the bank thinks there are bargains among the companies that don't make the headlines.
The Wall Street bank's Principal Strategic Investments Group (PSI) bought stakes this year in Nav, a startup that provides credit score information for small businesses, and robo-investor Nutmeg. The PSI group was started in 1999 and has more than $1 billion worth of stakes in companies around the world.
"We are not uniquely seduced by the trendier parts of fintech," said Rana Yared, 35, a partner at the bank who runs PSI's New York and London teams. She was closely involved in the bank's move into cryptocurrency trading, which primarily entails regulated bitcoin futures for clients. "We believe the 'unloved' bits solve real problems and are great investing opportunities," she said.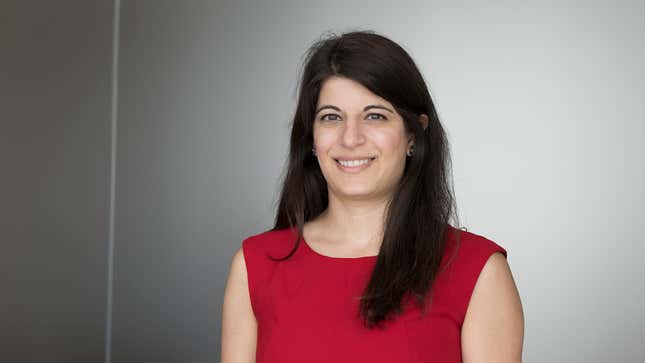 The group has widened its footprint over the years. Enterprise technology became part of its remit in 2014, and PSI considers all fintech upstarts to be strategic for Goldman Sachs, which launched its Marcus consumer banking arm in 2016. The group converts about 2% or 3% of the companies it looks at into investments. (When the group bought a stake in Nutmeg, it was the third time it had considered the investment.) PSI's priorities for 2019 include:
When Quartz met with Yared at the bank's London offices this week, Tradeweb Markets, one of the bank's investments, was marketing its IPO. Unlike some of the current crop of IPO hopefuls, the fixed-income trading platform is profitable, with net income that rose 55% last year, to $130 million. The offering could raise some $700 million, valuing the company at up to $5.8 billion. Other banks including Citigroup, Credit Suisse, JPMorgan, Goldman Sachs, UBS, and RBS have also invested in Tradeweb.
The sexiest fintech firms look bubbly to some investors. UK neobank Monzo has been valued at more than 330 times revenue, compared with 14 times for Square or 7 times for PayPal. Without mentioning specific companies, Yared said some popular consumer fintech firms are overhyped, with high customer acquisition costs that can't be sustained without clamping down on expenses and finding ways to create more value. Asked if that's why Goldman hasn't invested in a market darling like Monzo, Yared said, "I would argue we are our own challenger bank."


Heard on headphones
"According to Eck, at one point he was pulling down about 50 grand a month,"—TechStuff with Jonathan Strickland, discussing Spotify CEO Daniel Eck's teenage years making websites for companies.

The future of finance elsewhere

Previously, in Future of Finance Friday
March 15: China's Ant Financial, thwarted in the US, is expanding rapidly in Europe
March 8: Could personal loans from fintech firms give credit cards a run for their money?
March 1: Fintech firms like SoFi and Robinhood offer "free" stock trading. What's the catch?