It was a major event last year when Virgil Abloh showed his debut men's collection for Louis Vuitton. A black American designer, raised on hip-hop, skateboarding, and streetwear, was ushering in a new era at the world's largest luxury fashion brand. How would shoppers respond?
An answer is starting to take shape, and it suggests shoppers are happily buying his clothes. For a brand the size of Louis Vuitton, though, whose sales of fashion and leather goods alone grew 20% to €5.1 billion ($5.7 billion) in the most recent quarter, those sales probably aren't where Abloh's real value lies.
LVMH—Louis Vuitton's parent company—doesn't break out its fashion sales by brand, but on a call with investors to discuss its latest earnings yesterday, CFO Jean-Jacques Guiony noted that both men's and women's ready-to-wear—the clothing you buy off the rack, as opposed to custom pieces—had an "outstanding" quarter. "Last year, this business was already very good, but it is particularly good this year," he said.
The update followed on one from January, when some of the first of Abloh's clothes went on sale at a Tokyo pop-up. Vuitton's CEO, Michael Burke, said the company saw greater sales (paywall) in the first 48 hours than Vuitton got from its much-hyped collaboration with Supreme.
But Guiony also downplayed the importance of ready-to-wear, in itself, to the company's bottom line: "It's not a major business altogether for us at Vuitton, but it's worth pointing out, as this is obviously traffic generator for many stores and we are very happy to see that this business is doing particularly well."
The big luxury houses—Louis Vuitton included—tend to get most of their sales from fragrances, shoes, and accessories, including handbags and other leather goods. A 2017 report by Exane BNP Paribas and the fashion consultancy VR Fashion Luxury Expertise noted that although clothes are a defining part of the fashion business, they're "hardly profitable." Many brands, it said, actually lose money on them, and it deemed too much reliance on clothing a "structural weakness." Strange as it sounds to say, for many fashion brands, fashion is a loss leader.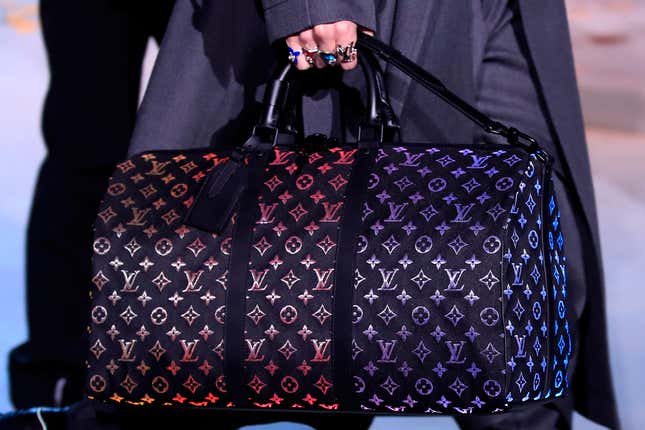 That's not to say clothing lines are without value. More sales always help, and runway collections can serve another role. "For us, it's a marketing expense and we generate an incredible amount of editorial that is based on being in that business," the former CEO of Calvin Klein, Tom Murry, once said in an interview (paywall). He was speaking about the brand's high-end collection—though recently, Calvin Klein decided to discontinue that line, to focus on the more profitable sales of mass-market jeans and underwear.
Abloh, through his frequent collaborations with brands and artists, his connections to hip-hop, and his public persona, including his ongoing side hustle as a globe-hopping DJ, does a lot more than make clothes for Louis Vuitton. He is a generator of editorial coverage, of excitement around the brand—and consequently, of store traffic. He's also helping to introduce a younger generation of luxury shoppers—one with potentially different values than its predecessors—to the label. Whether the clothes he designs are a big sales success or not, they won't make or break Louis Vuitton. They don't need to.