With a nod and a wink—literally, as seen in the photo above—Ukrainian president Viktor Yanukovych agreed to a $15 billion rescue package with Russian president Vladimir Putin. The deal also includes a discount of around 30% on the price of gas that Russia pipes to its former Soviet subject.
Despite Putin's largesse, the crowds of protesters remain in large numbers in Kiev's central square, agitating for closer ties with the European Union instead of Russia. The EU's association agreement could have been worth $23 billion, some sources say, although strict reforms would be necessary to unlock the aid.
For his part, Putin said—with a perfectly straight face—that the aid "does not come with any conditions attached." Neither of the two leaders discussed Ukraine joining Russia's proposed Eurasian customs union, he added. Yanukovych will hold a press conference with local media tomorrow to give his side of the story.
Given a day to digest the implications of the deal, analysts' opinions (paywall) mostly boil down to this: It's a short-term gain for Ukraine, in terms of bolstering its dangerously stretched balance sheet, buts masks the potential for long-term pain by making the country more reliant on its sometimes belligerent neighbor. The only other members to join the Russian-led customs union so far, Belarus and Kazakhstan, are hardly models of dynamic, independent-minded former Soviet states.
For their part, the financial markets rallied on news of the deal. But most Ukrainian securities remain below their highs for the year, as the problems that pushed the country to the brink in the first place remain unresolved. Below are charts from three markets that illustrate this feeling among traders.
The price of credit default swaps, a form of insurance that pays out if a borrower defaults, written on Ukrainian government debt fell sharply on news of the deal. But this just means that Ukraine is no longer considered as risky a borrower as Venezuela, more on par instead with Pakistan.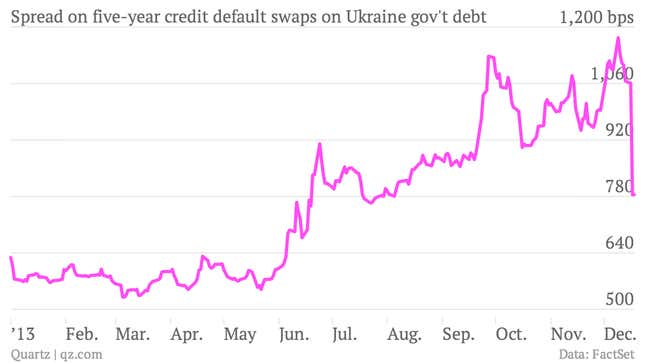 Meanwhile, the intrepid investors that snatched up Ukraine's government bonds during the worst of the protests saw their bets pay off, for now. Although the country's bonds still tend to trade at a discount to par value, they're off of recent lows, as seen for this dollar-denominated issue due in 2020: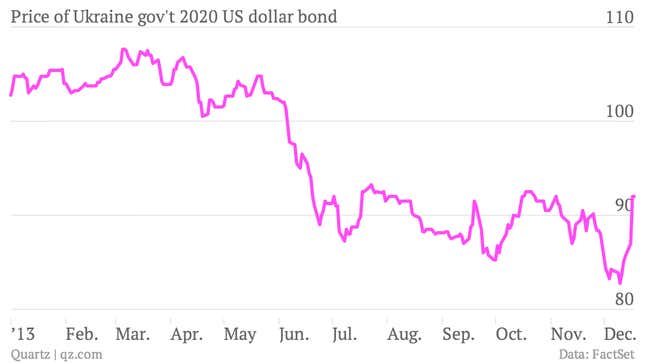 The country's stock market also turned around today, with the benchmark UX index gaining a bit more than 2%, closer to its pre-crisis level, but down from the highs recorded earlier this year: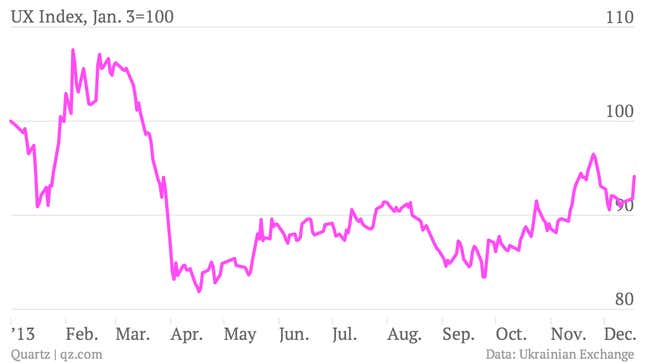 Even during its busiest days, daily turnover in the UX index only tends to top out only in the hundreds of thousands of dollars. This patchy and uneven trade has led some high-profile Ukrainian companies to list their shares in Warsaw instead, thanks to the Polish bourse's burgeoning position as a regional trading hub. The symbolism of this would not be not lost on the protesters in Kiev, who themselves would prefer to forge closer ties with EU members instead of their former Soviet masters in Moscow.