Ford is investing $500 million in Rivian, an electric-vehicle startup. The injection of cash comes only months after the Michigan-based company raised $700 million in an investment round led by Amazon.
In November, Rivian unveiled the first two battery-powered EVs it plans to start producing by the end of 2020: the R1T, an electric pickup truck, and the R1S, an electric SUV. Both cars are expected to cost more than $68,000 and sell in the luxury space. The pickup is expected to directly compete with Ford's battery-powered F-150, which is due to launch in 2021. The SUV will go head-to-head with those already offered by the likes of Tesla and Jaguar.
Rivian will likely put some of the Ford money towards building its US car factory, which is eventually expected to have an annual manufacturing capacity of 250,000 vehicles. Rivian's goal is to sell 20,000 cars in 2021 and twice that in 2022. Other EV startups like Tesla and NIO have struggled to scale up manufacturing, and Rivian is likely to benefit from Ford's old-world skills.
Rivian's two planned cars share a skateboard-shaped platform, which is built to house a large battery pack, suspension, axles, cooling system, and four electric motors. In return for its investment, Ford gets access to the skateboard platform for use in its own electric vehicles, as well as a seat on Rivian's board.
Reuters reported in February that General Motors was in conversation with Rivian about investing in the startup. Ford seems to have beaten its rival GM. Neither Ford nor Rivian confirmed what stake the car giant gets in the startup for its investment.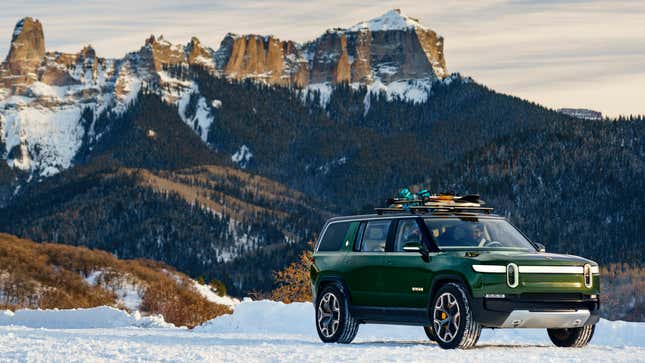 Even for a company the size of Ford, $500 million is not a small investment. Since Jim Hackett became CEO in 2017, the company's stock price has fallen about 10%. From 2017 to 2018, its profits fell 50%, and analysts expect the company will report a decline in its a first-quarter earnings later this week.
But if the future of cars is electric—and almost every big carmaker agrees that it is—then Hackett's Rivian bet might just pay off.  Ford currently offers an all-electric model of the Focus, a five-door hatchback, and the company expects to spend $11 billion by 2022 to launch 16 more fully electric cars.
"We can learn a lot from Rivian, how quickly they turn around ideas," Ford's chairman, Bill Ford, told the New York Times. "There's a great benefit from working with a clean-sheet approach to electric vehicles."
Bill Ford's comment echoes those of other industry experts. Even though all big carmakers now sell electric cars, Tesla remains the leader in the US. "Eight years later and Tesla still has the better car than the Audi E-Tron, or the Mercedes EQC," Mate Rimac, founder of the supercar EV startup Rimac, told Reuters. "It is not because the Germans are stupid. It is because they are not 'all-in'. They work from the basis of the combustion engine towards electrification."
Ford won't use Rivian's technology in the Ford F-150, because it would otherwise delay the 2021 launch. The Rivian deal also doesn't affect Ford's partnership with Volkswagen to use the German carmaker's EV platform, called MEB, short for Modularer E-Antriebs-Baukasten, which is German for "modular electric-drive construction kit."
Alongside investments in EV startups, big carmakers are also investing in battery companies. Last year, Volkswagen put $100 million into California-based QuantumScape. In April, Daimler invested in Sila Nano, also based in California, and Ford invested in Solid Power, headquartered in Colorado. All these companies are trying to push the limits of batteries, which could result in lower costs and significantly more range for EVs.
Looking for more in-depth coverage of electric vehicles? Sign up for a free trial of Quartz membership, and read our premium field guide on China's electric-vehicle boom.