Leo Barasi wrote a master's thesis trying to understand what, if anything, could convince lawmakers to act on climate change. He concluded that neither extreme weather events nor climate protests change their minds.
Later today, the UK's main opposition party, the Labour Party, will propose a motion in parliament to call on the government to declare an environment and climate emergency. "We have no time to waste. We are living in a climate crisis that will spiral dangerously out of control unless we take rapid and dramatic action now," Jeremy Corbyn, Labour's leader, will say, according to extracts of his speech released in advance.
With that, Corbyn will deliver on one of three demands of Extinction Rebellion, a grassroots environmental group that used civil disobedience to cause disruption on roads and public transport in April at key locations across London. Even if the motion doesn't get a majority of MPs to vote in favor, it's a big move from a large political party in one of the world's biggest economies. (Update: It did.)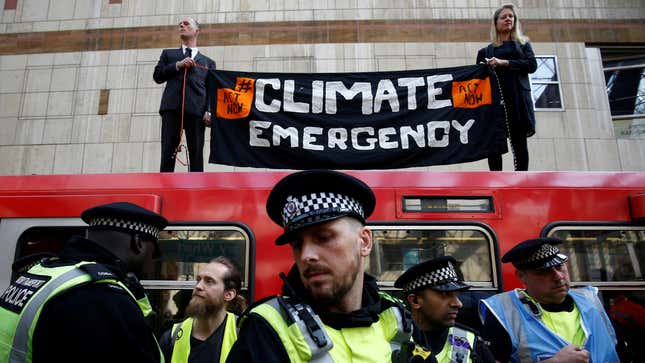 "If you'd asked me six months ago about Extinction Rebellion, I would not have thought it would have anything like this impact," says Barasi, a communications expert who advises organizations that work on climate action.
Barasi conducted his research when studying for a master's in climate change management at Birkbeck College. He found that, between 2006 and 2014, climate protests did not lead to a single debate in the British parliament. In the same period, at least half of the United Nations conferences or reports about climate change were mentioned in the parliament, driving the conversation among lawmakers about global warming.
Extinction Rebellion has changed the paradigm of climate protests. The group only began protesting in October 2018 and, before Corbyn's expected mention in the parliament today, the group was the reason for two separate debates on climate change held in the parliament.
For 10 days in April, Extinction Rebellion occupied major junctions across London. It blocked traffic on Oxford Street, Marble Arch, and Waterloo Bridge. Some protestors painted graffiti on the headquarters of oil giant Shell, calling the company "climate criminals." Others glued themselves to trains, delaying commuters' journeys. Still others blocked the entrance to the London Stock Exchange, calling on the financial industry to act on climate change. Their tactics to disturb public order led to more than 1,000 arrests.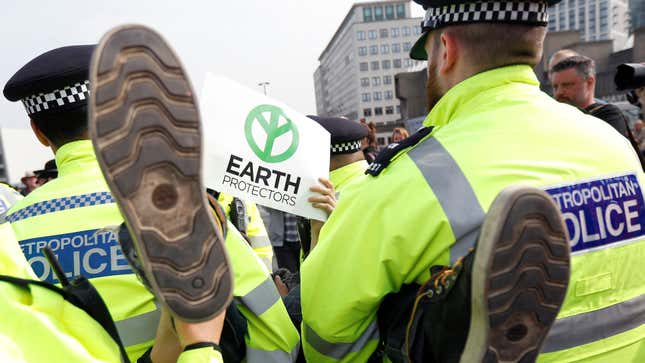 In the process, the group achieved another feat. April set a new record for the number of times "climate change" was mentioned in the UK press. The previous record was set in December 2015, when the Paris climate agreement was signed. It helped that April was also the month when naturalist David Attenborough aired his BBC documentary "Climate Change: The Facts" and Swedish teenage climate activist Greta Thunberg met with British politicians.
"We don't yet know whether the protests—and the documentary and Thunberg's visit—will influence public opinion, but it's plausible," wrote Barasi in an analysis of Extinction Rebellion's impact. He notes that Google searches for "climate change" in the UK have spiked to levels unseen since 2009, when countries came close to signing a global climate treaty at a UN meeting in Copenhagen. A poll published this week found that nearly 63% of the British public supports the UK declaring a climate emergency and 76% would vote differently to protect the planet against climate change.
"I'm humbled by what Extinction Rebellion has achieved," Barasi says. He notes, however, that the most recent climate protests took place when the UK's political class was taking a breather from Brexit negotiations. Future actions may not attract the same attention when there is more competition for headlines.
Still, Barasi says that the tenor of debate on climate action has changed in the UK—and likely around the world. Climate-change deniers have been pushed to the fringes and don't receive as much attention as in the past. More importantly, the facts supporting climate action are becoming harder to ignore.
Extinction Rebellion was launched after a UN report published in October last year called for aggressive reductions in emissions to avert catastrophic climate change. It found that the world could avoid as much as $30 trillion in damages if it chose the more ambitious target set under the Paris climate agreement to keep global average temperatures from rising above 1.5°C compared to pre-industrial times.
Although Extinction Rebellion has groups across the world, most of its activity is in the UK. It has shown how to get British lawmakers to debate climate action. Will groups in other countries do the same?
To keep up with the events that help or harm our attempts to fight climate change, sign up for the weekly The Race to Zero Emissions newsletter.