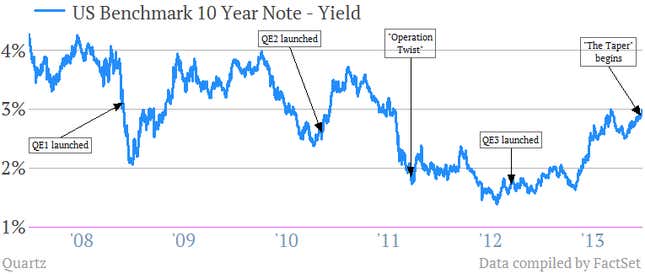 Interest rates are ticking higher again. The yield on the benchmark US 10-year note pierced the 3% mark this morning, hitting its highest level in two years. Of course, 3% is a completely arbitrary level. "Psychologically important" is what people say.
The rise follows a slew of upbeat data indicating that the US economy might be able to stand on its own two feet again. Confidence in the recovery prompted the Fed last week to tentatively begin reducing the amount of government bonds it buys each month. This confidence has also pushed stocks to fresh highs and oil prices to within a whisker of $100 a barrel.
Some investors, Carl Icahn among them, are concerned that current stock prices are unsustainable because corporate profits are built on a mirage of abnormally low interest rates. Rising bond yields could therefore pose a test for the stock market and the economy in 2014.
It's worth remembering though, that interest rates are still very, very low by historical standards.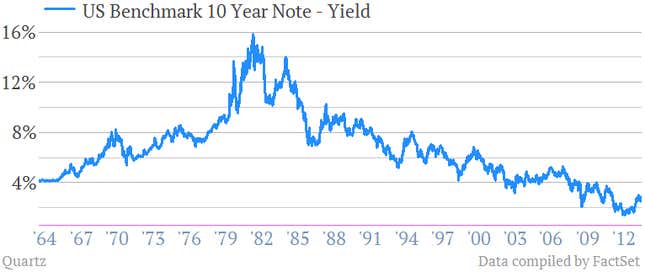 And with the Fed still planning to buy $75 billion worth of bonds a month, pledging not to raise official interest rates until unemployment rate falls to 6.5% (it's currently 7.3%), interest rates aren't going to reach anything close to "high" for a while yet.