The era of the internal combustion engine may have peaked.
A report from Bloomberg's New Energy Finance out today (May 15) estimates conventional car sales are now in decline and more electric vehicles (EVs) will be sold than internal combustion engines by 2037. Many of these fossil-fuel powered vehicles will stay on the road for some time. The one billion or so of the internal combustion engines out there will remain so through 2050 until they wear out over time.
But there's one type of conventional vehicle that is phasing out much faster—the bus. The humble municipal bus is on the vanguard of the electric evolution, says Colin McKerracher, head of advanced transport for BloombergNEF. In its 2019 electric vehicle outlook, McKerracher estimates almost 70% of the world's buses will be electric by 2040. That compares to just under 40% for all other types of vehicles.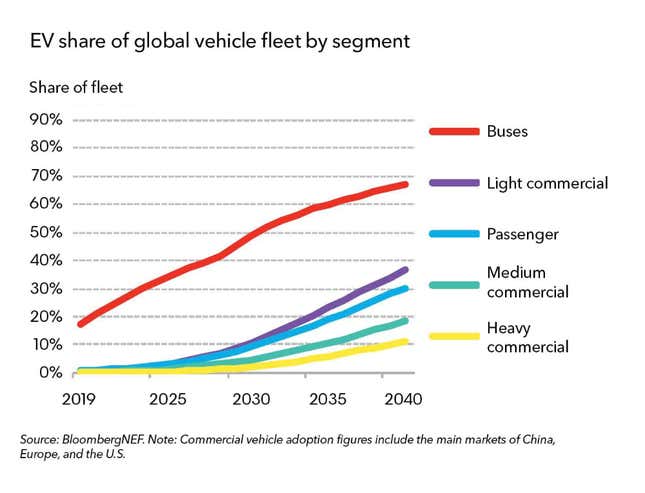 Electric buses, like many fleet-owned and commercial vehicles, make a compelling business case. While the sticker price for an EV is generally higher than conventional vehicles, the total cost of ownership—upfront price plus fuel, maintenance, and other costs—is already lower in some cases. New York City, for example, said this year electric cars in its fleet are already its least expensive option.
Fleet vehicles appear to be electrifying fastest. "Cars are not a fundamental rational economic decision" for most people, McKerracher told Quartz. "But fleet operators are a little different. They really run the numbers." Transit agencies can save $50,000 in annual fuel and maintenance costs, claims US electric bus company Proterra. That's a five-year payback period for the additional $250,000 that electric buses tend to cost over a conventional $500,000 diesel model. Savings increase every year as battery and manufacturing costs continue to decline, and EVs are expected to cost as much as their combustion counterparts by the mid-2020s.
Rapidly urbanizing countries like China have made electric buses a priority. Two cities—Guangzhou and Shenzhen—have converted their entire municipal bus fleet to electric. Shenzen's 16,359 electric buses outnumber the entire bus fleet of New York, Toronto, Los Angeles, and Chicago combined. In the West, cities tend to wait for wear and tear to put their conventional vehicles out of commission before replacing them, and some tests have already run into trouble (insufficient range and slow recharging) slowing deployment.
But the transition is now underway. Eventually, the US and other countries will get back to their state of affairs in 1900, when more battery-powered vehicles drove on US roads than internal combustion engines.
And buses will likely be leading the way.
Looking for more in-depth coverage of electric vehicles? Sign up for a free trial of Quartz membership, and read our premium field guide on China's electric-vehicle boom.