It's an open secret in the luxury business that clothes, despite being central to brands' images and the focus of their flashy runway shows, aren't where the money is. That job, traditionally, has fallen to accessories, especially items such as so-called "It" bags—those recognizable, signature products such as the Chanel 2.55 or Louis Vuitton Speedy that are as much about showing off status as function.
Today, right alongside them are a growing number of sneakers.
As the sneaker market has grown, luxury brands have sought to cash in by introducing sneaker styles that are as much signature products as the brands' handbags. Louis Vuitton has the Archlight and the LV Trainer. Prada has its Cloudbust. Gucci has the Rhyton, and for the really adventurous, the Flashtrek. Balenciaga, one of the brands most successfully capitalizing on the trend, has its sock-like Speed Trainers and the gargantuan Triple S. The list goes on.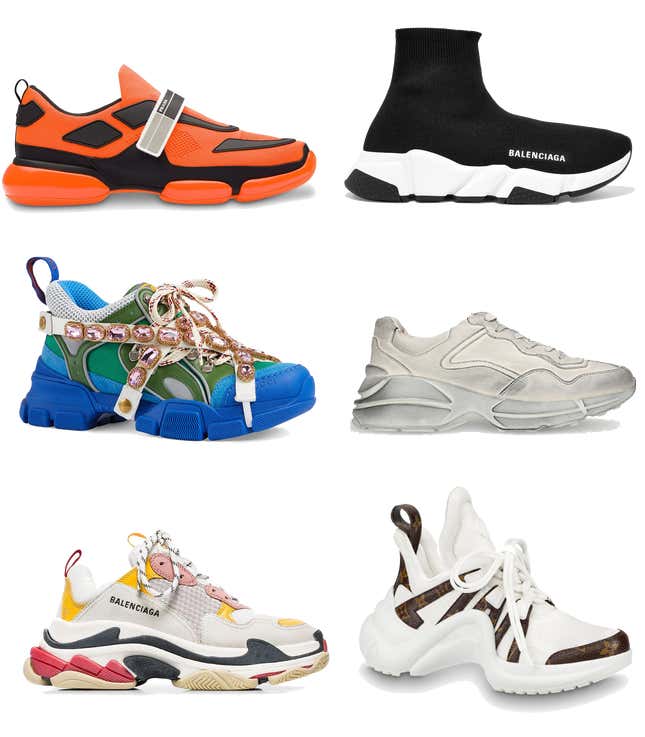 Kayla Marci, the market analyst for retail technology firm Edited, believes the shoes have become an important way for brands to attract younger shoppers. "Instead of the 'It' bag, it is all about the 'It' shoe," she says. "Sneakers have surpassed luxury handbags as a status symbol for millennials."
It's happening in China, too, where luxury-hungry millennials are a rising force with much different tastes than their forebears, gravitating toward new products such as high-end sneakers and streetwear. "The 'It' sneaker is the new 'It' handbag in China," Liz Flora, senior research editor at business intelligence firm Gartner L2 recently told Business of Fashion (paywall).
At Gucci alone, Edited notes, footwear is the second-largest category stocked online, and sneakers are the majority of the footwear styles it offers. According to its data, the number of luxury sneakers stocked online in the US and UK has grown about 250% in just the past four years. (The slight dip to start 2019 in the chart below is due to the large online retailer Bluefly shutting down.)
For the brands themselves, these shoes aren't necessarily replacing those "It" bags in their product offerings. Often they have a different audience—one that's comfortable spending a few hundred on sneakers but maybe not a few thousand on a bag.
Even so, sneakers can serve a similar purpose. In 2017, investment firm Exane BNP Paribas and fashion consultancy VR Fashion Luxury Expertise released a research note on the clothing portion of the luxury business, deeming too much reliance on clothes, rather than accessories, a "structural weakness." One reason: "Fashion has a lower 'recognition factor' than accessories," the note said, "and is therefore less relevant for consumers as they want to display and communicate their status."
Status signaling is one of the strengths of sneakers. "A lot of these [sneaker] collections are limited runs and they're hard to get, which means if you own them, you're instantly cool because you knew they were being released, that they were going to be a thing and you had the foresight to buy it," Megan Collins, a trend forecaster at Trendera, which specializes in trend forecasting and generational research, told Footwear News last year. "A handbag just means you have the money to afford it."
As an idea, luxury sneakers aren't a novelty. Prada had put out a sneaker as far back as 1996. Their recent ascent does reflect a confluence of factors though:
Luxury brands have been working to keep up with these changes, and even if they make up just a fraction of the sneaker market, they still want a slice. It seems to be going well. Speaking at last year's Financial Times luxury summit, Balenciaga CEO Cedric Charbit remarked of the brand's Triple S sneakers, "There's not a dinner I go to where a father or someone [doesn't] say, 'Stop releasing these shoes, it's out of control, we spend too much money at Balenciaga.'"