Updated June 21, 2019
Theresa May's resignation as leader of the UK's Conservative Party kicked a contest into high gear that, behind closed doors, was already going on for months. As the prime minister struggled to get her party and Parliament to agree on an orderly way to leave the EU, cabinet ministers fled and began planning for a post-May future.
More than a dozen people declared their candidacy, with some dropping out almost immediately. Conservative MPs started whittling down this list after May stepped down on June 7 through a series of elimination rounds, finally settling (paywall) on Boris Johnson and Jeremy Hunt. The two will now be put to the party's approximately 160,000 members in a postal vote, with the outcome announced in late July. That means that the UK's next prime minister, whose job it will be to steer the country out of the EU, will be decided by 0.35% of the country's population.
The main point of differentiation between the candidates was how strongly they feel about leaving the EU with a deal on transitional arrangements, which May found impossible to get approved in Parliament. Simply quitting the bloc on the deadline of Oct. 31 without any sort of agreement—a so-called "no-deal Brexit"—proved popular for the upstart rightwing Brexit Party in the recent European Parliament election, so several Conservative candidates openly entertained the prospect.
Here are the final two candidates vying for that task, including whether they backed leaving the EU (🏃‍♀️) or remaining (🧘) in the 2016 referendum, as well as the other Conservative MPs who tried their luck.
🇬🇧🇬🇧🇬🇧
, former foreign secretary
Choice quote: "No one sensible would aim exclusively for a no-deal outcome. No one responsible would take no-deal off the table."
Age: 55
MP since 2001
2016 Brexit position:🏃‍
Number of votes received in fifth voting round: 160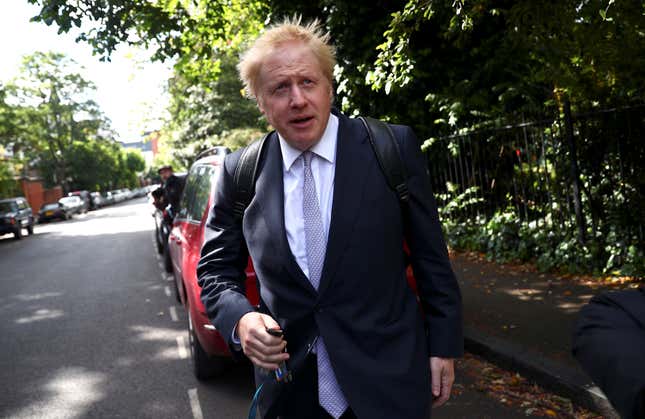 Formerly the mayor of London, this bombastic, tow-haired politician is the current favorite amongst bookmakers—and US president Donald Trump—to replace May, and a frontrunner in terms of MP votes. Johnson is one of the best-known—and polarizing—members of parliament, with a carefully honed public image of buccaneering buffoonery. Those who like him think he is Britain's best hope at leaving the EU with a smile; those who don't believe him to be bigoted, dishonest, and lazy and worry about this openness to leaving the EU without a deal. He was a euroskeptic long before it was in vogue and indeed popularized these views between 1989 and 1994 as The Telegraph's fabulist Brussels correspondent. Johnson served as May's foreign secretary before resigning over her plans for a "soft Brexit" in 2018.
🇬🇧🇬🇧🇬🇧
, foreign secretary
Choice quote: "If we faced a general election before delivering Brexit, we would be wiped out as a party. And that is something that we must not think about doing even for one second."
Age: 52
MP since: 2005
2016 Brexit position:🧘‍♂️
Number of votes received in fifth voting round: 77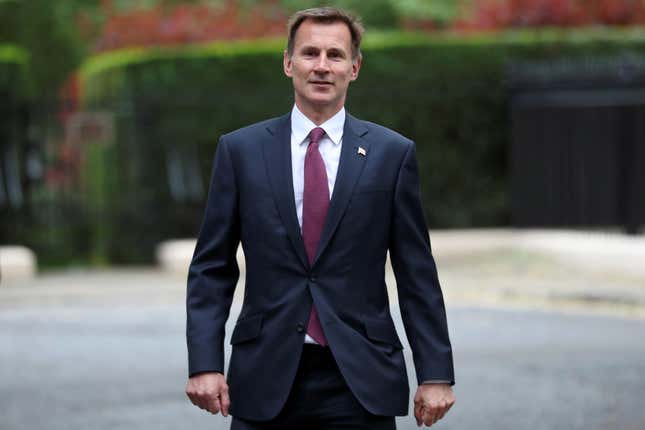 An Oxford-educated lawmaker described by the Financial Times as a "metropolitan liberal," Hunt was former health secretary, and took over as foreign secretary after Boris Johnson stepped down in 2018. Hunt has a history of shifting positions on Brexit. He backed Remain during the 2016 referendum, wrote in an op-ed in The Telegraph that the UK must remain a part of the EU's single market, and had previously floated talk of a second referendum. He's since voiced support for May's doomed Brexit deal, compared the EU to the Soviet Union, and said the UK would still "flourish and prosper" even in the event of a no-deal Brexit.
EXIT RIGHT
James Cleverly on June 4 became the first candidate to withdraw from the race. The 49-year-old Brexit minister said he hadn't been able to garner the support he needed from the Conservative Party to "make a leap of faith, skip a generation, and vote for a relatively new MP." He was followed by euroskeptic Kit Malthouse on June 5, who said the experience of running had made him a "realist."
They were followed by former Goldman Sachs banker Sam Gyimah, the only candidate to back a second referendum on Brexit, who dropped out (paywall) after he failed to get the support required to move forward in the race.
Former immigration minister Mark Harper, former leader of the House of Commons Andrea Leadsom, and former work and pensions secretary Esther McVey were knocked out in the first round of voting by Conservative lawmakers on June 13. Former health secretary Matt Hancock, the youngest candidate, withdrew on June 14, joining Leadsom to throw his support behind Johnson. Former Brexit secretary Dominic Raab was eliminated in a second round of voting on June 18, while international development secretary Rory Stewart failed to make the cut in a third round of voting on June 19.
Sajid Javid, the first person of color to be named home secretary, and Michael Gove, the environment secretary who co-led the Vote Leave campaign committee, earning him the nickname of "godfather of Brexit," were eliminated on June 20.
Jackie Bischof, Adam Rasmi, Annabelle Timsit, Natasha Frost, and Sam Rigby contributed. This post has been updated with the latest from the leadership contest.