You likely don't know Vicki Hollub, and she'd prefer to keep it that way. She avoids the public eye, not because she's caught up in some scandal, but because, as an oil executive, she's trained to do so. When journalists ask her questions, she gives well-rehearsed answers that provide just enough detail to make her seem likable.
That's a shame. After talking to some two dozen people who have worked with her, and many more in the industry who have followed her moves closely, I've come to realize that she has a remarkable story to tell—one with global implications.
In 2016, Hollub became the first female CEO of a major international oil company, in an industry where men make up 75% of the workforce. In the short time since, she's proved to disparaging voices that she cannot be underestimated, turning around a company that lost $1 billion in 2016 to a profit of $4.1 billion in 2018.
Two big moves in the past few months show Hollub coming into her own. On May 9, her company Occidental Petroleum—also called Oxy, after its stock ticker symbol—beat out Chevron to acquire Anadarko Petroleum, for $38 billion. She sealed the deal despite intense pressure from shareholders—Oxy's share price is down 25% so far this year. How she won the battle reads like a Hollywood movie script, involving private-plane spotting, uninhibited shareholders, the wooing of Warren Buffett, and nine-figure payouts for executives.
All the attention paid to the Anadarko saga, however, overshadowed a more consequential decision. In March, Hollub committed to making Oxy carbon neutral, inclusive of all the oil and gas it sells. It's the first major oil company to make this ambitious pledge. At a glance, Hollub's move to more than double Oxy's oil reserves with the Anardarko deal while promising a carbon-neutral future makes no sense. But she's playing the long game, investing in technologies that can, among other things, trap greenhouse gases in underground reservoirs.
What follows is the story of Hollub's rise, told through conversations with her colleagues, Oxy shareholders, US policy experts, Wall Street analysts, environmental advocates, and the Pope. Together, they reveal her inclusive approach to management, her determination to land the big prize, and her vision for the oil industry in the midst of the climate crisis.
A football fanatic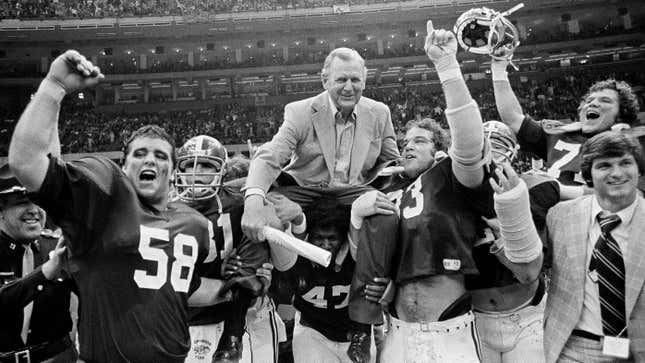 Born in 1960, Hollub grew up in Birmingham, Alabama. In her telling, "there wasn't a lot to do in Alabama, so you really had to have something to latch onto. And that was football." Her first career choice, as a fan of the University of Alabama's Crimson Tide football team, was sports journalism. Legendary coach Paul "Bear" Bryant, revered as a god in the Hollub household, was starting an era at Alabama that would eventually bring six national championships.
Then, Hollub got good at playing the French horn, even making the all-state band at the University of Alabama. She thought she'd train and earn a place in the Boston Symphony Orchestra or the Pennsylvania Philharmonic. But her instructor burst her bubble when he told her it was perhaps better to pursue other opportunities. "That was a bad weekend for me," she told Jason Grumet of the Bipartisan Policy Center in Washington, DC last November. "I went home, and I expected my parents to console me. They said, 'Good, let's go out and celebrate.'"
Next, she considered mining engineering. A visit to a "cold, wet, and dim" Jim Walter Resources coal mine left her unimpressed. Finally it was a trip to an oil-drilling rig near Tuscaloosa that helped Hollub find what she wanted to do with her life. She decided to study mineral engineering and set her sights on working in the oil industry. Her first job out of university, in 1981, was with the oil company Cities Service, which was acquired by Occidental Petroleum a year later. She has worked for Oxy ever since.
Her love of football was the icebreaker, she said, when working on oil rigs in Mississippi and Louisiana staffed almost exclusively by men. "When I first pulled up on location, they were thinking: Why's she here?" she said. "Whatever job you're in, it's always important to have some way to connect. My childhood gave me that connection to be able to talk about football to those guys."
Within a few years, Hollub was sent on foreign assignments to develop Oxy's oil and gas resources. She worked in Russia just after the fall of the Soviet Union. She got military escorts when working on oil wells in Venezuela, because guerrillas from the FARC were active in nearby Colombia. Her favorite assignment by far was working in the jungles of Ecuador.
"When I first showed up there, I was the only female," Hollub said. Leading a group of 100 Ecuadorian employees, and many more contractors, with no nearby city to provide water or power, she had to build a self-sustaining operation.
She remains immensely thankful to Glenn Vangolen, her boss back then. "He took a chance," Hollub said. "Even though we were generally open to diversity, he did have some opposition and he had to stand up and say, 'She is going to do that job. She is going to do it well.'"
Becoming chief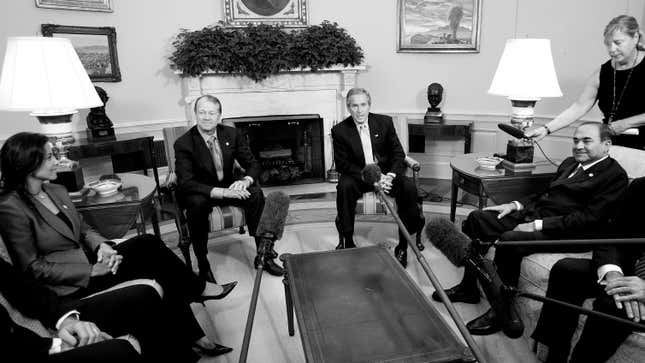 Hollub's first two decades at Occidental were a time of great expansion for the company. By the late 1990s, Oxy operated in 28 countries, thanks to its risk-taking, thrill-seeking, acquisition-hungry former CEOs: Armand Hammer, described in the book Dossier by Edward Jay Epstein as "a virtual spy" for the Soviet Union; and Ray Irani, one of the highest paid executives of his day—making $460 million in 2006.
The turning point in Hollub's career was Oxy's purchase of Altura Energy in 2000, which brought Texas's largest oil field under her control. She helped Oxy skill up on two things: injecting carbon dioxide to increase how much oil it could extract from aging oilfields (more on that later) and, after a few years of trying, fracking to unlock oil trapped in shale reserves. Crucially, the stint gave her an appreciation for the Permian Basin, which would contribute to making the US an exporter of oil and gas, and play an important role in her pursuit of Anadarko.
But the oil industry is slave to a boom-and-bust cycle. After the 2008 financial crisis, oil prices fell from $160 per barrel to $50. Oxy and the wider industry were forced to adapt, which meant shedding less productive assets. By 2013, Oxy was operating in only eight countries and focusing on other ways to offer shareholders value by hiking its dividend. The financial squeeze also spurred investor opposition to Oxy's generous executive compensation. CEO Irani, whose cumulative pay had topped $1.2 billion, was replaced by then-CFO Steve Chazen, who promoted Hollub to chief operating officer.
Capital discipline became Oxy's mantra during Chazen's short time as chief. But even Chazen wasn't able to turn around Oxy's falling stock price. Irani, who remained on the board as chairman, tried to push Chazen out. Before he left, Chazen convinced the board that Hollub should be given the CEO job—another supportive gesture she remains grateful for.
Chazen also bequeathed her a spotless balance sheet. By 2016, Hollub had the knowledge, the authority, and the financial flexibility she needed to launch Oxy into its next phase of development—leading a company with 38,000 employees producing 650,000 barrels of oil each day.
Against the giant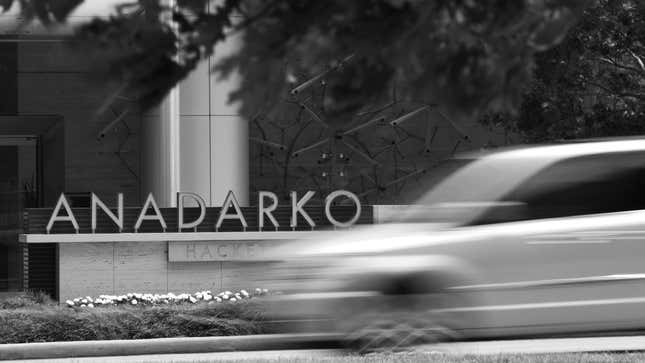 In Sept. 2017, only a year into her tenure as CEO, Hollub approached Anadarko's CEO Al Walker with an offer to buy the company. Anadarko owned one of the largest untapped acreages in Texas's Permian Basin, from which she believed Oxy could draw more oil. Hollub offered a straight stock swap, valuing Anadarko about $60 a share. Four months later, she upped the offer to $76. Walker rejected both offers, saying the merger wouldn't be a "strategic and operational fit."
The boilerplate response excuse masked real worries. Oxy's market cap was only slightly bigger than Anadarko's. To finance the deal, Hollub would either have to take on a huge amount of debt or raise money by selling off Anadarko assets.
Crucially, a stock swap would mean Oxy would have to get its shareholders to vote on the deal, and Walker wasn't confident that they would approve it. Among the US majors, Oxy provides the highest dividend (about 5%, compared with ExxonMobil's and Chevron's 4%). It's able to do that because of Chazen's housecleaning. The acquisition would mean Oxy destroying, as one analyst put it, "a pristine balance sheet" with little-to-no guarantee that Hollub would be able to deliver the same dividend as before.
Hollub and Walker nevertheless continued to talk on and off, until April 2019, when Walker stopped responding. It turned out that Chevron had come into the picture a few weeks earlier, with an offer to acquire Anadarko at $65 a share—75% of it in stock and the rest in cash. Though it was offering less than Oxy, Walker was convinced that Chevron, with its large balance sheet, was in a better position to execute the deal. On April 12, Chevron announced its offer and its CEO Mike Wirth was called a "dealmaker."
Walker seemed sure that Hollub wouldn't give up without a fight. A day before the Chevron deal was announced, according to Reuters, Walker convinced the Anadarko board that he and his leadership team should get up to $300 million if the deal went through. Separately, Chevron's offer came with $1 billion in break-up fees in case things went south.
Walker was right. On April 24, "trailblazer" Hollub went public with her disappointment, writing an open letter to Anadarko's board of directors that Occidental was "surprised" the company had declined a superior offer. "If we're going to get in this thing, we're going to win it," Vangolen, Hollub's mentor and now one of her top lieutenants, told the Wall Street Journal. "We're not going to dip our toes in the water and mess up the stock."
Determined or desperate?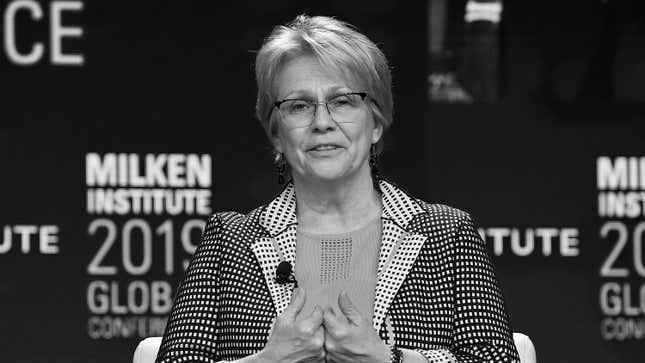 From an Oxy perspective, Hollub believed that an Anadarko deal would be "transformational." She calculated it would save the two companies $3.5 billion in costs each year, combining infrastructure and operational resources. A Chevron acquisition, in contrast, would save just $1 billion, according to Chevron's own estimates. And beyond the savings, Hollub was confident that Oxy's superior technical knowledge would wring more oil out of Anadarko's oilfields than the reserves it showed on its books. 
"She sees an upside opportunity that's not obvious to others," says Julio Friedmann, a senior research scholar at Columbia University and a geologist who has previously worked for ExxonMobil and the US government. "It's certainly not going to be obvious to an analyst of a conventional bank on Wall Street."
If Oxy were to increase the cash portion of the deal and avoid a shareholder vote, Hollub learned, Anadarko's board could be swung her way. Within days of sending the letter to the board, Hollub's private plane was spotted in Paris, where she met with Total CEO Patrick Pouyanné. Anadarko owned assets in Africa that Oxy wasn't interested in keeping, but that Total could be tempted to take on. She would sell those assets for $8.8 billion on the condition that the acquisition succeeded. Next, Hollub's corporate jet was spotted in Omaha, Nebraska. Warren Buffett was looking for new assets in which to invest his growing cash pile. Hollub won him over and secured $10 billion in exchange for preferred shares with an 8% annual dividend.
With nearly $19 billion in financing secured, Oxy's offer to Anadarko remained at $76 a share—but now more than 75% of it was in cash and the rest in stock. The cash eliminated the need for a shareholder vote. On May 9, a day before Oxy's annual shareholder meeting, Chevron decided to walk away instead of raising its offer. "We have the financial capacity to outbid Occidental," CEO Wirth told Reuters. "[But] we are not desperate to do a deal."
"Trailblazer" Hollub had outmaneuvered "dealmaker" Wirth. When the deal closes in the next few months, six Anadarko executives could receive a total of $300 million, including Walker's $98 million. Chevron will get a $1 billion breakup fee. And Hollub gets Anardarko.
But it isn't all good news for Oxy. Its stock is trading near a 10-year low. At its annual shareholder meeting, T. Rowe Price, Oxy's sixth largest shareholder, and Matrix Asset Advisors made it clear they didn't like the deal by voting against the re-election of the board. Activist investor Carl Ichan, who owns nearly 5% of Oxy, has sued the company for what he calls a "fundamentally misguided" and "hugely overpriced" deal. He is looking to scupper the deal before anti-trust regulators approve the takeover.
Those who know Hollub say she will take the same determined approach to winning over her shareholders, even if in the end she denied them a vote on the deal. She insists, for example, that Oxy will continue to provide generous dividends. 
"She has her eye on shareholder value," says Friedmann. "That's what gets her up in the morning."
Indeed, "I get emails from those guys who were on the drilling rigs with me, who were training me back then, and who are now retired, saying 'Vicki, please do not cut the dividend. I'm putting my grandkids through school, I need this dividend,'" Hollub told Grumet. "While our directors are charged with thinking about the bigger investors, I am dealing with our smaller investors and I care about them. I care about the guys that helped me get to where I am today."
Securing the social license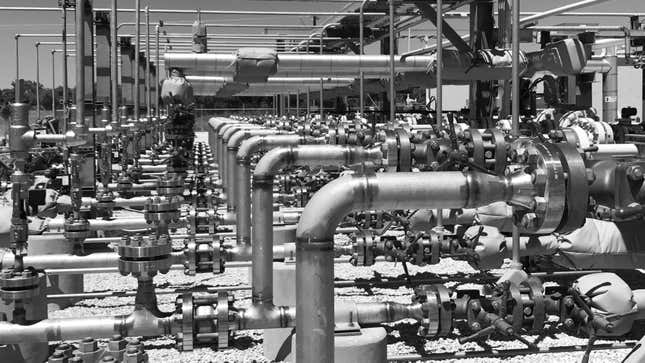 On May 21, more than a week after Oxy beat out Chevron to acquire Anadarko, Hollub traveled from her home on Galveston Island, Texas to the snow-covered Grand Teton mountains in Jackson Hole, Wyoming. She looked fresh, having likely caught up on some lost sleep. Unlike most large company CEOs who swoop in and out of conferences with an entourage, the five-foot-five Hollub walked in alone and blended in quietly with other attendees. She seemed interested in listening to talks and panel discussions on the stage, only occasionally donning her reading glasses to look at her smartphone.
If the Anadarko deal was two years in the making, the community Hollub helped build at this invitation-only conference took at least six years of work. It was the annual conference of the Carbon Capture Coalition, a motley crew of environmental groups, fossil-fuel giants, chemical companies, and utilities that supported the goal of dramatically scaling carbon-capture technologies.
The goal is to capture carbon dioxide either from industry or from the air, and sequester it underground or in products—reducing the amount of greenhouse gases dumped in the atmosphere. Almost every climate model predicts that these technologies will be needed at large scale if the world is to cut emissions to zero at a reasonable cost. (You can read more about these technologies in Quartz's deep dive on the subject.)
Under Hollub's leadership, Oxy has become the coalition's most prominent member. The technique the company developed to survive the boom-and-bust oil cycle—injecting carbon dioxide into depleted fields to enhance the recovery of oil—can now be used to do good for the climate.
A week later, at the Bernstein Strategic Decisions gathering of CEOs and investors in New York, Hollub made her case in the clearest terms: "We believe that it's our moral and social responsibility to take this lead because we're the world's largest handler of CO2 for enhanced oil recovery," Hollub said.
According to public filings, in 2017 the company injected 27 million metric tons of carbon dioxide to increase the total oil production of depleted fields by as much as 25%. Virtually all the injected carbon dioxide remains sequestered in the field, according to company reports produced to comply with US Environmental Protection Agency (EPA) regulations. If used properly, it's possible to pump more carbon dioxide into the field than would be produced when the oil it helps to extract is burned in cars or planes. The result is a strange thing: first carbon-neutral oil and then "even carbon negative barrel of oil," according to a testimony Richard Jackson, president of Oxy's venture fund, gave to the US Senate in May.
As an engineer, Hollub always knew that the technology had environmental potential. But Oxy developed the technology with oil revenues in mind. Most of the carbon dioxide that it pumps underground today is extracted from geological fields.
That might seem strange when we know there's too much carbon dioxide in the atmosphere. It's just that geological carbon dioxide is cheaper to mine. But unless anthropogenic carbon dioxide is used, the process doesn't do environmental good.
Hollub wants to change the equation. "Social license to operate means a different thing for Oxy," Hollub told potential investors. "It means a more proactive approach. It means being a leader. And it means also helping others do it around the world."
Shareholders first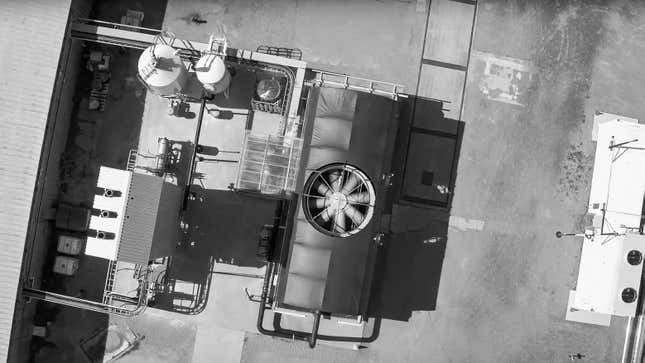 Why is Hollub worried about a social license? As the oil industry comes under attack for knowingly weakening action against climate change, a social license means regaining society's trust to operate with the approval of employees, shareholders, and the broader public.
That trust affects a company's bottom line. "Investors invest in companies they trust, governments allow trusted companies to operate, and consumers buy things from people they trust," the chairman of Shell wrote in the company's 2018 annual report. "Trusted companies are also likely to attract and retain the brightest minds, helping to ensure the lasting vitality of the business."
But retaining that trust, which provides the social license, will have a cost, potentially conflicting with Hollub's mandate to provide shareholder value. She is addressing that problem, along with other members of the Carbon Capture Coalition, and there are early signs of success.
In Feb. 2018, as part of an omnibus budget bill, US president Donald Trump signed into law the FUTURE Act. According to the act, an entity that buries one metric ton of carbon dioxide for enhanced oil recovery gets $35 in tax credits (called 45Q). It's similar to the tax credits the solar and wind industry received in their early days, which helped make the technologies cheaper and eventually competitive with fossil-fuel power. Additionally, thanks to a tweak in California's low-carbon fuel standards, the state has agreed to give as much as $190 per metric ton of carbon dioxide to the entity that captures it from the air and buries it underground.
As a result of these two government incentives—effectively setting a carbon price—carbon-capture technology now has a chance to compete in the marketplace in the US. Oxy has already started to deploy the technology for environmental good. In its oil fields in Denver City, Texas, Oxy has sequestered 1.5 million metric tons of anthropogenic carbon dioxide.
The subsidies have also allowed Hollub to announce two large-scale carbon-capture projects, one capturing 700,000 metric tons of CO2 each year from an ethanol-producing facility and another capturing 500,000 metric tons of CO2 from the air annually. Both plants are expected to be built by 2022, and in both cases Oxy will inject carbon dioxide for enhanced oil recovery. Instead of losing money, as most early technology bets do, there's every chance these projects will make Oxy money.
"She is oriented towards the opportunity she has. I'm going to do something for the world, and I'm going to do something for shareholders," says Friedmann, the Columbia University scholar. "I don't know another person who has wired the map like Vicki has."
The Pope effect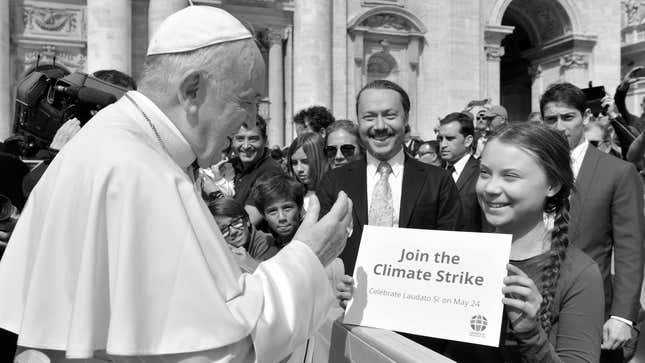 Planning for a future that will be focused on dramatically reducing carbon emissions is starting to make business sense for an oil and gas company CEO. But there's something more that seems to be propelling Hollub beyond her mission to be a successful steward of the company she has devoted her working life to.
In June last year, Hollub was one of a handful of energy leaders invited to a conference organized by the Vatican called "Energy Transition and Care for our Common Home." At its conclusion, the Pope directly addressed the group:
This is a challenge of epochal proportions. Civilization requires energy, but energy use must not destroy civilization!

The problem is that we still lack the culture needed to confront this crisis. We lack leadership capable of striking out on new paths in meeting the needs of the present with concern for all and without prejudice towards coming generations.

I appeal in a particular way to you, as men and women so greatly blessed in terms of talent and experience. It is my hope that, having demonstrated your aptitude for innovation and for improving the lives of many people by your creativeness and professional expertise, you will use those skills in the service of two great needs in today's world: the care of the poor and the environment.
"The meeting materially affected her," said a close collaborator of Hollub's, who wanted to remain anonymous. "She came back from Rome and thought differently about her role as a CEO and the value proposition of Oxy to the world."
Within months of the meeting, Hollub accelerated Oxy's work on carbon-capture technologies. She joined the global coalition of oil companies—the Oil and Gas Climate Initiative—that's looking to spend more than $1 billion scaling up the technology. She also created Oxy Low-Carbon Ventures, which quickly made investments in two of the hottest startups in the field: Net Power, a US-based company that has built a power plant that burns natural gas while capturing all the carbon dioxide produced; and Carbon Engineering, a Canadian company that has developed technology to capture carbon dioxide from the air and convert into fuel.
And she's not a hands-off investor in these companies. "When I ask for help, it happens," says Steve Oldham, CEO of Carbon Engineering. "There's none of the big company bureaucratic hassles." That may involve an Oxy employee helping develop high-level strategy, or sitting in on calls with industrial suppliers to negotiate favorable terms.
"She listens more than most people," says Bill Brown, CEO of Net Power. "She will ask a question and she will listen for five minutes. She is a CEO who feels like there is more she can learn than she can tell." In Hollub, Brown says he finds similarities to his former boss, Lloyd Blankfein, Goldman Sachs' longest-serving chief in 50 years, who retired last year.
Changing tracks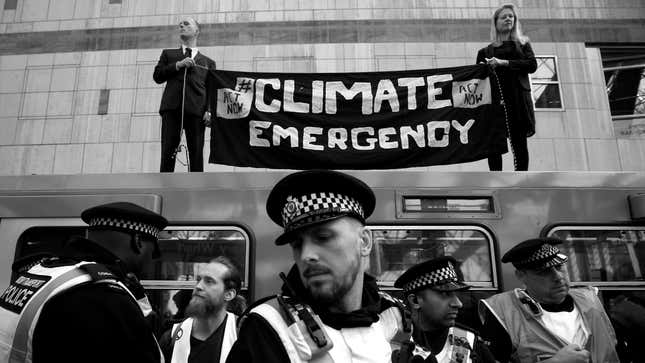 The history of the oil industry has been to oppose and block climate action. That's changed a little in the 21st century, with most oil companies dropping their climate change-denial stance. But serious doubts remain about whether they are fully committed or have a plan to deliver on the goals set under the Paris climate agreement, which require all countries and corporations to hit net-zero emissions within the century.
These doubts are showing up in growing investor-led climate resolutions at oil companies' annual shareholder meetings. They are also showing up in climate lawsuits filed by cities, states, and young people who want to hold fossil-fuel companies responsible for some of the climate change-related damages they face.
Oil companies are sensitive to these shifts. Many have dropped the words "oil" and "gas" from their names. Danish Oil and Natural Gas is now Ørsted; Statoil has become Equinor. Others have developed confused plans to build a future in the face of the climate crisis. Shell bought the British retail energy supplier, First Utility, to broaden its business. BP bought Lightsource to dip its toes into the solar business. Total bought Saft to see whether the battery market holds potential. ExxonMobil has been advertising biofuels made from algae for years, but it hasn't yet succeeded in making the technology a reality.
At Oxy, Hollub is clear that diversification is not a strategy she sees her company taking. "We don't try to do things that are not within our core competence," she told potential investors on May 29. "And that's key to everything we do. We're not going to build windmills ourselves and sell them. We're not going to build solar ourselves and sell it. We don't know it. How could we have a niche in that?"
In the carbon-constrained 21st century, Hollub imagines a role for oil companies that involves doubling down on what these giants know best: cutting-edge geology. That is, instead of extracting carbon from the underground, the faucets are turned in the other direction. If carbon capture is to play a role in controlling the planet's rising temperatures, the infrastructure that injects carbon back underground will have to be on the same scale as the one the oil industry has built to extract fossil fuels.
Environmental groups and green investors confirm that Oxy has turned a page under Hollub's leadership. Where once Oxy often opposed legislation to cut emissions, it now largely supports it.
There's still a long way to go. "I'm reserving judgement to see how Oxy's plans come together. But if Oxy did what they said they would do [with respect to carbon neutrality], it would certainly become the greenest oil company in the world," says Andrew Logan of Ceres, a network of environmentally-minded investors that control $32 trillion in assets. "I hope they are successful. It would be a great model for the rest of the industry to follow."
An oil CEO for our times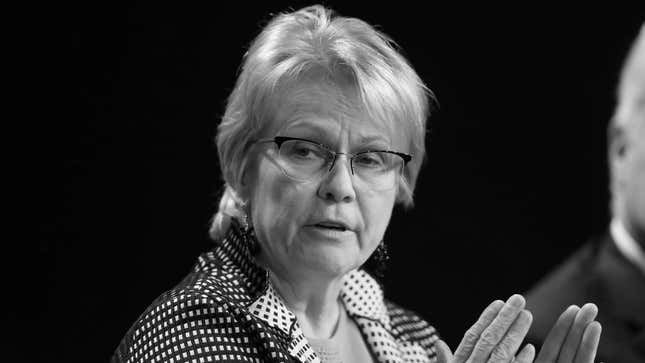 Turning around the growing opposition to the oil industry isn't going to be easy. At January's meeting of the World Economic Forum in Davos, Hollub experienced a public push back. On a panel discussion about the energy transition, Hollub explained how carbon-capture technology can play its part in cutting emissions. Her fellow panelist, Christiana Figueres, the former chief negotiator of the UN who helped get all countries to sign the Paris climate agreement, wasn't so sure.
"In order to solve the problem, we'll have to scale up from 18 [existing plants that use carbon capture] to 1,800 in a couple of decades," Figueres said. "In my book, that is impossible."
She has a point. Apart from Oxy, many other oil companies have talked about scaling up carbon-capture technology, but none have built more than a handful of plants. The greatest challenge to betting on carbon capture has been the difficulty of scaling up the technology, which still depends on government subsidies to be profitable.
"There was a time when nobody would have thought that we could produce enough wind power. There was a time when nobody expected to make solar affordable and reliable," Hollub said in response. "That's happened."
Hollub's defense is that there are no fundamental reasons why it can't be done. It's just that, so far, there haven't been the right incentives in place to make the technology cheaper.
But Oxy's leadership on carbon-capture technology isn't guaranteed. If the Anadarko acquisition doesn't work out as Hollub expects, it'll be hard to convince already angry shareholders to continue investing in climate technologies, even if they might in the long term give the company an edge.
"Many people would like to see the end of fossil fuels. I'm not in that camp. But the camp I'm in is I want to see the end of emissions from fossil fuels. I believe technology will be developed to make that possible," Hollub said concluding her remarks at Davos. "When our company is in an industry that is threatened, we don't get stubborn. We get innovative."
Hollub's optimism in the power of technology and her determination to execute is rubbing off on Oxy staff. Almost every employee I spoke to said they are excited to go to work for the company and do good for the world.
How did she make that happen? "A lot of our effort is being driven by the fact we have a culture that allows our employees to do the things they feel are right to do and empowers them to go after initiatives that are value-adding," Hollub told me at the Wyoming conference. "It's driven because we want to be the company that's different. We don't want to have a negative impact on the environment. We want to do the right things in the way we operate."
Hollub is right. A for-profit company must create shareholder value, but it cannot do so over the long term if it's also damaging the planet. In that sense, there's no question whether oil companies can afford to do what's needed to cut emissions. They must, if they want to preserve the social license to operate in the 21st century.
To get there, it seems the industry needs someone like Hollub to show the way: an engineer who can manage, a risk taker in a conservative industry, an environmentalist who understands the mixed blessings of fossil fuels, a visionary who doesn't mind getting dirty to make her dreams reality, and a woman whose role model is a man but who can still beat men at their game.