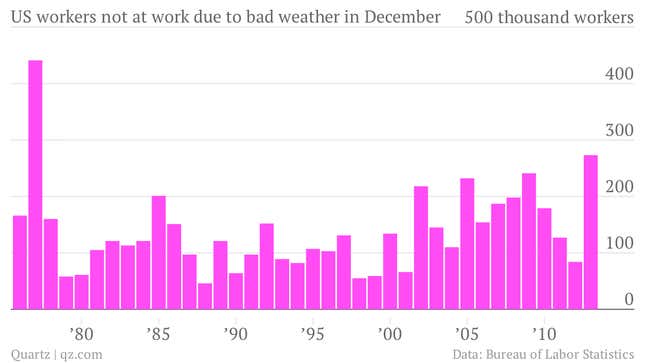 December was a disappointing month for US hiring, and like any good malingerer, Americans can blame the weather.
The Bureau of Labor Statistics reports that 273,000 people couldn't work during the month December due to cold, the most in the month since 1977 and the highest overall number since 2011. In North America, this December was one of the coldest and snowiest in the past decade, forcing many US workers to stay home, even though globally it was the second-hottest on record since 1979. (Remember, climate change is a world-wide phenomenon).
Some of the sectors hit by this phenomenon include construction workers, especially independent contractors who go from job to job, and truckers who couldn't work due to heavy snows and icy rains that clogged roads. Other workers spent fewer hours on the job or took part-time work because of the weather. A number of US states, including Maine, New Hampshire, and Tennessee, declared states of emergency due to winter weather.
That's not to say that weather explains the entirety of this report; a single month's jobs report shouldn't be taken as gospel until after it is revised in the coming months. And, on a yearly basis, US workers have reported a a fairly standard amount of weather problems: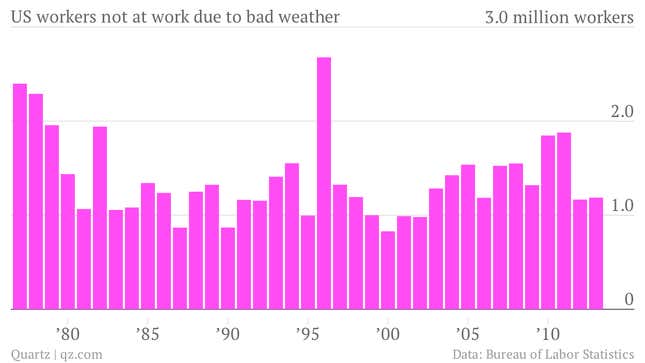 But the December freeze-out doesn't bode well for January's jobs report, either: Much of the US has been in the grip of a "polar vortex" that has brought unusually chilly temperatures down from the arctic.