America's cheese consumption has tripled over the past 40 years, from under 10 pounds a person in 1970 to nearly 25 pounds in 2010, according to Modern Farmer. Other dairy products, like milk, have gone in the opposite direction.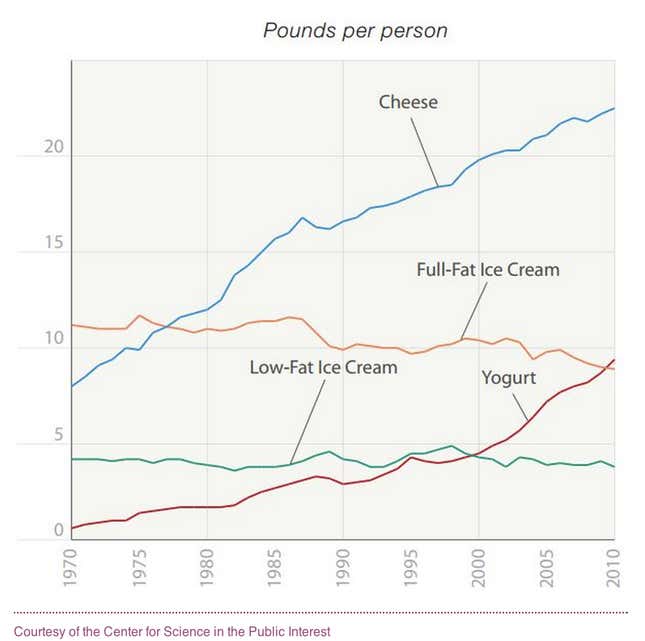 But not all cheeses are created equal. Mozzarella and cheddar are far and away America's favorite fromages, according to the USDA. Together they account for over 60% of the cheese available on supermarket shelves, in sandwich joints, and at restaurants around the country.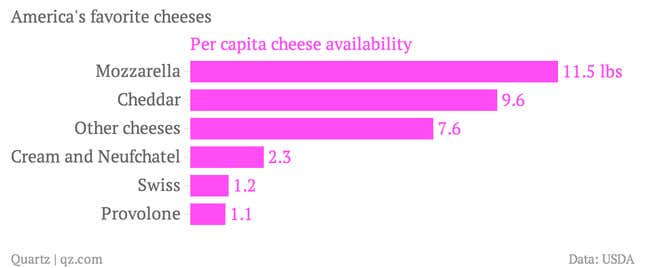 The explanation for mozzarella's popularity is, of course, pizza. The US now consumes some 3 billion pizzas per year, or roughly 10 per person. And each of those pizzas tends to be served with more cheese than ever before. For instance, Dominoes Pizza appeased its customers in 2010 by adding 40% more cheese to its pizzas. Pizza Hut found last year that young customers have a weakness for cheese blends.
The downside to the country's long-held love affair with cheese is its implications for the nation's waist-line. Over 70% of the US is now overweight or obese. Back in 1970, that number was less than 50%.