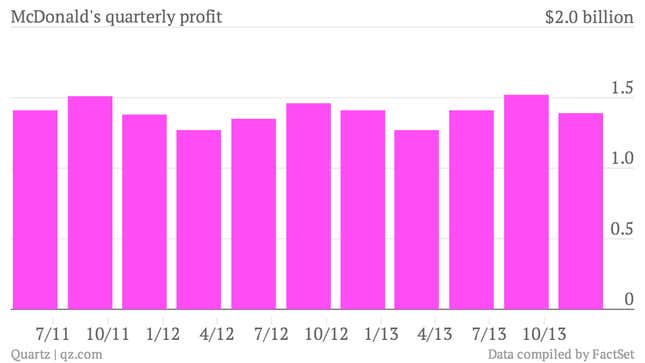 The numbers: Not good. McDonald's reported quarterly profit of $1.4 billion for the fourth quarter of 2013, barely above the level of a year ago. Global comparable sales (i.e., sales at restaurants that have been open a year or more) fell slightly, while US comparable sales tumbled 1.4%. McDonald's shares are down slightly in pre-market trading on the news. 

The takeaway: The only good news for McDonald's is that 2013 is over. Virtually every business measure—sales, profit, and comparable sales included—were flat compared to 2012. Even the company's efforts across in Africa, the Middle East, and Asia have stumbled. CEO Don Thompson's tone didn't sugarcoat the McDonald's outlook for 2014 either. "As we begin 2014," he said in a press release, "global comparable sales for the month of January are expected to be relatively flat. While near-term challenges remain, we are intent on strengthening our brand to further differentiate McDonald's and become an even bigger part of our customers' lives."
What's interesting: Americans don't seem to care much about McDonald's latest, cheaper offerings. The company last November launched its "Dollar Menu & More" which includes items like the Bacon McDouble and Bacon Cheddar McChicken—both of which actually cost $2, hence the "more" bit. It hoped this would appeal to cash-strapped customers—after all, some 77% of McDonald's customers were using its dollar menu before the company launched its newer, enhanced version. "We have high degree of confidence that we're going to be successful with the Dollar Menu & More," CEO Donald Thompson said at an investor meeting shortly after the announcement. And yet so far, no good. Despite an ad blitz touting its things-that-are-cheap menu, same-store sales fell and customer traffic numbers disappointed. That's the second straight quarter in which the company's focus on cheapness hasn't exactly panned out. And it's especially disappointing given that a third of McDonald's business still comes from the US.