The latest update on Chinese GDP showed the world's second largest economy slowing about as much as economists expected. But given the widespread skepticism about the veracity of economic data emanating from China, we thought we'd pull together a few of the best charts on China's economy that we've seen recently.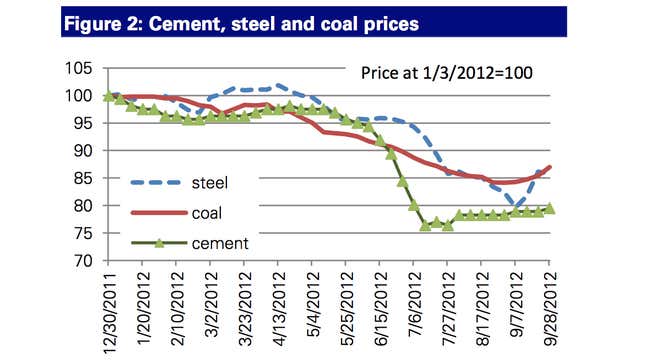 Chinese raw materials prices have found what looks like a floor recently, suggesting growing expectations of a big stimulative spending push coming out of the government. In fact, Barclays economists note that infrastructure investment in China is already picking up, helping to balance out a manufacturing slowdown. Still, there's still a risk that the government stimulus might not be big enough. "Many investors are worried that the current over-capacity may be very serious, and without a meaningful policy stimulus, it will take a prolonged period of investment decline/deceleration before excessive capacities could be taken out of the system," Deutsche Bank economists wrote in a recent note.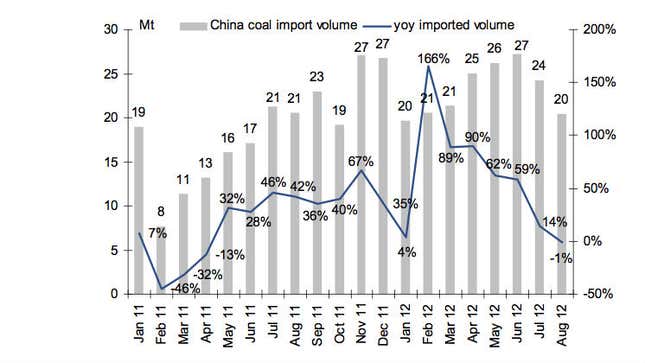 One of the many ways that analysts have learned to gauge Chinese economic growth is to look at electricity production, which has been slowing. (It dropped from a a 2.6% growth in August to 2.2% in September, for example, according to Citi analysts.) And the source of Chinese electricity is coal. With lower demand for electricity, the power plants need less of it, which means less of it gets imported, as you can see from the chart above.
However, there are plenty of reasons to doubt the effectiveness of electricity production and consumption as an economic indicator in China.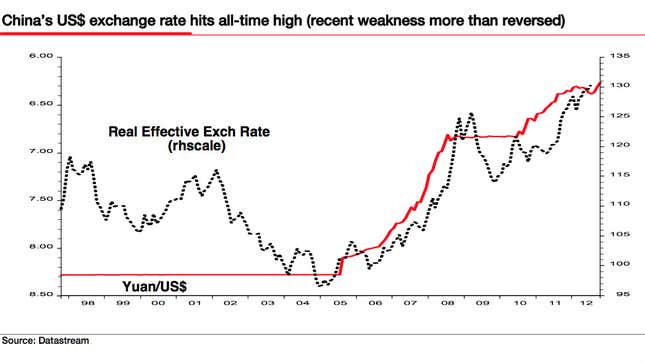 Meanwhile, China's slowing export sector is facing stiff headwinds from the strengthening currency. The yuan has recently hit its strongest level against the dollar since the currency was officially devalued back in the early 1990s, an event that set off the country's massive export boom. There's widespread speculation that the strength of the yuan — its value is set by the Chinese government — is meant to offer a hand to US President Barack Obama in his reelection effort. A strong currency also helps China keep a lid on inflation, another focus of authorities.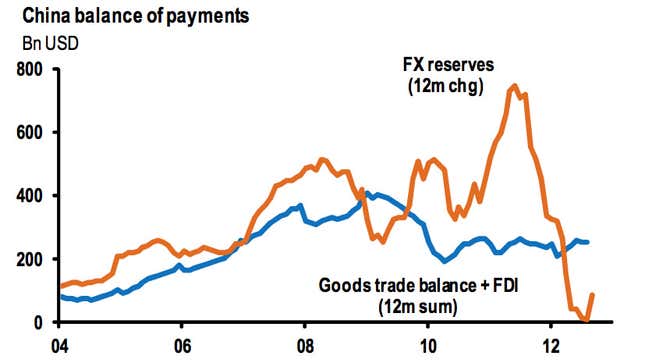 And with manufacturing slowing down, China's massive trade surplus has shrunk, resulting in a striking slowdown in the the long-standing flow of capital into the People's Republic. As a result, the country's hoard of hard currency it uses to keep its own yuan stable has almost stopped in its tracks. That's not just an issue for China. The People's Republic uses a lot of its foreign exchange reserves to buy US Treasuries, essentially funding the massive US trade deficit. If China's starts to need to buy fewer US government bonds to manage its massive stockpiles of cash, that could make for interesting times in the US bond market.