Chocolate spreads are on their way to becoming a pantry staple for Americans, and The Hershey Company isn't about to miss out. The US-based chocolate maker recently started its own line of Nutella-like chocolate spreads, called Hershey's Spreads. The spreads come in three flavors: chocolate, chocolate with almond, and chocolate with hazelnut.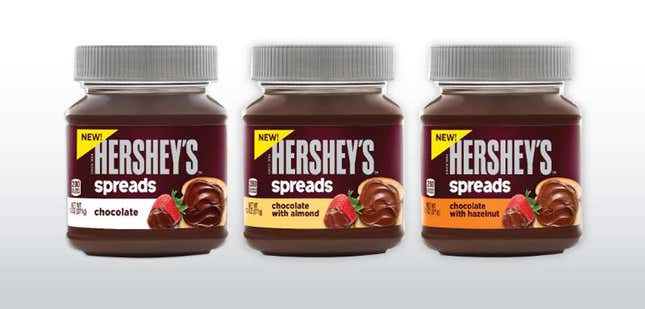 The new line was announced at the end of last year, and only began shipping in December, but the company is already sounding giddy about its potential. CEO John Bilbery pronounced himself "personally very excited about" the new spreads in an earnings call last fall.
It's easy to see why Hershey has such high hopes for its newest offering. The US spreads market, including peanut butter, marmalades, and the like, is massive and growing, with chocolate spreads performing especially well.
"When we look at something like our Spreads launch, which is currently underway, what we saw is, this is a $3.4 billion category in spreads," Bilbery told investors last week. "The fastest-growing sub-segment of that are chocolate spreads." The chocolate spreads category grew by 13% in 2012, is now estimated at over $300 million, and is expected to continue expanding through at least 2018, according to Euromonitor. Sales of Ferrero's Nutella, which still holds about a 70% market share in the US, have tripled to $240 million over the past five years.
It's likely the newest player in the chocolate spread domain—already an 800-pound gorilla in the world of chocolate—will fragment the market further. Hershey's isn't just dominant in the US, where it sells 40% of the country's dark chocolate and controls 43% of chocolate and confectionary sales, but also globally (Hersheys already has a 10% chocolate market share in China).
Nutella still rules the pantry when it comes to chocolate spreads. As well as dominating the US market, it boasts an even higher market share in other countries, including India, per Euromonitor. But despite Ferrero's current supremacy, there's good reason for Hershey to think it can take a bite out of that market. The J.M. Smucker Company launched Jif Hazelnut Spreads, its own take on a Nutella-style spread, in 2012, and has already amassed an over 20% market share, according to Euromonitor. And with big advertising plans for the new Hershey's spreads, it might not be long before Americans are spreading Hershey's, not Nutella, on their toast.