Chinese e-commerce giant Alibaba made a bid on Feb. 10 for the 72% stake it doesn't already own in AutoNavi, which operates China's most popular mapping service. The all-cash deal values AutoNavi at $1.6 billion, up from the $1 billion valuation at which Alibaba acquired its initial stake in the firm last May.
If completed—AutoNavi is convening a committee of directors to consider the unsolicited offer—the deal sets the stage for a race between China's three largest internet companies over the next frontier of the world's largest smartphone market: Mapping services. Alibaba, Tencent, and Baidu have each been trying to expand their mobile offerings via location-based services. Here's how their map apps stack up so far:
Alibaba/AutoNavi: For shopping in the real world
Back in 2012, Alibaba quietly launched a mapping service for users of various Alibaba phone applications like Taobao Local Life, an education services channel, and Etao Guangjie, a price comparison app. The maps show their users food, accommodation, and shopping discounts nearby.
The app hasn't received much attention, but it's likely that if AutoNavi is purchased by Alibaba, the two will work on creating a mapping service that similarly connects smartphone users to nearby stores. The AutoNavi app already lets users book restaurants, hotels, or find nearby tourist attractions—with a navigation system that features the voice of popular Taiwanese actress Lin Chi-Ling.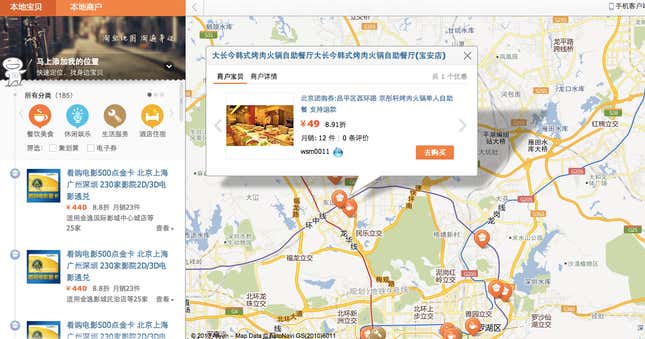 Baidu: For finding your friends
Although Baidu is China's most popular search engine, its mapping service loses out to AutoNavi, which holds about 31% of the market, compared with Baidu's 27%. But Baidu's mapping service, which offers many of the same features as AutoNavi, has been catching up in terms of functionality. Last year, it rolled out a service similar to Google's Street View and is adding a function that allows users to see, if granted permission, their friends' locations in real-time.
Most recently, Baidu has been publishing a heat map of the most traveled routes during this year's Chinese New Year mass migration. A screenshot of the map this week shows people fleeing the city of Dongguan in Guangdong, after a police crackdown on its brothels.
Tencent: For gawking at places you'll never go
Tencent, the maker of the messaging app WeChat, recently entered the mapping foray with a service that is most notable for its on-the-ground views of remote parts of China like the disputed Diaoyu/Senkaku Islands. The company is working on integrating its maps into WeChat, which is quickly becoming a multi-use platform for everything from shopping to investing to even booking hospital appointments.