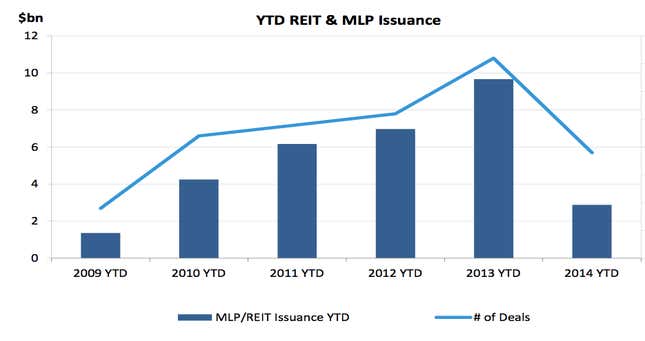 Could this be another sign of a return to normalcy in the capital markets? Real Estate Investment Trusts (REITs) and Master Limited Partnerships (MLPs) are raising less equity capital.
These vehicles, which The Economist last year cleverly described as "distorporations," have raised just $2.9 billion in equity this year, their lowest level since 2009, according to Dealogic. By contrast, overall IPO volumes are up nearly 24%, according to Renaissance Capital, with $6.8 billion raised through new listings.
REITs (which own residential and commercial property, including everything from cellular towers to hospitals) and MLPs (publicly traded partnerships that typically own oil and gas pipelines) are investment vehicles that typically return all of their cashflows to their unit-holders and pay no federal taxes.
The popularity of these vehicles has soared in the years following the economic crisis, with investors drawn to their juicy yields in an environment of otherwise record low interest rates. Now, with the US Federal Reserve taking its first tentative steps to wind back its extraordinary stimulus, their appeal seems to be diminishing.