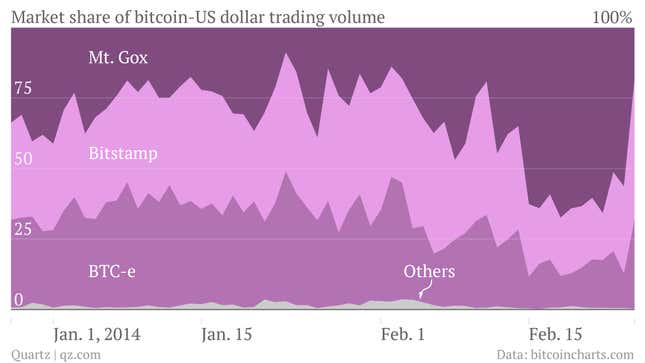 After halting customer withdrawals earlier this month, Mt. Gox, a popular bitcoin exchange has gone offline. The company's website loads a blank page. Users believe their deposits, nominally worth hundreds of millions of dollars, have been totally wiped out. A document is now circulating alleging that hackers have for years been exploiting a critical security flaw in the exchange's software, stealing vast sums equivalent to 6% of all bitcoins in circulation.
Mt. Gox has handled nearly 40% of all exchanges between US dollars and bitcoins since January 1, according to data from bitcoincharts.com. But the void left by its absence has been quickly filled by two other exchanges, Bitstamp and BTC-e.
It remains unknown how many people will be willing to convert their money to bitcoin following the Mt. Gox meltdown. But these two other exchanges are profiting from any activity. Both Bitstamp and BTC-e transaction volumes today are at their highest level in more than two months, only half way through the day.
The last US dollar-bitcoin transaction on Mt. Gox was at 1:59 am in London on February 25. At that time, the exchange had cleared transactions worth 29,887 bitcoins, according to bitcoincharts.com. Bitstamp and BTC-e have continued to clear thousands of transactions since then.
On February 7, Mt. Gox began preventing its customers from withdrawing their bitcoins, though other trading continued. By February 21, the price of a bitcoin on Mt. Gox fell below $100 while on other exchanges, prices remained above $500.
(For more on how bitcoin actually works, you can read our explanation here.)