Before the coronavirus pandemic, on-demand delivery companies were still figuring out how to get people to try their services. Not anymore.
With an estimated one-third of the global population on lockdown, services that deliver groceries, medicines, prepared food, and other essentials have never been in higher demand. Even Amazon, a logistics juggernaut, is struggling to cope with the crush of orders. It's as though most of the world signed up for a one-month trial overnight.
On-demand delivery companies have long said their technologies allow them scale as they grow in popularity. Now, the coronavirus is giving them a chance to prove it. In the space of a month, these companies have transformed from a luxury of the rich to the connective tissue holding much of the economy together. Whether they can deliver in a time of global need may also determine if they find their businesses permanently altered, with millions more customers comfortable ordering food and other essentials online.

Table of contents
Demand is high | Changing the delivery equation | Delivery partners needed | Can it stick?

Demand is high
An early sign of the new pandemic world order arrived in March, when Amazon halted "non-essential" shipments from third-party merchants to free up space in its warehouses for "essential" categories (baby products, health and household; beauty and personal care; groceries; industrial and scientific; and pet supplies).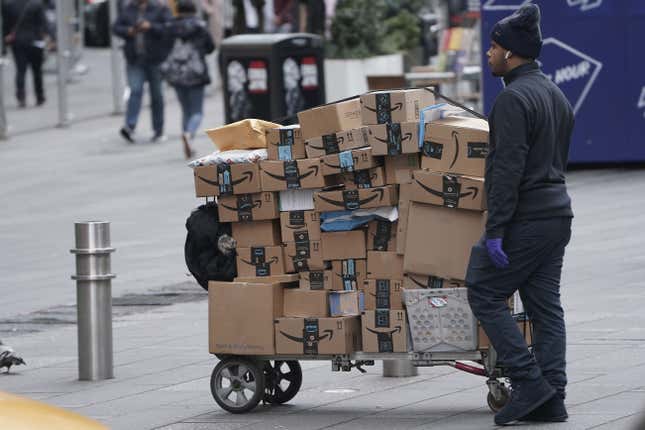 Of these essential categories, grocery has arguably emerged as the most essential. As lockdowns loomed, panicked consumers stripped shelves bare around the world. Supermarkets had to put buying limits on popular items like hand sanitizer, long-life milk, and toilet paper. Meanwhile, online grocers and stores that offered delivery quickly became so overwhelmed they had to take drastic measures, from implementing a "virtual queue" to get on the site to closing their digital doors to new customers. On a March 19 call with investors, Duncan Tatton-Brown, the chief financial officer of British online grocer Ocado, likened the surge in traffic the company had seen to its website to a malicious denial-of-service attack.
Online grocery has long been the holy grail of delivery. Groceries are the ultimate staple: something every household needs and buys fairly frequently. That makes them a valuable anchor category for online retailers looking to keep customers coming back.
The trouble is, selling groceries online is a lot harder than selling other things. Fresh food needs to be stored and transported at specific temperatures, and delivered before it goes bad. That either requires sophisticated warehouses and inventory management or traditional grocery stores with extra staff dedicated to picking and packing online orders. Then the delivery network needs to dispatch orders to customer homes. None of this is cheap, and the net profit margins of most supermarkets already barely exceed 1%.
On top of these logistical challenges is the simple fact that most shoppers like, or at least are accustomed to, going to the grocery, and consumer habits are hard to change. They like to pick out their own tomatoes and compare deals in the cheese section. They have little tolerance for online grocers that ship orders with missing items, substitutions, and spotty produce. Traditional grocery stores have also spent decades perfecting shelving and aisle layouts, creating a universal grocery language. Shoppers know stores tend to offer their own private label items next to name brands, and to look for deals flagged with brightly colored price tags. Similar cues are difficult to replicate on store websites.
All of this might explain why consulting firm Bain found "a humble 3%" of US grocery spending occurred online in early 2019. Even in more mature markets like the UK and South Korea, it topped out at around 10% to 15%. (Half of all US grocery shoppers, that same Bain report found, still used handwritten lists to plan their shopping trips.) Analysts have predicted global online grocery sales will grow at around 15% to 20% a year, for a total market opportunity of around $375 billion in major markets by 2023, still a small fraction of the roughly $8.3 trillion in global grocery sales expected at that time. No one expected a pandemic to bring a big chunk of that trillion-dollar industry online overnight.

Changing the delivery equation
The past decade brought a boom in the global market for delivery, and food delivery in particular. Grubhub, the US incumbent, expanded its turf while new entrants grappled for footholds around the world: Uber Eats, Postmates, and DoorDash in the US; Delivery Hero and Deliveroo in Europe; GrabFood in Southeast Asia. On-demand delivery held the most promise in urban areas packed with young, wealthy, tech-savvy customers who had learned from services like Uber to expect instant service at the touch of a smartphone button. In its 2019 filing for an initial public offering, Uber optimistically estimated the market for food delivery to be the entire $2.8 trillion consumer food services business.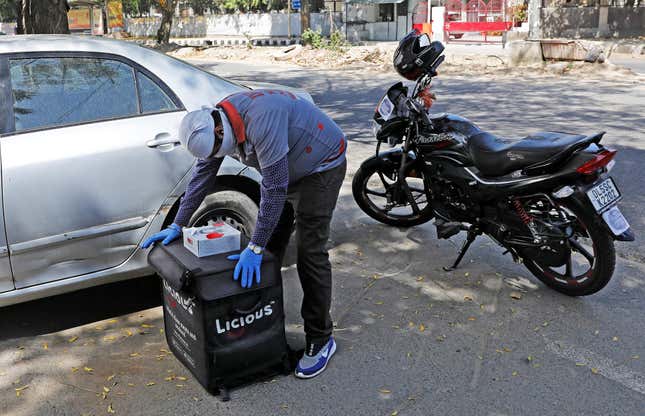 Until a few months ago, the first challenge for any on-demand service was getting customers through the virtual door. Startups tended to tackle this with referral promotions (the "refer a friend to get money off your next order" strategy) and steep discounts for new users—subsidies made possible by generous backing from venture capitalists. The nonstop promotions made on-demand companies popular but also concealed the true cost of delivery from customers who were rarely, if ever, asked to pay it.
While one discount might help a company by getting a customer to try their service, systematic discounts hurt the industry by acclimating customers to artificially low prices. Aggressive discounting has also led to some companies losing money on every order, what's known in industry parlance as "negative unit economics." Last summer, a report from analysts at investment firm Cowen estimated Uber Eats lost $3.36 on every order and would continue to lose money on each order until at least 2024.
Most unit economics boil down to a simple calculus: the revenue the company generates per task (e.g., a delivery) should exceed the costs of completing that task (e.g., wages paid to a delivery person). Companies can pull a few levers to change the equation in their favor. They can charge higher prices to customers; they can take a bigger cut of sales from the store or restaurant; they can pay workers less; or they can increase efficiency so that they complete more tasks, bringing in more revenue, for each fixed unit of expense (e.g., an hourly wage).
Delivery companies have typically preferred the latter strategies of cutting worker pay or focusing on efficiency gains. Restaurants have little financial wiggle room, and consumers are highly price sensitive. In June 2016, a research report from Morgan Stanley on US online food delivery found that 71% of adults surveyed said they would spend no more than $5, excluding tip, for a $30 order of restaurant food that was "guaranteed to be delivered fast." An updated report by Morgan Stanley this past November found that nearly 60% of consumers said promotions influenced or determined whether they ordered food delivery. Among Americans ages 18 to 34, price was the most important factor in deciding where to order from, beating out food quality and delivery time.
It wasn't clear how companies planned to wean their customers from discounts, and many never did. Instead, they cut other perks, or pursued veiled price increases by stuffing transactions with new and ever-changing fees. But thanks to the coronavirus, delivery companies for the first time may be able to justify their price premium. The unprecedented surge in demand for delivery means that some, and probably many, customers will be willing to pay the real prices these companies must charge to make their unit economics viable.
Amazon, for instance, used to charge Amazon Prime members an additional $14.99 a month to access its Amazon Fresh grocery delivery service. It dropped that Fresh fee in October 2019, contributing to a spike in shipping costs, as online grocery competition intensified in the US. Demand for grocery is now so high that Amazon is signing up new customers for Fresh service by invitation only, and making existing ones queue for slots. Fresh sales were up an estimated 323% year over year in March. It seems likely that if Amazon were to reintroduce that $14.99-a-month fee, a lot of people would agree to pay it, at least while the pandemic rages.
Whether these companies choose to charge more for their service is another matter. Raising prices in a crisis risks looking like profiteering, even if the increases are designed to make the business financially sustainable. Higher prices would also hurt poorer and more vulnerable consumers, who are already disproportionately affected by the coronavirus.
In the US, food delivery is most prevalent among young, urban men, and higher income households, according to Morgan Stanley. Of people who said they didn't order food delivery, nearly 40% blamed it on the cost. In the early days of the pandemic, some food delivery companies actually swung the other way and dropped or reduced their fees to encourage customers to keep ordering from restaurants.

Delivery partners needed
Consumers aren't the only ones clamoring for delivery services right now. Businesses small and large are looking at delivery as a way of staying afloat.
Nicholas Potts is founder and chief executive of ScriptDrop, a healthcare tech company based in Columbus, Ohio, that partners with pharmacies to deliver prescriptions in the US. Potts told Quartz in early April that deliveries spiked 500% in the second half of March, to a rate of around 1 million a month. He estimated that within two months, ScriptDrop would be handling between 5 million and 6 million deliveries per month. "We're absolutely fortunate to have the opportunity to help so many people," he said.
ScriptDrop's customers are pharmacies. It works with around 20,000 of them, or close to a third of US pharmacies, so that pharmacists can offer their customers a same-day delivery option for prescriptions. ScriptDrop charges $8 for a delivery, a cost the pharmacy can choose to pass onto customers. Since the coronavirus arrived, Potts said ScriptDrop has launched service for "two large pharmacy chains" (the details aren't public yet) and a pharmacy group based in Ohio.
Giant Eagle, a US supermarket chain based in Pittsburgh, Pennsylvania, recently increased its pharmacy delivery capacity from 30 to 170 stores after expediting a deal with ScriptDrop. Demand for pharmacy delivery at the 30 locations that already had it "doubled overnight" once the severity of the coronavirus crisis became clear, said Michael Chappell, Giant Eagle's VP of pharmacy operations. Giant Eagle is currently offering pharmacy delivery through ScriptDrop to customers free of charge.
As the virus spread, Potts said pharmacies and some state officials also approached him about developing a patient-facing service. ScriptDrop had already been working on something similar for several months, so it accelerated those efforts and recently launched a texting-based service for patients to arrange a delivery from their local pharmacy. The company designed the customer service to be as simple as possible since many pharmacy patients are elderly and might struggle with steps like downloading an app and creating an account.
Another company seeing a surge in business interest is Uber. The ride-hail company's Eats restaurant delivery service positions it well for a broader push into delivery. Uber recently struck a deal to deliver from French supermarket Carrefour in Paris, e-tailers Flipkart and BigBasket in India, and Galp, a convenience store chain in Spain.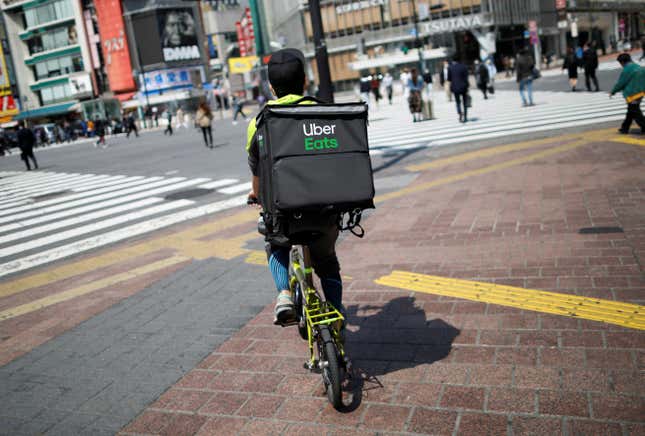 Uber has also launched a delivery-only grocery service in Naples, delivery of essential items from supermarkets and convenience stores in South Africa, and a government partnership to deliver household staples in Sri Lanka. Uber said sales from groceries and convenience stores have more than doubled in some cities since the pandemic began.
Restaurants have found themselves in a particularly tricky position. Like grocery stores, they have notoriously thin margins. Many have contentious relationships with delivery platforms like Uber Eats, Grubhub, DoorDash, and Deliveroo, which can charge between 15% and 30% of sales for a delivery. Restaurant owners have caught delivery apps adding them to their platforms without permission, artificially inflating menu prices, and even creating fake websites and phone numbers for their businesses to charge extra commissions.
But delivery and takeaway are also the only real business option most restaurants have at the moment. That means many are dependent on the same delivery apps they fear could squeeze them out of business, and whose hygiene and safety standards they can't control. San Francisco's mayor recently announced a temporary cap of 15% on the commission delivery companies can charge to restaurants for the duration of the state of emergency, or until restaurants are able to re-open their dining rooms. In New York, three consumers recently sued Grubhub, DoorDash, Postmates, and Uber Eats, alleging they are taking advantage of restaurants during the pandemic to impose high fees that lead to increased menu prices.
It's also important to keep in mind that the dependency cuts both ways: without restaurants, food delivery companies have no business. The reality is that delivery alone is unlikely to sustain many independent businesses through the coming months, as food delivery apps know all too well. "The industry isn't large enough for all restaurants to survive just on delivery, but they can survive for a matter of weeks potentially," Grubhub CEO Matt Maloney said in an interview in late March. "It's definitely not a long-term solution to bridge across restaurants."

Can it stick?
It can be hard to remember that, about a month ago, a third of the globe was not in some sort of government-mandated lockdown. Already, the nascent consensus is that life is not going back to normal, certainly not any time soon, maybe not ever.
Where does this leave delivery? In the short term, it's here to stay. So long as society remains under lockdown, or in a cycle of relaxing-and-then-tightening measures to keep the virus under control, delivery services will be an essential piece of our infrastructure.
Even as restrictions loosen, customers may remain wary of going to shops, and prefer to make purchases online. Even as restaurants and storefronts slowly reopen, they will have a difficult time returning to full capacity while some level of social distancing remains in effect.
Tougher to say is whether the delivery boom will last beyond the pandemic. After months of quarantine, people may jump at the chance to eat in a restaurant again or browse the shelves of their favorite bookshop. They may miss scouring grocery aisles for the ripest tomatoes and a loaf of freshly baked bread. The technology for a shut-in lifestyle has existed for some years now, but it's not one most of us have chosen.
One reason analysts believe online grocery has struggled to catch on is that most of the services are not very good. The typical supermarket carries more than 33,000 items. The typical online grocer offers about 20,000, a report from Bernstein analysts found, a level at which choices start to feel "limited" to consumers. Most online grocers also only manage between 90% and 95% product availability at any given time, a number that may sound high but Bernstein reports is too low to satisfy customers. The UK's Ocado, a rare online grocery success story, achieves 99.5% product availability.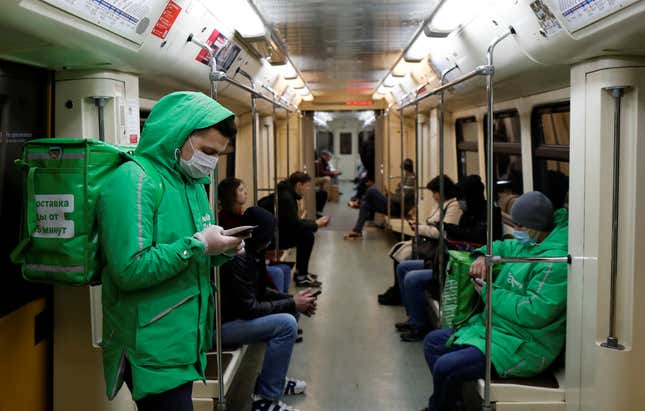 The pandemic has brought online grocers not just increased demand, but relief from some of these consumer grievances. Right now, any grocery delivery is a good delivery. Issues that might normally drive away customers—out-of-stock products, orders with lots of substitutions or missing items, late deliveries—are far less likely to alienate consumers who fear going to a physical store. Many customers also understand that grocers are coping with unprecedented demand, supply chains are strained, and, for the most part, everyone is doing their best in a difficult situation.
The opportunity to build habits over many months also can't be discounted. Consulting firm Bain, for instance, found that less than half of first-time online grocery shoppers said it saved them time, but that by the third order that figure had jumped to 63%. Bain also found that customers overwhelmingly tend to stick with the first online grocery service they try.
"Our judgement is that you're definitely going to have a retention of more delivery and curbside convenience moving forward," Michael Chappell, Giant Eagle's VP of pharmacy operations, said. "I don't think it's going to be 100% retention because a lot of folks today are doing it out of fear, and they would rather go into the store to shop. But I do think there's going to be another part of the population out there that's going to say, wow, we made it easy with curbside, we made it easy with delivery."
The challenge for all delivery companies is to serve as many customers as well as possible at the current moment, in hopes that some of them will stick around after the pandemic ends. The extreme societal changes demanded by the virus have given these services an unprecedented opportunity. The measure of success will be whether the world's consumers keep coming back when it's a choice, and not simply a necessity.