To reopen an office during a pandemic, companies must contend with a two-fold challenge: Making facilities safe for occupancy, and convincing employees that it actually is.
Solving for these physical and psychological hurdles has kept architects, engineers and designers busy over the last few months. With US regulatory boards making it easier for new products to reach the market during the coronavirus emergency, a slew of solutions—from zany to ingenious—have become available. But seven months into the pandemic, as more companies contend with what office life means now, experts argue that the clunky, half-baked prototypes from months ago will no longer suffice. Design solutions must not only effectively contain the spread of the virus, but also make going back to work a pleasant, even beautiful experience.
"The next wave will be about getting employees interested in coming back to the office," says Sam Dunn, CEO and co-founder of Robin, a startup that recently launched a suite of digital tools for reopening work sites. He stresses that good design can help make things feel less clinical or chaotic. "Going to work right now feels like going through airport security. What you want is the excitement of booking the trip," he says. "For many, the office is an opt-in and companies have to start treating it like employees are going on a day trip."
When health and well-being are at stake, that journey to your desk better be worth it.

Covid-19 office solutions 2.0
Raphael Gielgen, head of research and trend scouting at the Swiss furniture company Vitra says the best reopening solutions are purposely integrated with an office's interior design."You don't want people to look at a space and just see barriers," he says. Gielgen believes that a safe office can still be beautiful, but it will require some work. "You really push barriers in order to create an uplifting space."
Beyond plastic partitions and masking tape, here are several promising evolutions on design solutions for the office.
Better body thermometers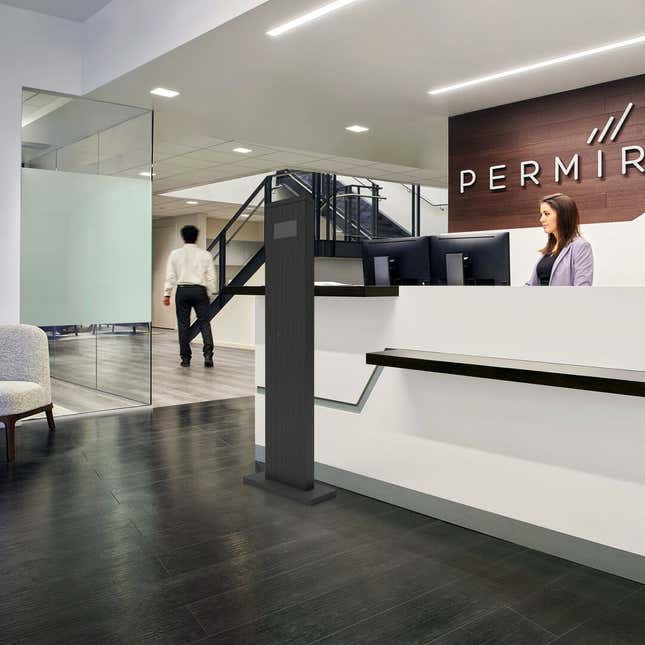 A new generation of body temperature scanners aim to be less jarring than gun thermometers and blend in with the rest of the office décor. Scott Schoeneberger, managing partner at Michigan-based Bluewater Technologies Group, for instance, says that they developed several touch-free scanners because they saw the opportunity to improve the often clumsy and risky interaction between an employee and check-in personnel. They also wanted to improve on temperature kiosks, which tend to look like they belong in a clinic rather than an office lobby.
"Our designers drew out something that would just feel a little bit more organic," Schoeneberger says, describing an innocuous-looking temperature scanner that looks like a slim wood plank. "I think we'll see a lot more of that. Eventually these devices will start morphing into the background instead of being so front and center."
Some high-end temperature scanner models have built-in cameras and facial recognition software. Schoeneberger recognizes that there's an ethical dilemma involved in designing monitoring technology to be unobtrusive. "It feels a little still Wild West right now…but health information privacy will be a concern. I imagine some of them are saving data and that will be an issue," he says.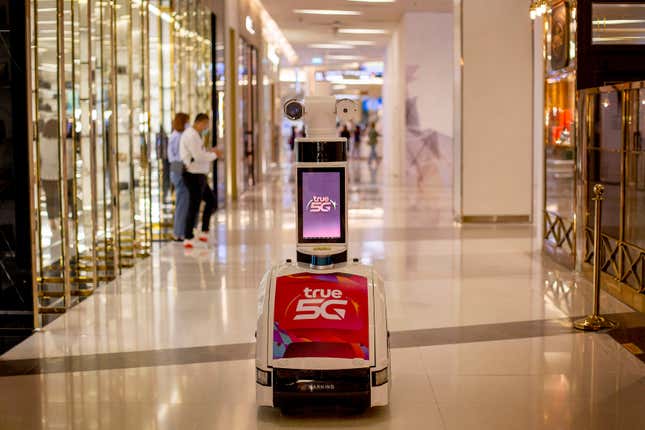 Check-in procedures and crowd density monitors
Facing a rigamarole of screening, questionnaires, and queues isn't the most productive or pleasant way to begin a work day. Dunn says offices would fare better if they designed this experience with a concierge's mindset: efficient, warm, and welcoming. The right technology can help employees plan ahead and have a better control of the day.
Density guards, for example, are automated crowd tally counters that can also help people maintain proper social distancing. Mounted on a ceiling or a door frame, they offer an instant picture of how crowded a space is, without registering the identity of occupants. Density IO's turnstile feature also projects a green light when it's safe to enter a space.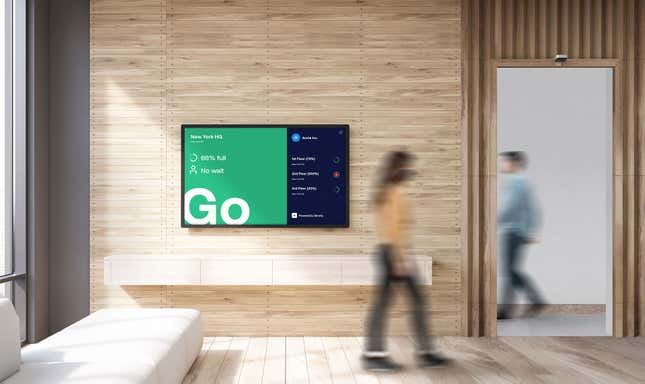 Office makeover for social distancing
New furniture layouts are a signal that a company is taking social distancing measures seriously. Beyond pushing desks apart, they can take the opportunity to experiment with a range of new spaces.
Manan Shah, a principal at architecture firm Gensler, has been working on a project in San Jose, California that's become a locus of solutions for pandemic office life. Plans for Assembly at North, a sprawling 27-acre tech campus south of Silicon Valley, depict configurations to suit various work styles.
One idea involves dividing vast open plan layout, into "neighborhoods" for teams of 20-30 employees. There's also the "officle"—essentially a small, well-ventilated private office without doors. A mudroom allows employees to wash their hands and put on a mask before entering the main work area. "I think these can have a calming effect on people," says Shah.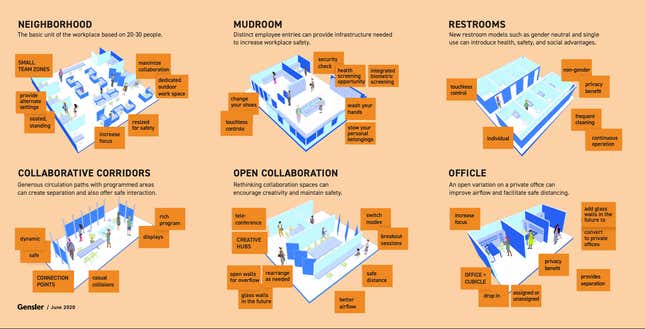 Dunn, whose company developed a planning tool for spacing out desks, is also a fan of the neighborhood concept. With staggered arrivals, roaming through a vast, empty office can feel like being in a ghost town, he explains. But designed the right way, smaller sections can be tailored for work teams."We're seeing smaller teams working together who might pick one or two days a week to meet in the office. They take over a corner of one floor and that's exciting," he says.
Beyond plexiglass
While we're talking partitions, it's time to consider better alternatives than plastic panels. Plexiglass barriers, though inexpensive and readily available, can make employees feel that they're working inside an aquarium. Designers have shown how repurposing acoustic panels, bookshelves, office plants and even office phone booths can effectively divide a space.
Framery, a manufacturer of soundproof office phone booths, say that their pods can be repurposed as private offices. Though it's going to be a challenge convincing anyone to sit in an enclosed box, they stress that their models are equipped with a robust air filtration system and door handles coated with copper, which is known to kill viruses on contact.
Non-threatening directional signage
The graphic design of wayfinding signage can set the tone in an office. Done right, signs offer useful reminders or direct foot traffic without instilling a sense of fear.
"We wanted these signs to be optimistic and uplifting so that when people were returning to work or to school, it wasn't a reminder of this very difficult period," says Geoff Cook, a partner at Base Design who recently launched Way Forward Signage Company with the Tennessee-based firm Hastings Architecture. Cook says that their collection of readymade Covid-19 themed signs for offices, schools, museums and other public spaces are meant to "help to uplift while still providing critical information." He adds that they're developing Spanish language versions of the signs.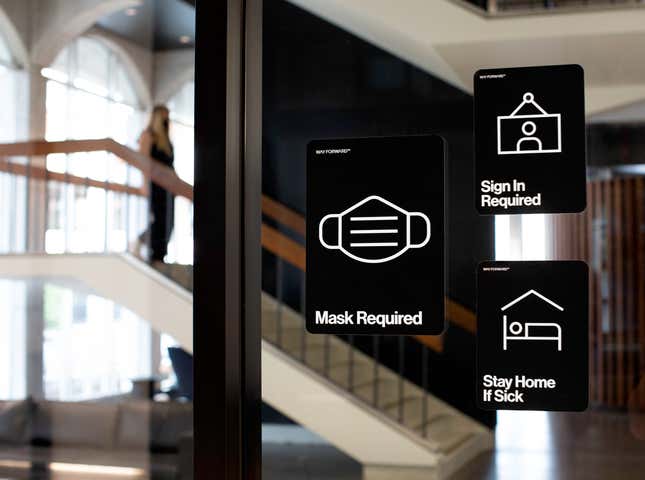 David Bailey, a partner at Hastings, adds that they intentionally omitted symbols that remind people of Covid-19. "We didn't splatter virus icons all over this and didn't want to make these things obnoxious," he explains. "They were intended to be something that people would continue to enjoy visually because they're going to be there for a while."
In the spirit of introducing levity in the office, Mixtiles offers coronavirus wall signage kit featuring cartoon characters, cats and cheeky captions. "Caution and optimism can and should go hand in hand," explained Mixtiles in a press release. "[We're] putting a smile on the face of office goers while reminding them of crucial hygiene standards."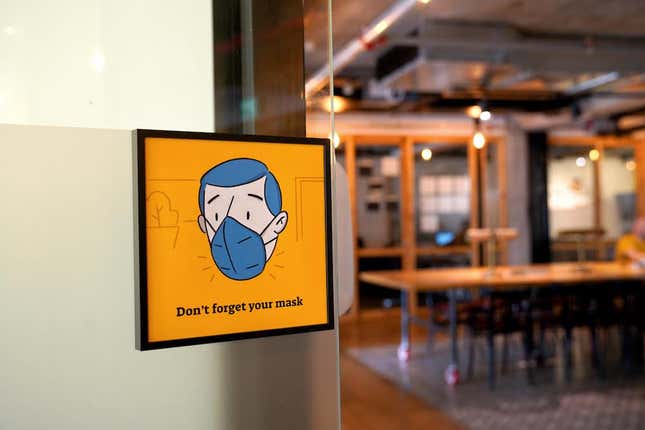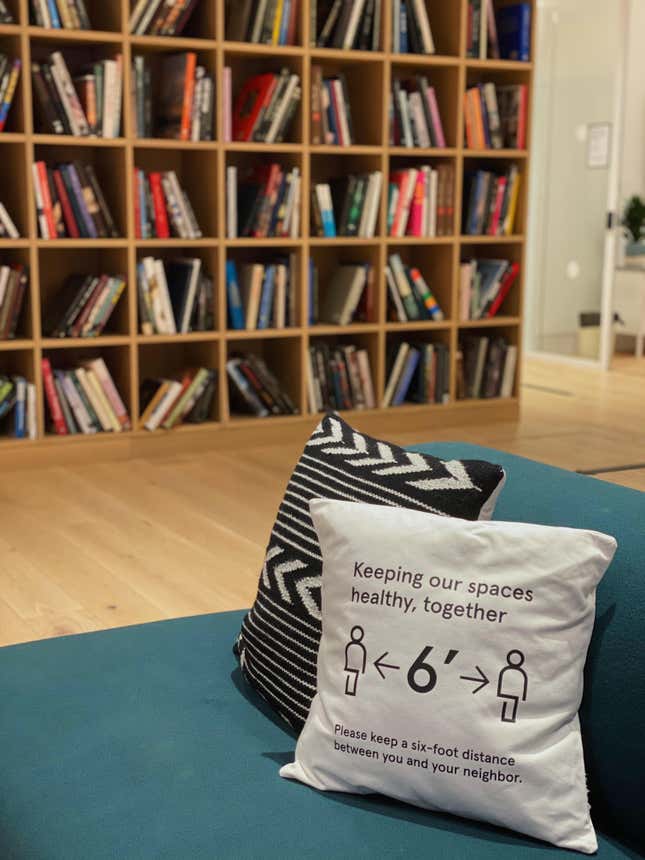 At WeWork, social distancing reminders are found on many surfaces, including throw pillows. Ebbie Wisecarver, WeWork's global head of design, explains that they purposely designed signage that align with their corporate branding to foster a sense of normalcy during the pandemic. "We choose not to remove lounge furniture but rather add pillows that reinforced our distancing guidelines," she says. "We selected hand sanitizer and wipe dispensers that fit in well esthetically with our spaces and displayed WeWork branding."
London-based Applied Wayfinding's has a different philosophy on coronavirus signage. They believe that reminders should be clear and function as warnings above all. "Some businesses want to create a pleasant environment, but this is a crisis," Tim Fendley, the firm's creative director, told Quartz. "It's not about being nice." Applied's Covid-19 signs include a spiky red ball, (after the Center for Disease Control's Covid-19 model) to denote where the invisible virus might be.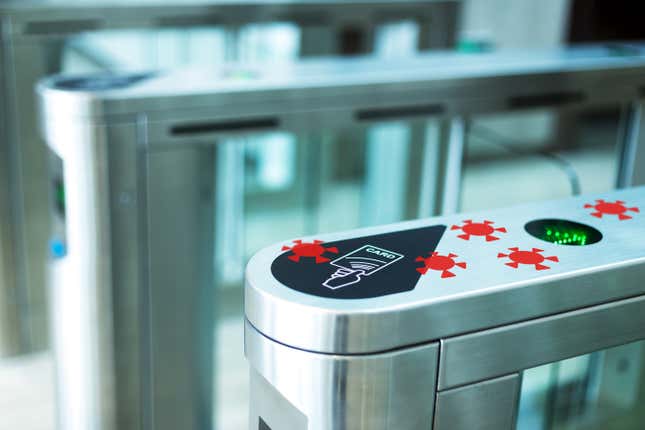 Office plants and air quality
Air quality has become a prime concern in the fight to arrest an airborne virus. For offices lucky enough to have direct access to grounds like Assembly at North, extending the office outdoors is one promising solution. "We've been thinking about how to give people more ability to go from their desks to an outdoor space to take a phone call or hold a meeting," says Shah. "We know that fresh air is the healthiest air."
For those without outdoor spaces, introducing plants can provide that sense of natural air filtration, says William Yu, design manager, at the New York-based architecture firm Ted Moudis Associates. For Focus Financial's headquarters in Manhattan for instance, Ted Moudis installed a type of moss that survived the months of lockdown. Yu says that biophilic design, which brings natural elements into interior spaces to improve health, will be especially useful during the pandemic. "With Covid, we really need to incorporate well-being in our thinking," he says. "We've all been affected psychologically, but maybe especially those in the work environment. We have to make everyone as comfortable they can be right now."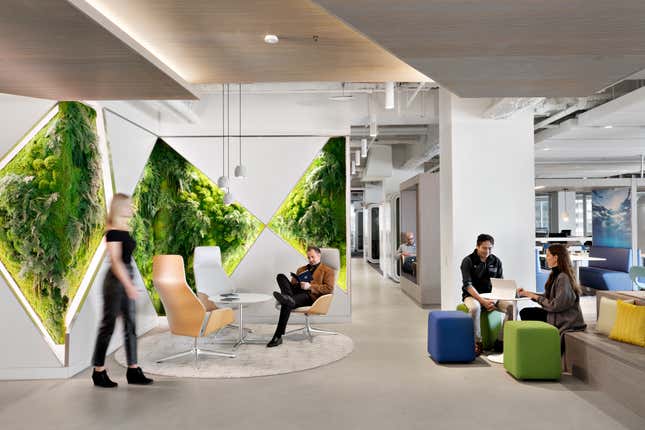 Far UVC bulbs vs. UV robots
A lab at Columbia University has been developing a type of ultraviolet light called "far-UVC" that can kill viruses such as the SARS-CoV-2 virus without harming humans in the process. Radiology professor David Brennen reports that tests suggest that continuous far-UVC exposure in occupied public locations can kill 90% of viruses within eight minutes and 99.9% within 25 minutes. Because the far UV can't penetrate the skin and the eyes, Brennen says that the light can be used to safely disinfect crowded indoor spaces, like offices, hospitals, planes, gyms, schools, restaurants, theaters—essentially promising a semblance of normalcy during the pandemic.
Current germicidal UV light technology—including UV robots used to sanitize hotel rooms and hospitals—can only be safely used when a room is unoccupied because they've been proven to harm the skin and the eyes. Brennen adds that the technology is effective in quashing the influenza virus and could be used on future coronavirus strains too.
Speaking at the TED conference last month, Brenner reports that several manufacturers have been ramping up production of far UV light products and anticipates that they'll be more available and affordable in the near term. (A far UV lighting fixture sold by Healthé retails for $1,600 and a sanitizing entry portal costs $22,500.)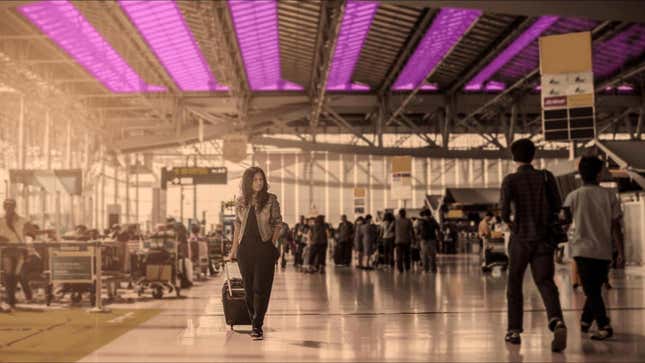 The human touch
Beyond rearranging furniture and installing tech gizmos, feeling cared for by other humans may still be the most effective intervention.
For instance, seeing cleaning crews during office hours can bolster confidence, suggests Shah. "We all know that nighttime cleanings are great, but I think operational teams have begun doing daytime cleanings because of the psychology associated with that." He explains that the pandemic has cast a spotlight on building staff who do their work behind the scenes. "The building owners, management, and facilities staff have a much more important part of the workforce ecosystem. You may have been friendly with the security guard or the services team, but they were largely invisible for many employees."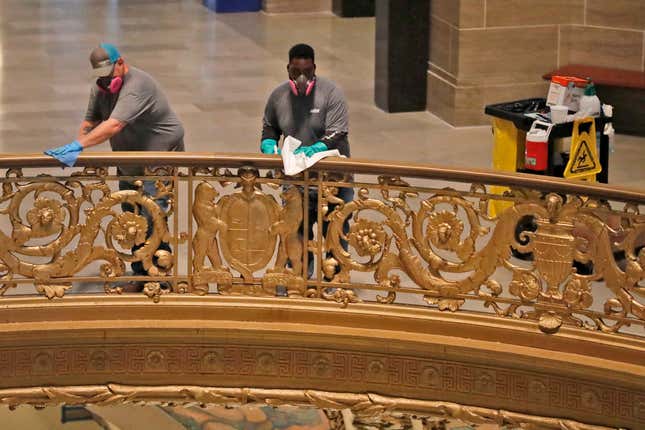 Bailey, the partner at Hastings, says that having a nurse administer daily health screenings has been a game changer. "It has really inspired a lot of confidence in our staff and calmed everyone's fears and worries" he tells Quartz. "We've had a couple of people who have shown up with a fever that hasn't been Covid, but they went home and didn't come into this space."
Enforcing a mask-wearing policy helps too. "Because my building is quite strict about the mask-wearing and cleaning policy, I feel pretty comfortable going back to the office," attests Irinn Vinaiphat, an art director in Bangkok who works in a high-rise corporate tower. "I always wear a mask when I'm in a public space and I avoid crowded places like the cafeteria." Vinaiphat says that it's heartening to see how relentlessly building management is enforcing safety protocols. "Doors from the parking garage are opened only on three floors so that everyone coming in gets their temperature checked," she says. Employees then get a different colored sticker each day as a building pass.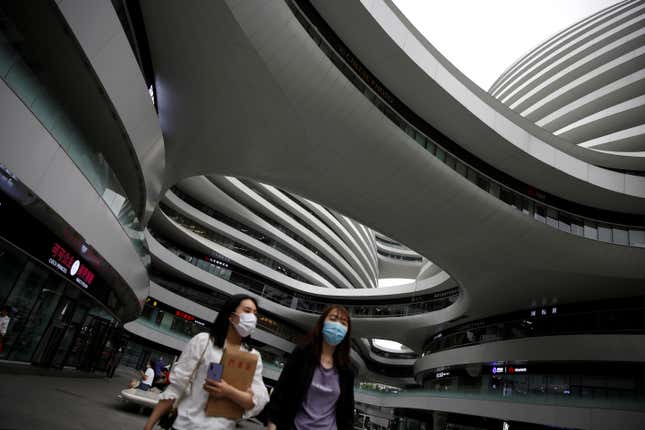 Ultimately, getting employees to feel safe is as much about good management as it is about good design. "The most important thing I found was the weekly updates from our CEO Nora Fehlbaum," said Gielgen, Vitra's trend scout. "She spoke to us every Monday through our online portal. This gave us all a sense of purpose and a feeling of care," he says. Gielgen adds that Vitra's recently-formed coronavirus task force crew has also been offering information that helps staff acclimate back to the office. "After thirteen weeks at home, I was back at the Vitra Campus. I realized how much I missed the culture and experience of being there."