In the months since coronavirus put the US on pause, few industries have been as scrambled as real estate. Despite industry-boosting mortgage rates and a sales bonanza in certain suburban markets, the industry has recovered slowly. High unemployment, plus continued Covid-19 outbreaks, have put a damper on real estate. In May, sales reached their lowest rate in nearly a decade, though they rose in July.
Despite 2020's curveballs, home sales in the US haven't been great for a while. Prices far outpaced inflation, especially in the most competitive markets, putting ownership out of reach for many Americans. Between 1981 and 2016, the age of the typical home buyer increased from 25-31 to 44, and a smaller percentage (pdf) of Americans owned homes in 2019 than they did in 1997.
Folks want a home of their own for lots of reasons. They might see them as an investment, or a more affordable option in the long run. Maybe it's because remote work leaves them untethered to cities, or because it's what they think they should do as newlyweds or young parents.
But those reasons for owning homes, while widely accepted in America's economic and social climate, may not stand the test of time. In the future, people may find it too risky, too costly, and too deeply uncool for home ownership to make any sort of sense. One unexpected reason for these shifts: the threat of climate change.
Who says you can't own a home?
There are lots of questions to ask when buying a house. How many bedrooms and bathrooms does it have? How many acres is it perched on? How are its "guts"? But one of the most fundamental is: Do I think I'll be living here for a while?
For people considering buying homes in many parts of the US, the answer is increasingly no. Some areas in the American South will be too hot to be livable; others in California will be so susceptible to wildfires that they will be uninsurable. Areas of some states, such as Florida and Louisiana, are virtually guaranteed to be underwater in the coming decades.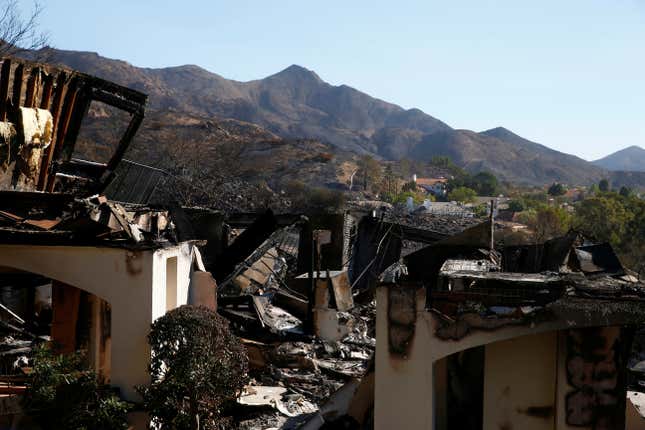 In many cases, potential homeowners are left to divine this potential risk on their own. Regulations around disclosing flood and fire risk vary by state. In California, for example, insurance companies looking to reduce their wildfire risk are raising prices in the most vulnerable areas; so many buyers have backed out of sales that some real estate companies now require buyers to get an insurance quote before putting an offer on a house. In many cases, unless a shopper has done their research, they might not know if they have to get insurance until after they buy.
As the effects of climate change become more widely felt, many residents of those areas are no longer questioning if these things will happen, but when. Doubtful that any dramatic intervention will reverse the course of global warming, some people don't want to wait for that one big storm, or that one big fire, that could render their homes unlivable—especially when that home represents a large chunk of their assets. They'd rather look to buy in areas with climates projected to be unaffected or even improved in a warming world.
Those risk calculations are creating a dramatic shift in the places Americans buy homes, if they do at all. Between 2011 and 2016, home sales in counties prone to flooding grew 25% slower than in the rest of the country, the New York Times reported in 2016. In Miami, where hundreds of thousands of homes are expected to be underwater by 2050, home prices were falling even before the pandemic depressed them further.
---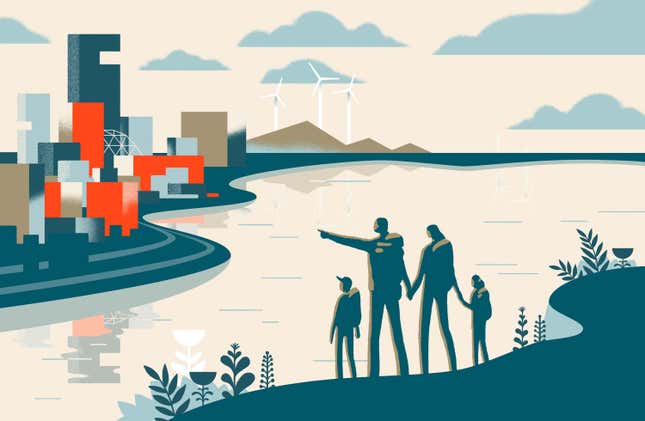 How will history remember the cities that adapt to climate migration? Visit the museum exhibition for Leeside, climate haven of the future.
---
Meanwhile, the median sale price for a home in Michigan, a state predicted to feel the fewest effects of climate change, rose 142% between 2010 and Feb. 2020, according to Zillow. In Buffalo, New York, the median home price listed on Zillow has nearly doubled in that same timeframe. Some buyers are going so far as to ensure that their properties include pristine forest or water sources, as backups in case of disruptions to the food or water supply.
But perhaps this calculus is flawed. Maybe these careful projections of the risk of flood, fire, or drought in parts of the country aren't painting a full picture. Maybe climate change will have such a profound effect on the US economy that Americans won't want to own homes at all.
Renegotiating the social contract
Home ownership has been a tenet of the American dream since the end of World War II, along with a college education and a nuclear family. Though many facets of American life have changed in the 90 years since James Truslow Adams first coined the phrase "American dream," the desire for home ownership is perhaps stronger than ever—a 2018 study found that nearly 90% of millennials wanted to own homes, though most had concerns about how they could afford it.
The importance Americans place on home ownership is a cultural value, a result of the country's philosophy and history. "Our values are culturally held; we transmit them through time and through people," says Tara Quinn, a research fellow at the University of Exeter who studies how people are adapting to climate change. The stories a culture tells itself, either on purpose (through propaganda or advertising) or by happenstance (a byproduct of a hit movie), can reinforce its cultural values.
But those stories can also alter a country's values; so too can disruptions to the social fabric, like a war or a pandemic. "Values can change because the information we have about something changes," says Quinn. "Sometimes that's in response to pressures from [things like] climatic change, and it can be because of physical changes we see that makes what we used to value fundamentally different to how it previously was."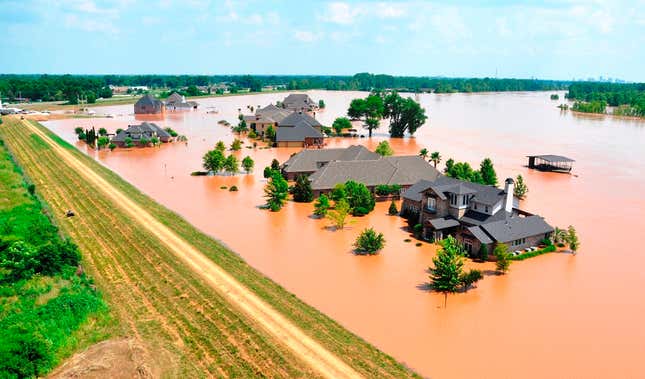 Climate change could be exactly such a disruption. "I like to say that climate change is the policy problem from hell," says Anthony Leiserowitz, the director of the Yale Program on Climate Change Communication. It takes two values that have been at odds since the US's founding—individualism and egalitarianism—and puts them in direct conflict.
"It's the worst fit for our underlying psychology," says Leiserowitz. The point of governments is to do things we couldn't accomplish as individuals, he says, "but if your worldview is that government is evil, in comes climate change, which requires at least some role for government to solve this problem at scale. That's already a problem of core principles."
Home ownership also requires a reckoning with individualism and egalitarianism. Though homeowners are individually responsible if something happens to them, Leiserowitz says, larger systems exist to support them. "Even individualists borrow money from banks and have to have homeowners' insurance or flood insurance," says Leiserowitz. "The government can step in and provide help…when their home is destroyed or if they need money to rebuild."
Climate change only amplifies the conflict between those value systems. Today, if individuals don't want to buy a house that will succumb to the effects of climate change before they can pay off their mortgage, they have to do their own research. These are the effects on the real estate market we're already beginning to see—people pulling out of sales when they realize the cost of insurance, sluggish sales in at-risk markets, and rising home costs in areas preserved from climate change's most harmful effects.
As people realize the necessity of climate-based action and warming-induced events become harder to ignore, government systems aren't changing to match. Experts fear an insurance crisis characterized by unaffordable premiums. An increasingly fragile global economy could crumple under the battery of sudden (though not entirely unexpected) climate events, dragging GDP down with it. And despite these projections, construction continues in areas that will be among the most vulnerable—and the federal government has been slow to intervene.
Growing numbers of Americans are already rethinking other cultural values that contribute to climate change, from car ownership to flying to having kids. If citizens feel that governments are not adequately caring for their needs as individuals or as a society, it may trigger a renegotiation or evolution of the social contract, or what citizens expect of their governments, Quinn says.
"Expectations of government and perceptions of government action can affect how secure people feel and the action they are willing to take themselves," she says. The government's actions to encourage home ownership—or its inaction—will have a direct impact on whether home ownership will be something attainable or even desirable for individuals in the coming decades.