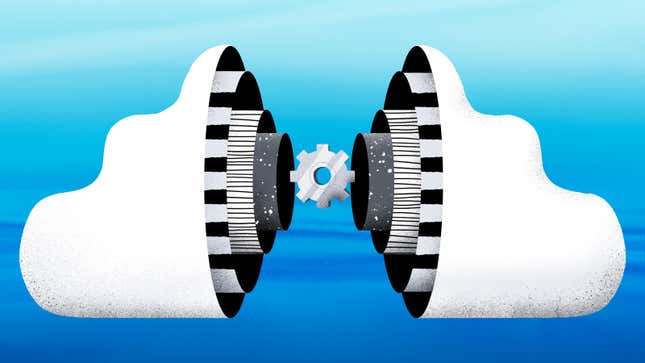 When Quartz launched in 2012, its founders were inspired by the idea of bringing business news online to a younger generation of executives. But that wasn't their only vision. "From day one, we built Quartz with the expectation that it would be ever-changing," remembers co-founder and CEO Zach Seward. As a veteran of newspaper and magazine publishing, he had seen firsthand what happened to legacy companies who got caught flat-footed in the 21st-century transition from print to digital.
Even the company moniker—Quartz—hinted at its intentional flexibility. "To us, the name signaled that we intended to be an outlier in business news. This was not a journal, daily, or times," Seward commented back in 2015. Because Quartz emerged at an uncertain moment for media, Seward believed that the company's fundamental advantage was, as he puts it, "being excited by change."
Over the next six years, Quartz launched regional sites, carved out sub-brands, and released first-to-market apps. And a growing fanbase of readers discovered Quartz wherever they preferred to get their news: from qz.com on their laptops, Quartz newsletters on their phones, social media posts, or invitations to topical events.
But a watershed arrived in 2018 when two sizable technology goals at the outset of the year collided with a major business disruption halfway through it.
A critical juncture
First, Quartz decided it would switch from on-premises servers to the AWS Cloud. Second, the engineering team would rewrite its entire code base to improve overall site performance.
Going into that six-month sprint, Quartz was using AWS, but only for background utilities like data collection. For this update, the company needed to rely more heavily on AWS for production-level tools and for Quartz's most integral function: serving the website to its 20 million readers around the globe.
But the move to AWS turned out to be prescient for other reasons.
Just as Quartz flipped the switch on the so-called "Quartz v5" in July 2018, the company was acquired by Uzabase, a data, media, and consulting firm based in Tokyo. This was a critical juncture for Quartz's operations, technology, and ingenuity as the acquisition triggered an immediate pivot in the company's business model—from 100% advertising-based to a hybrid of advertising and membership revenue.
Quartz's move towards paid membership was partially inspired by the successes of other companies across several industries. While the subscription model is an old-fashioned approach—invented for 17th-century periodicals—recent advances in ecommerce technologies have allowed 21st-century innovators to revive it, such as Hulu for entertainment, Duolingo for online learning, BarkBox for pet supplies, and Canary for home security. Startups love it for its promise of long-tail financial stability, and consumers love it for the affordability of an incremental purchase.
While the shift in revenue strategy may seem simple in theory, the technological reality of such a change is anything but. Spinning up a membership offering requires the adoption of two complicated systems: a user database and payment processing.
So as Quartz has always done, it stayed nimble, recognizing that leaning even more on AWS could be the solution.
"We didn't do the code update to support a membership program," Seward says, "but right after v5 was deployed, it became the first test of our new flexibility."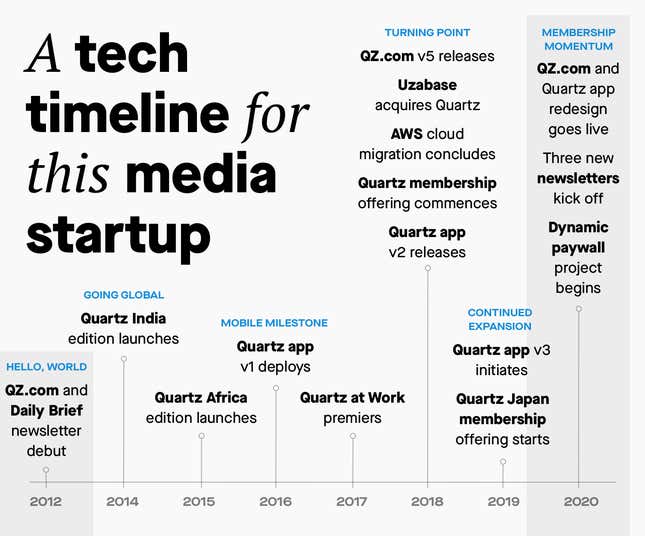 An AWS overhaul
In the two years since evolving its revenue model, a deeper relationship with AWS has enabled Quartz to execute on its core mission with boldness and creativity.
1. Rapid adoption of a subscription model
Just two months after the decision to build a new subscription revenue stream, Quartz Membership went live with a new team, exclusive story packages, and a dedicated section of the website and app. If we hadn't rebuilt on AWS, a subscription venture would have taken us six months to a year," remembers Zach Seward, CEO. "The work of being ready was already done."
Now the company's entire membership function is tied to one or more AWS products, including an integration of the billing system with Stripe via Amazon API Gateway and AWS Lambda and an integration with the email provider SendGrid via Amazon API Gateway and AWS Amazon Simple Queue Service (SQS).
"It would have taken four times the people and hours to build membership's underlying infrastructure, and that's before we wrote any of the logic or devoted resources to maintain it," says Chris Zarate, director of product engineering.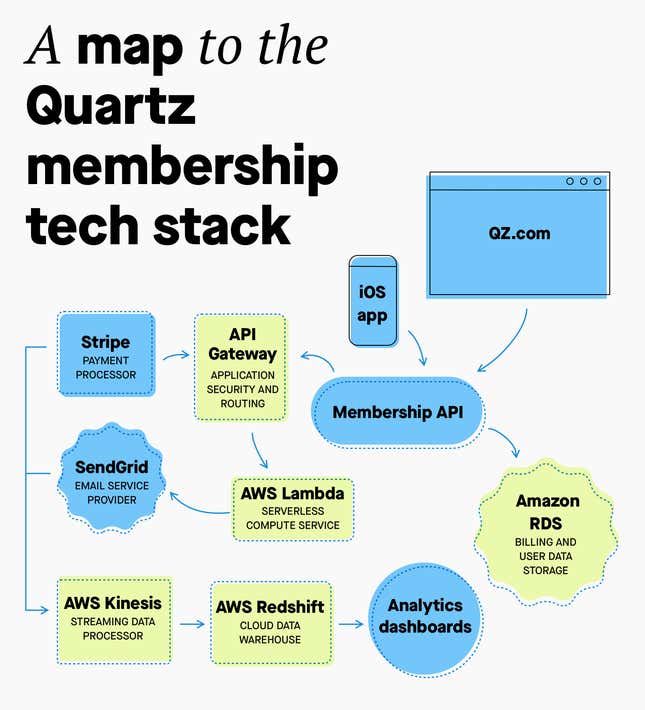 2. Smarter personalization through machine learning
"The project most interesting to me right now is our dynamic paywall," attests Seward, describing the technical approach to limiting access to content. It's an approach that's been used throughout digital news since the mid-2010s, though in the early days these paywalls were rigid; a reader was simply allowed to retrieve the article or blocked. But with recent advancements in machine learning, a paywall can become more surgically "porous"—analyzing user behavior and intent to more intelligently identify what content should and shouldn't live behind the paywall.
Currently, the logic for when qz.com triggers its paywall is simple: Either only paying members get access, or entry is based on how many articles a user has already read for free that month. "We're in the process of switching to a more sophisticated algorithm," says Seward. "It takes into account other factors like the nature of the content, time of day, geographical location, and how they navigated to qz.com, for example, via Google or Facebook," he says.
The result? A more educated guess on every reader's propensity to subscribe. "And that entire project runs on AWS," Seward continues.
The site has also started using the magic of machine learning to make article recommendations at the end of each story dynamic and timely, while a new Discover section further aids with content discovery. Sorting the news by timestamp, topic, popularity, or format, the reader tool was turned around in just three weeks, says Emily Diamond, product director.
And these combined personalization tactics are working; Quartz's monthly recurring revenue—the gauge of a healthy subscription business—is up 802% from the end of 2018 to August 2020, says Seward.
3. Reliable, cost-conscious infrastructure
The 2018 move to AWS has also allowed the site to hum. New stories are published and new members sign on around the world—all without a hiccup. Much of this reliability and performance can be credited to the AWS Global Infrastructure, which delivers the highest network availability of any cloud provider, single-digit millisecond latency, and complete redundancy.
"If one server goes down, AWS can run it on another one," says Zarate.
Additionally, by using the Amazon Elastic Container Service (Amazon ECS), developers can run the company's website, APIs, and iOS news app securely inside a gated service that isolates it from other enterprise AWS users. This helps keep all the site's global reporting safe for the members who depend on it for their business decision-making every day.
And AWS enables Quartz to automatically scale up to meet demand and back down when that demand recedes, reducing costs and allowing the company to pay only for what it uses. "This would be daunting, if not impossible, without web-hosting on the AWS Cloud," says Zarate. "We're only paying for the service we need, exactly where and when we need it."
4. Operational efficiency in every corner of the company
But it's not just the product and engineering teams that are leveraging AWS every day. Insightful business analysis is at the core of its burgeoning membership menu, and the Quartz newsroom depends on AWS, too, to keep tabs on their stories and member preferences.
How? AWS is the glue between its content management system WordPress—where journalists upload their stories and artwork—and its collaboration tool Slack.
This connection automates Slack alerts to the company's international network of writers when a new story goes live, if an article was edited after it was published, or if an editor needs to review it. It also tells writers how readers are responding to their work. And, most importantly for the membership initiative, the Slack bot reveals if their bylined work has been put behind the paywall to incentivize customers to commit.
5. Freedom for teams to innovate
The switch to an AWS suite also frees up energy to experiment—an essential piece of Quartz' DNA.
As Seward remembers, what started as a silly test—a Quartz bot command in Slack "/qzbot ping" that responded with "pong"—has morphed into a crucial workflow engine with Amazon ECS.
The Quartz bot now automates repetitive engineering tasks like creating and destroying staging sites as well as meatier ones. As Zarate describes it, "When you're on physical hardware, making a new staging environment of a site is a laborious task, so everyone ends up merging code into the same pre-production environment and QAing in that." Before AWS, a single engineer and her code could hold up other deploys, making the QA process rushed and often causing deployments to be aborted.
With Amazon ECS, there's almost no friction to have two, 10, even 20 staging environments running code at same time. Engineers can create them in mere minutes with an easy Slack command and invite teammates to thoroughly check for bugs.
Before AWS, the development process was all about getting individually to the finish line for inspection. After AWS, the team gets across the finish line together.
"This changes the product and engineering dynamic entirely," says Zarate. The team is now looking at prototypes, getting technical and UX feedback, integrating those comments, and collaborating with designers to come in and polish it.
"It's not even about QA anymore," says Zarate. "It's about iterating in front of your team." Diamond adds, "With more visibility across stakeholders and less friction to deployment, we've built a faster, more confident product team.
"Using AWS, we can take on more ambitious projects in less time," says Zarate, "such as new versions of our homepage and iOS app, released this summer." Using component code and a shared design language, the team architected a seamless news experience between the two interfaces in just three weeks.
A plan for whatever's next
In the ups and downs of media in the past eight years (consolidations, closings, the rise of social media, the demise of cookies) Seward and his team are ready for the next big challenge with AWS as its multifaceted cloud provider.
"Business shifts can be completely disorienting or go smoothly," says Seward. "From a technical standpoint, moving to a hybrid membership/ad model didn't throw things off course because of the nature of our infrastructure on AWS."
And even though Seward admits that paying for journalism introduces a barrier, he's challenged his product and engineering teams to make the experience fast and intuitive. "Sign up for membership in 30 seconds and get to the article you want to read," was his mandate.
"AWS is looking every day to find more problems to solve, so it lines up perfectly with our engineering POV, which is 'We've built something. We're proud of it. But we can't spend our time maintaining the past. So we ask, 'what's next?'" says Zarate.
After eight years, Seward's company mantra is clearer than ever: Stay ready for change.


This content was produced on behalf of AWS by Quartz Creative and not by the Quartz editorial staff. Sources are provided for informational and reference purposes only. They are not an endorsement of AWS or AWS's products or services.