In a speech to Russia's parliament shortly after Crimea's referendum on rejoining Russia last month, president Vladimir Putin cited the reunification of East and West Germany as a precedent for annexing the Ukrainian territory. In the run-up to German reunification, Russia supported the "sincere, unstoppable desire of the Germans for national unity," Putin said. "I expect that the citizens of Germany will also support the aspiration of the Russians, of historical Russia, to restore unity."
So far, this appeal to historical parallels has mostly fallen on deaf ears. Since the crisis in Ukraine flared up, Putin, who cut his teeth as a KGB agent in Dresden and speaks fluent German, has been on the phone with German chancellor Angela Merkel, who grew up behind the Iron Curtain in East Germany and speaks fluent Russian, more than any other world leader. But just as Merkel, like many others in the West, may misjudge Putin's motivations, there are signs that the Russian leader is equally misguided in his reading of the German chancellor.
Putin appears to see Merkel as a pliant leader in the mold of her predecessors. But in her deliberate, no-nonsense style, Merkel has been gradually rewriting the rules that have long governed Germany's relations with Russia.
Vested interests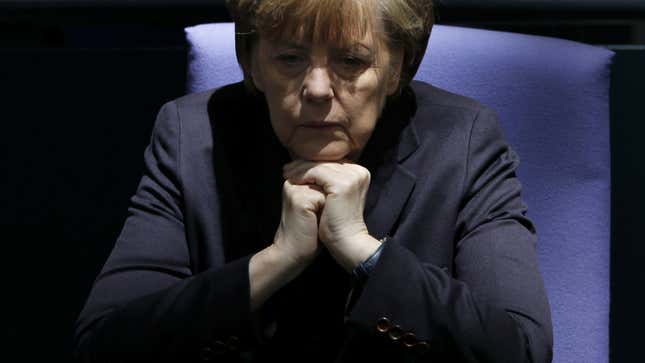 Well before the unrest flared up in Kiev, Merkel expressed misgivings about Putin (paywall), noting that talks with the Russian leader surfaced uncomfortable memories of the Stasi, East Germany's hated secret police. Shortly after the invasion of Crimea, Merkel famously described the increasingly inscrutable Putin as "in another world."
Since then, the chancellor has spoken forcefully about the "massive" damage that sanctions can have on Russia's economy. With "unprecedented steel," she has threatened broad-based economic sanctions if Russia pushes further into eastern Ukraine.
This rhetoric, however, is at odds with the reality of Germany's deep business ties with Russia. In recent weeks German energy group RWE has agreed a multi-billion dollar deal to sell a business unit to a Russian oligarch, while chemical giant BASF is putting the finishing touches on an asset swap with Gazprom, Russia's state-run gas behemoth. Siemens CEO Joe Kaeser met with Putin in Moscow two weeks ago.
In private, Merkel told a recent meeting of her political party members that she will "work every day to ensure that we continue to speak with Russia," according to the Wall Street Journal. Indeed, the conventional wisdom is that Merkel won't dare cross her country's powerful business lobby by imposing harsher economic penalties on the Russian regime. One particularly outspoken industry group (link in German) has been pushing hard against any restrictions in trade, even the relatively mild sanctions imposed by the EU thus far. Some 6,200 German companies, employing 300,000 workers, depend on business with Russia, the group claims.
But Merkel's government recently suspended a €100 million ($138 million) deal for Düsseldorf-based defense contractor Rheinmetall to sell combat simulation gear to Russia, dubbing the agreement "unacceptable in the current circumstances." The swift suspension of the deal—three days after the referendum in Crimea and only hours after Rheinmetall said publicly that it intended to honor the contract—suggests that Merkel may not be as beholden to the business lobby as many think.
"Europe and Germany will put geopolitical goals higher than before," says Claudia Kemfert of the DIW research institute in Berlin. Businesses will squawk, and maybe even demand compensation for lost sales, she says, but "the situation is different than ever before."
Eastern promises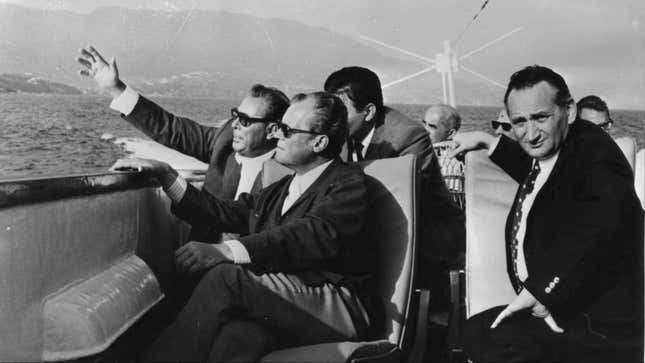 The biggest difference, politically speaking, between Merkel and previous chancellors is her rethink of Ostpolitik (eastern policy), the foreign-policy doctrine devised by West German chancellor Willy Brandt when he took over in 1969. At the time, the idea was that dialogue and cooperation with the Eastern Bloc, instead of hostility, would ease Cold War tensions and undermine repressive communist regimes in East Germany and beyond. This has been the guiding principle of Germany's foreign relations ever since—stressing stability and mediation over uncertainty and conflict, no matter how unsavory the actions of the counterparty.
That doctrine seemed to enjoy the ultimate vindication under Merkel's mentor, former chancellor Helmut Kohl. His embrace of reconciliation with the East after he came to power in 1982 was credited, in part, with hastening the fall of the Berlin Wall. This, and Merkel's East German upbringing, led many to believe that, when she came to power in 2005, she would embrace Ostpolitik as readily as her predecessors had done for the previous 30-odd years.
But the policy Merkel inherited from Gerhard Schröder, her immediate predecessor, was not the same as the one Brandt originally devised. A prescient analysis last year by Hans Kundnani of the European Council on Foreign Relations explains that as Germany's mighty export machine revved up (today, foreign sales account for around half of GDP), policymakers recast their foreign policy along purely economic lines. Whereas Brandt sought political and cultural ties, in addition to financial links, Ostpolitik under Schröder was reduced to the "simplistic and increasingly questionable assumption that trade brings change," Kundnani writes. This allowed Germany's political leadership to justify "business as usual under almost any circumstances" with Russia, China, and other authoritarian regimes.
Pipeline politics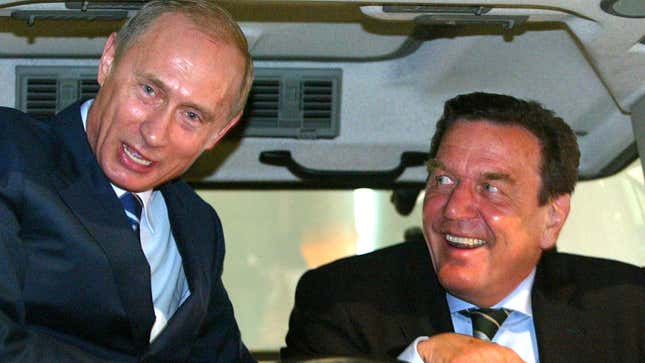 Schröder's relationship with Putin was perhaps the coziest of any German leader. As chancellor, he was an advocate for the Nord Stream pipeline, which pumps gas directly from Russia to Germany, bypassing uppity transit countries like Poland and Ukraine. Shortly after he left government, Schröder controversially took over as chairman of the Gazprom-controlled company that operates the pipeline.
Schröder counts Putin as a friend and has spoken critically of the EU's role during the crisis in Ukraine. But when he talks about Crimea, Germans hear his financial interests talking, says Frances Burwell of the Atlantic Council in Washington, DC. Mainstream German thought sides with the Ukrainians, she adds.
If anything, Schröder's comments have served to harden Germany's position. Even former Schröder protégés who serve in Merkel's government are taking a hard line against Putin, as they sense the shift in the mood of the general public towards the country's ties with Russia.
"The exclusive energy relationship [with Russia] that chancellor Schröder tried to build will get more scrutiny, and will be met with more resistance than before," says Jonas Grätz of the Center for Security Studies in Zurich. He notes that Germany's lack of terminals to receive shipments of liquefied natural gas is down to the former chancellor's policy of binding Germany's energy supply closer to Russia. This reliance now makes Germans nervous.
Asymmetric warfare
It also opens Germany up to criticism from allies, who claim that its judgment is clouded by its reliance on Russian gas to power the factories that make the goods its companies then sell back in Russia. But Russia relies much more heavily on trade with Germany than vice versa, since the bulk of its exports are in a few narrow energy categories. German firms, by contrast, sell a wider variety of industrial and consumer goods in Russia, and it's just one of many markets around the world eager to buy their wares.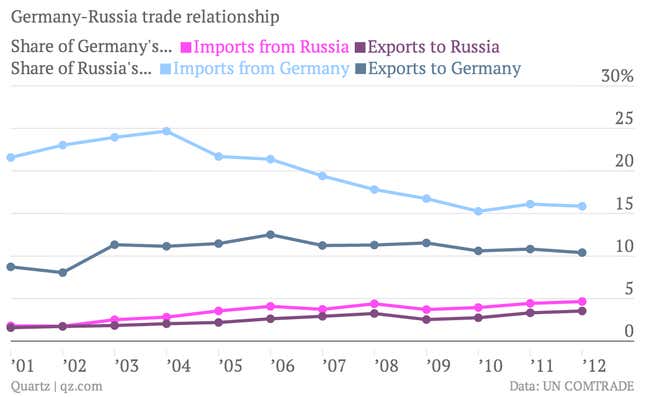 What's more, Russian gas flowed into Western Europe throughout the worst of the Cold War, so "it's not unthinkable that this relationship would continue even during a war," notes Arno Behrens of the Centre for European Policy Studies in Brussels. Gazprom has said that it will honor its contracts with Germany, come what may. "We're interested in selling this fuel in order to earn money on behalf of our shareholders," an executive said. It would be hard for Russia to project power in its neighborhood by cutting off its main energy customer—the European Union—and forgoing its dominant source of government revenue.
These revenues are already under threat. In recent years EU members have been bolstering gas storage levels and cross-border interconnections, which reduces the damage Russia could do if it turned off the taps. And Germany is doing more than most to revamp its energy mix, with an ambitious plan for renewable energy to replace both nuclear and fossil-fuel-burning power sources. The plan could gain greater urgency amid fears that Russia will play politics with its energy supply—at least with the gas it pumps to Western Europe via Ukraine. Merkel recently called for a "completely new look" at energy policy, citing British and Norwegian gas as useful alternatives to Russian supplies.
European unity
The cost to the EU of forgoing Russian gas imports would be steep, to be sure, but not as steep as the cost to Russia's already sputtering economy. The problem is that the costs of the EU curtailing trade with Russia—in energy or any other industry—are not equally shared. When faced with these sorts of calculations, "Europe often prefers a lowest-common-denominator approach," according to Georg Zachmann of Bruegel, a think tank in Brussels.
But here, too, there are signs that the crisis in Ukraine will force the EU's foreign policy to become more long-term and collective in nature, rather than short-term and driven by narrow national interests. And as with the euro zone's debt crisis, Merkel is being thrust to the fore.
In decisions unthinkable before the global financial crisis pushed the euro zone to the brink of collapse, Germany has subscribed to sovereign bailouts, a pan-European banking union, and several other burden-sharing measures. There was plenty of angst along the way, but Merkel's party still won a thumping election victory in September last year. Anti-EU political parties have also made fewer inroads in Germany than in other EU members.
That makes it less surprising when key figures from Germany's business lobby now acknowledge the broader logic of reducing ties with Russia even as they lament lost business. "International law is for me—for us—more important than anything else," the president of the country's main industrial lobby group (paywall) said last month. The message is getting through that the old rules of Ostpolitik no longer apply.
Frozen out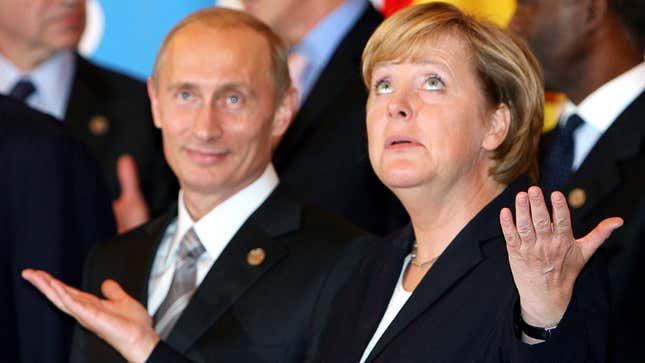 As Merkel ushers in a new chapter in Germany-Russia relations, it will reflect her cautious, incremental style. Sharp, sudden sanctions are off the table unless Russian troops roll into other restive Russian-speaking territories. After all, Merkel's popular appeal at home rests on her image as, quite literally, a safe pair of hands.
With frost, instead of fire, Germany is set to gradually reduce its ties with Russia in retaliation for its incursion in Ukraine. Dispelling the export-led, ideologically-neutral doctrine of Ostpolitik, Merkel's Germany is beginning to put its principles on par with commercial concerns, appearing to accept some short-term financial pain in return for long-term geopolitical gains.
The capital steadily pouring out of Russia, chunks of it repatriated by German firms, is unlikely to return any time soon. And German executives will think twice before paying visits to Putin in the future, both because of Russia's increasingly unstable political situation and the fear of opprobrium at home. Heather Conley of the Center for Strategic and International Studies in Washington expects a long, fundamental lessening of financial ties between Germany and Russia. "It will happen over many years, and it is not going to be a very easy process to watch," she says.
Putin's appeals to the past have played well at home, boosting his approval ratings to near all-time highs. But when Germans hear him cite historical precedents to justify Russia's annexation of Ukraine, it reminds some of them of another historical annexation that was a lot more sinister. It also reminds them that, over time, Germany's policy of engaging with regimes that don't share its values has morphed into something less idealistic and more mercenary.
As Merkel recasts Germany's role abroad, she too has been buoyed by robust approval ratings—not far below Putin's, in fact. The Russian leader will find her a lot less pliant than her predecessors; and what is more, merely de-escalating the conflict in Ukraine may not imply a return to business as usual between Berlin and Moscow. And where Germany leads, Europe often follows.
With additional reporting by Steve LeVine