Success doesn't come cheaply, at least for fans of the Boston Red Sox.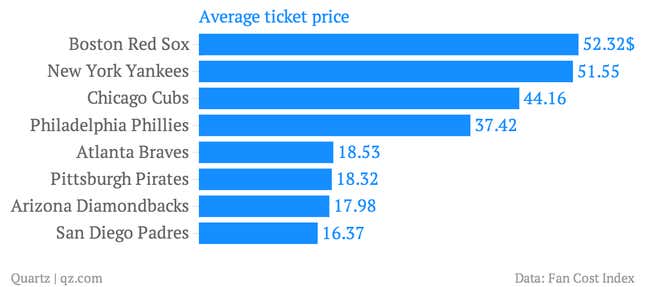 Five months after the team won its first World Series since 2007, the Red Sox has prevailed in another competition: the most expensive tickets in the country. According to the latest Fan Cost Index to mark the start of the 2014 season, an average ticket at Fenway Park for the new season costs $52.32—80 cents more than that to see the second-place Yankees. Fenway Sports Group, the owners of the Red Sox, raised prices by 4.8% relative to last season, compared with a league average of 2%. Other supporters to be hit hard include those of the Detroit Tigers (up 5.1%), Los Angeles Dodgers (15.3%) and Kansas City Royals (24.7%). Two teams cut prices, both as a result of struggles on the field last year. The Miami Marlins, who lost 100 out of 162 games, knocked 7.7% off its average ticket price, while the Houston Astros cut prices by 13.6%, after losing 111 matches last year, their worst-ever season.
The Red Sox fans can expect to pay more in sundries, too. The index also assembles a basket of ball-game essentials—tickets, beers, soft-drinks, hot-dogs, parking, programs and caps—and complies a total. Again the Bostonians came out the most expensive, at $350.71. This was more than twice the price paid by fans of the Cleveland Indians, San Diego Padres and Arizona Diamondbacks, the cheapest teams in the survey. But high prices are affordable if wages are, too.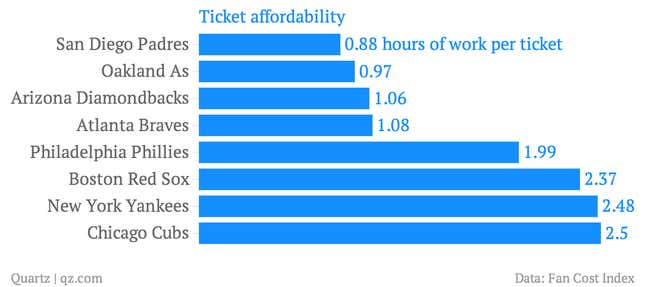 To illustrate, I compiled this measure of affordability, based on average ticket prices and data on median wages from the US Bureau of Labor Statistics. And the most affordable tickets in the county are available to fans of the Padres and the Oakland As. These were the only two teams in which the average ticket price was below the median hourly wage in their respective cities. At the other end of the scale, tickets to see those legendary losers, the Chicago Cubs, are the least affordable in the country for local workers, with a seat costing the equivalent of 2.5 hours of work. Despite the high wages in Boston and New York, the tickets for the Yankees and the Red Sox remain relatively unaffordable, as do those in Philadelphia and St Louis. And as for the MLB's most affordable hotdog? That's found in Cincinnati, where it takes just 3.5 minutes of work to earn the dollar that it costs.