The increasingly crowded battle for control of your living room might be leading us into a new golden age of television. But in the eyes of the viewing public, one company remains head and shoulders above the rest when it comes to the quality of its shows: HBO.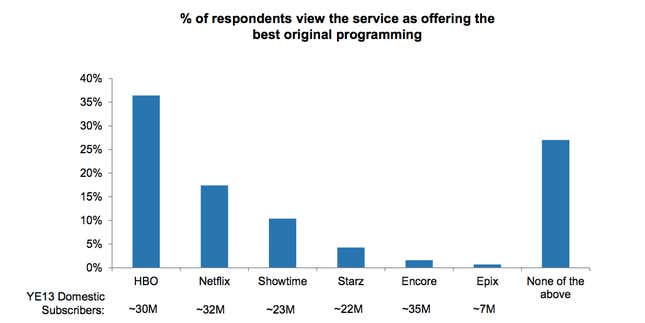 The above chart comes from a survey conducted by Morgan Stanley earlier this year. HBO has another chance to demonstrate its prowess in producing original content on Sunday night, when it releases the fourth season of its hit fantasy drama Game of Thrones, and a new comedy series Silicon Valley. The former is among the most highly anticipated shows of the year—last year's penultimate episode drew 5.2 million viewers —but hype is building around the latter (apparently Elon Musk is not impressed).
Netflix, Amazon and any number of other players (even Apple someday?) are commissioning their own content to support various new business models in TV. But HBO, the veteran of the space, probably won't be changing its approach any time soon. While many people wish HBO would sell its online product, HBO Go, on a standalone, or a la carte basis, they also aren't willing to pay for it. At least according to the Morgan Stanley survey.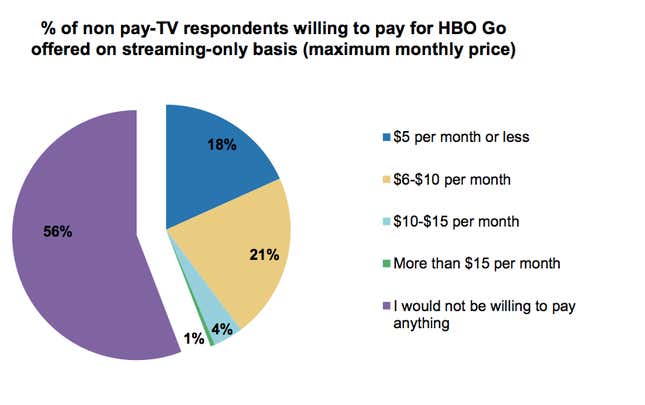 At the moment, HBO generally adds about $15 a month to a cable bill, and with limited exceptions, can only really be accessed with a full pay-TV subscription (or a friend willing to lend you an HBO Go login.)
The television landscape is changing dramatically. But HBO's business model isn't, at least for now. While this might be frustrating, TV fans can at least take solace from HBO's ongoing financial strength because it supports the kind of high quality content they love.