The good news in last week's US jobs was that private sector jobs actually started growing again. But here's the hard truth: American pay packages still look downright feeble.
The most recent employment report, published Friday, showed a key gauge of wage growth—average hourly earnings of US private sector workers—was up only 2.1% over last year. Before the financial crisis hit, it was fluttering around 3.5% yearly growth.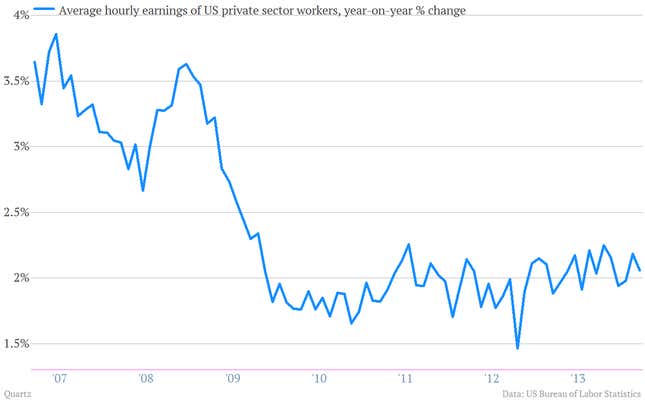 Other measures of US wages show a similar trend. For example, JPMorgan analysts spotlighted weakness not only in earnings for production workers, but in total labor cost data, which include the benefits employees receive as part of their compensation. Both remain well below the pre-crisis trend.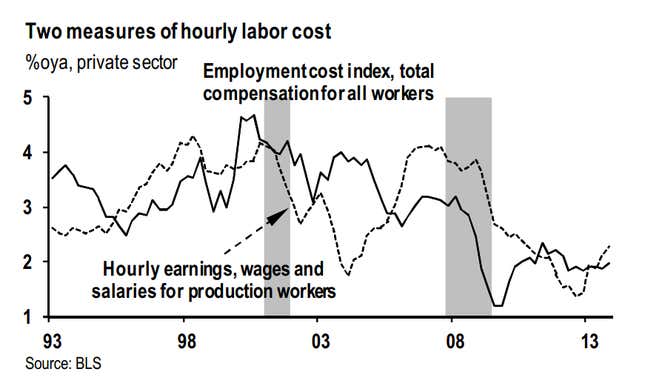 And you can see the weak reality of wages mirrored in US consumer expectations. As part of their consumer sentiment research, the Conference Board asks survey respondents about their expectations for whether their incomes will be higher in six months time. This reading has recently climbed into positive territory. But it remains quite jittery, and well below the kind of expectations Americans had in recent decades.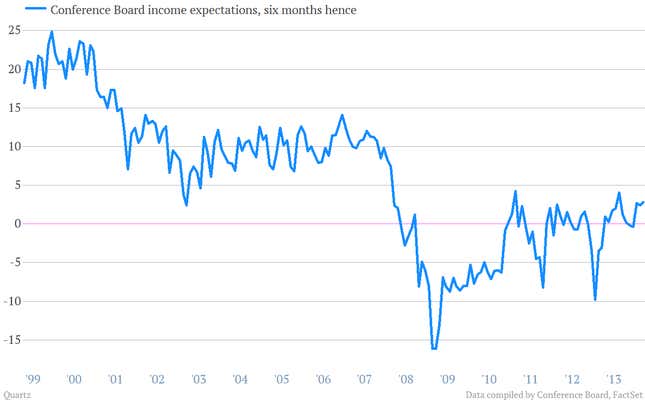 So what's the takeaway? There are plenty. For policy makers, wage growth is seen as a leading indicator of inflation. Without sustainable pay hikes, there's little reason to think the Fed will be forced to hike rates. For politicians, the weakness in wage growth explains a lot about the the sour mood of the US populace. (It may also explain why Obama administration is banging the drum on raising the minimum wage in the run-up to the US midterm elections.) And of course for workers, it means that their negotiating power remains puny. In short, if you're hoping for a raise, don't hold your breath.