These austerity-stricken years have been tough on the world's winemakers. In the oenophile hubs of France and Italy, consumption of red wine has fallen 18% and 5.8%, respectively, since 2007.
That's why China's emergence as a wine-buying powerhouse has been a godsend for the industry. For each year of the last decade, Chinese wine consumption by volume surged roughly 25%, according to Vinexpo, a wine intelligence research company. (Its "China" data includes Hong Kong.)
Except, that is, last year. Chinese wine consumption dropped 2.2% annually in 2013, says Vinexpo. The main culprits? Importers cite president Xi Jinping's anti-graft crackdown, says Vinexpo's Anne Cusson, as well the slowing of the Chinese economy.
The crackdown theory seems to makes sense; after all, it's done a number on the sales of Swiss watches and other fancy things. But Xi's campaign is also the authoritarian regime equivalent of the weather phenomenon El Niño—a conveniently abstract catchall to blame for everything from weakening GDP to ebbing inflation (paywall). And a closer look at the data suggests Xi's crackdown probably wasn't to blame for China's wine decline.
In 2013, Chinese consumption of domestic wines fell 4.9% from the previous year. Vinexpo said that import volumes were unaffected by that consumption slump, though it offered no data. But since imported wines make up 18.8% of the 155.4 million cases China consumed in 2013, wine imports should actually have increased in 2013—and by a healthy 12.7% to boot.

That's still a drop. But if the ban on gift-giving and fancy banquets is behind it, a big dent in Bordeaux imports would be more likely than falling Great Wall sales. That's because, as symbols of conspicuous consumption, domestic wines don't pass muster.
That's not for want of trying. China is now the fifth-biggest producer on the planet, ahead of Australia, Chile ,and South Africa. The biggest Chinese winemaker is China Great Wall Wine Company, a state-owned firm that's been producing ganhong, or "dry red," since the early 1980s (for various reasons, white wine's unpopular.) The government made it the official wine of the Beijing Olympics, serves it to foreign presidents, and christened Great Wall and it biggest competitor, Dynasty Wines, state-recognized "famous brands."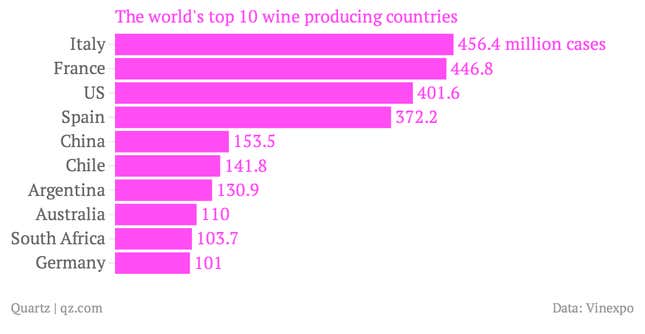 But though government taste tests find domestic brands equal in quality (link in Chinese) to imported vintages, others rank them just below "very cheap" French vin de pays. And since the overwhelming majority of these domestic wines sell for between 20 yuan and 80 yuan ($3-$12)—and import duties are around 15%—importers tend to market only premium vintages, with high-end bottles ranging from 255 yuan to 1,400 yuan.
That's why China's increasingly cosmopolitan consumers would spring for foreign brands, particularly French wines, when they want to impress potential business partners—and why you'd expect imported wines to have taken a bigger thrashing from the anti-graft crackdown than domestic sales.
But if Quartz's calculation of Vinexpo data is right (we asked Vinexpo about it and haven't heard back), Chinese consumers drank 362 million more bottles of fancy foreign wine last year than in 2012, while domestic sales volumes fell. That finding seems to square with the South China Morning Post's report (paywall) that Chinese consumers now trail only Americans as the second-most willing to spend $10-plus per bottle.
True, the anti-graft crackdown probably contributed something to the drop in annual growth of Chinese wine consumption below its previous 25% rate. But the fact that domestic wine sales took a much bigger hit suggests either that Chinese wines have made huge strides in boosting their luxury bona fides—or that there's a larger consumption trend at play.