This item has been corrected.
Last month, the US embassy in Beijing released a trove of data on air quality in the Chinese capital—their readings for every hour since 2008—that paint a pretty grim picture:

The embassy measures the amount of particulate matter in the air small enough to lodge in the respiratory system, known as PM2.5. Such matter has has been at an average of 100 micrograms per cubic meter since 2008, according to the data, about six times what the US's Environmental Protection Agency deems safe. At one point last year, PM2.5 levels reached over 800 micrograms per cubic meter—making it the city's most polluted day since 2008.
The only reprieve Beijing residents get, the data show, is around the time of major events, when authorities close nearby plants and limit traffic to clean the air. The lowest readings came from around the time of China's annual meeting of the National People's Congress, when the hourly average typically drops below 100 micrograms per cubic meter.
Since US officials in Beijing began releasing this information, the hourly readings, published on Twitter, have helped catalyze a debate about air quality in China and have even inspired Chinese officials to launch their own air monitoring operations around the country. The US uses a formula that converts PM2.5 readings into an air quality index where readings at 50 or below are considered good quality. Here are the readings for today, April 10: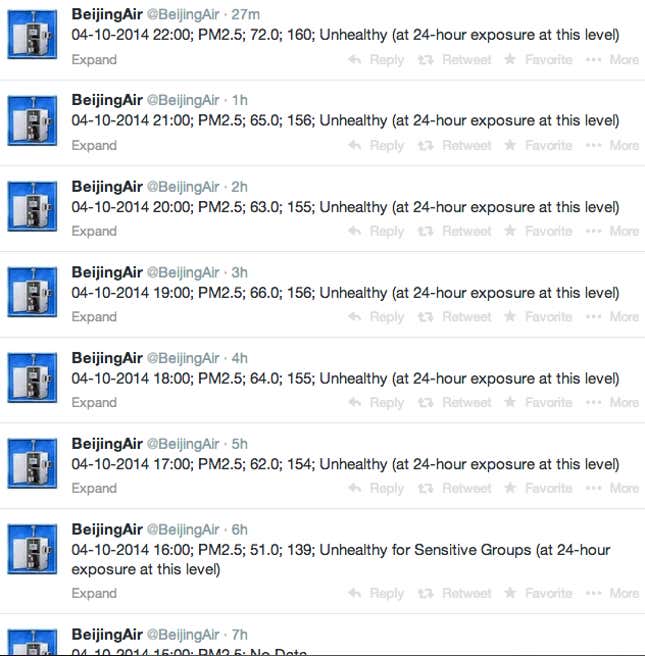 At the same time, the embassy's motivations for publicizing the data in Beijing have been questioned. China's bad air quality has been a source of international criticism, derision, and discontent at home. In contrast, the US embassy in New Delhi does not widely publish its air quality measures, despite air pollution that has hit levels twice as high as Beijing's for several winters running and much lower public awareness of the problem.
Air quality is a problem in both capital cities, but perhaps the difference is their relationship with the US: India has long been a diplomatic ally, but China is increasingly seen as something of an economic rival.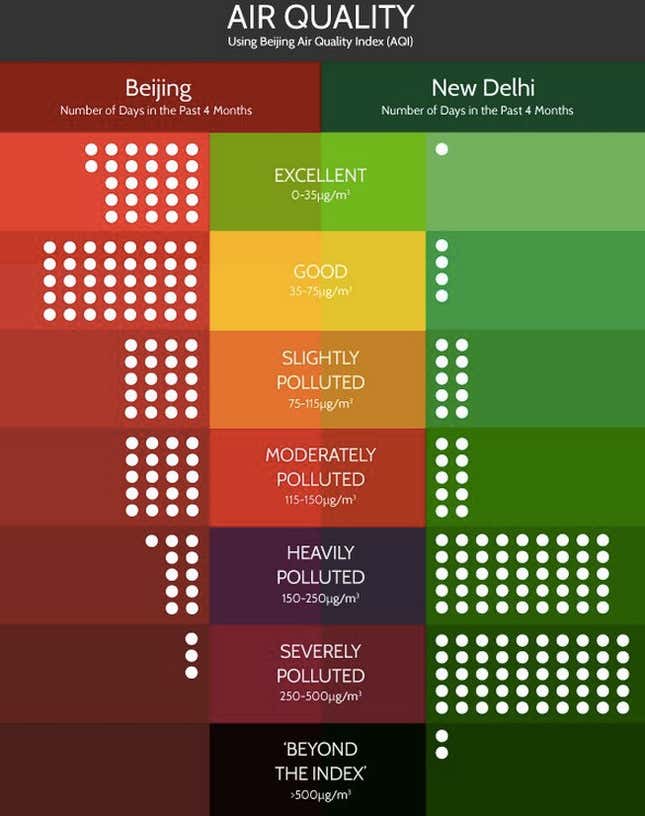 Correction (April 14): An earlier version of the chart of Beijing PM2.5 levels since 2008 used the wrong values for the different levels of air quality. As a result it overstated the number of days where readings would be considered "good."