Shares of Manchester United, one of the world's richest soccer clubs and probably the world's most valuable publicly listed sporting organization, are up by as much as 7% today, and hitting their highest levels in about 11 months.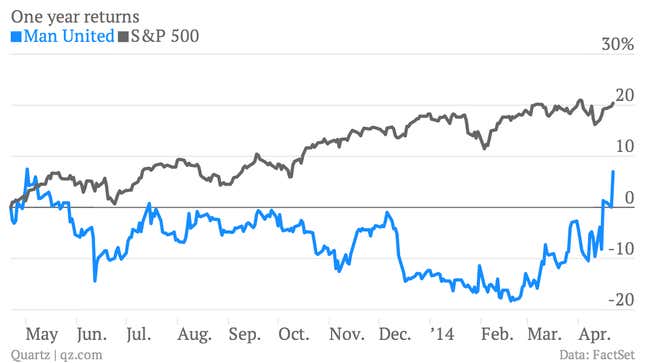 Why? The club fired manager David Moyes today after what some are describing as its worst season ever. A loss at the weekend consigned the team to missing out on next year's lucrative UEFA European Champions League tournament for the first time since 1996. It is currently sitting in seventh place in the English Premier League standings. Last year the club, with pretty much the same squad, won the English title for a record 20th time. Moyes had spent just 10 months as manager, and struggled in the arguably impossible task of replacing Sir Alex Ferguson, who had retired after 27 years.
Deutsche Bank estimated earlier this year that missing out on the Champions League could cost the organization £15 million ($25.2 million), plus £1.25 million for each position it finishes below fourth. The club could face additional costs if the new manager brings in expensive players to retool his squad. But at the moment, investors seem to think that's a better outcome than sticking with the status quo.