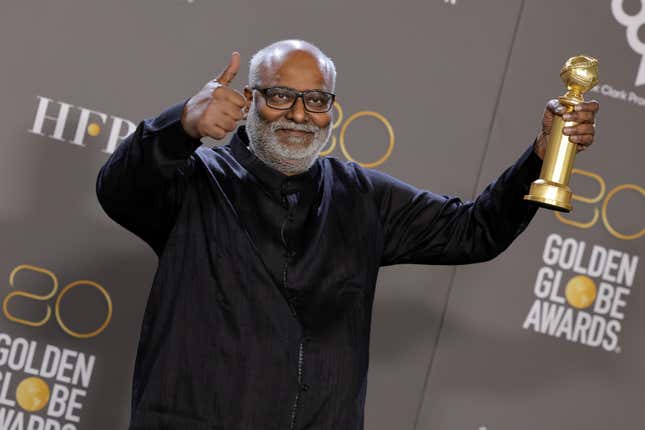 One wouldn't necessarily think of saying the names M.M. Keeravani, Kala Bhairava, and Rahul Sipligunj in the same breath as Taylor Swift, Rihanna, and Lady Gaga—but the 80th Golden Globes Awards changed that forever.

Ben Emons Part 2: The Fed, Apple shares
The musicians from the southern region of India are the trio behind the catchy and upbeat song "Naatu Naatu" from RRR, which won in the "Best Original Song-Motion Picture" category. It beat several US and Mexico-based musicians and their ballads.
"Carolina," Taylor Swift (Where the Crawdads Sing)
"Ciao Papa," Alexandre Desplat, Guillermo del Toro, Roeban Katz (Guillermo del Toro's Pinocchio)
"Hold My Hand," Lady Gaga, BloodPop, Benjamin Rice (Top Gun: Maverick)
"Lift Me Up," Tems, Rihanna, Ryan Coogler, Ludwig Göransson (Black Panther: Wakanda Forever)
The win was a welcome upset for a category that typically rewards star power. After a year's hiatus—a scathing article about the lack of diversity at Hollywood Foreign Press Association (HFPA), which organizes the award show, leading to a break and a sweeping reform—the Golden Globes have come back with a more diverse judging panel. Non-member voters, which consisted largely of journalists based outside of the US, may have "helped to tip the scales in this contest, among others," the Hollywood Reporter noted.
RRR's loss at the Golden Globes 2023
Besides best original song, the Telugu-language movie received a second nomination in the best non-English-language picture as well. RRR's team of hopefuls—director SS Rajamouli and the film's stars NTR Jr and Ram Charan—were all present at the ceremony. However, Argentina, 1985 took the award home.
The RRR craze by the digits
$175 million: RRR's global box office collection
500 million yen (Rs30 crore or $3.8 million): RRR's blockbuster Japan box office collection—a record for Indian films in the country
Other Indian films at the Golden Globes
Before RRR, five other Indian films bagged Golden Globe nominations. UK-India co-production Gandhi (1982) and V Shantaram-directed Do Aankhen Barah Hath (1957) won the awards—Gandhi won in all five categories it was nominated in. Satyajit Ray's Apur Sansar (1959) and two of Mira Nair's films—Monsoon Wedding (2001) and Salaam Bombay (1988)—all received nominations.
Quotable: Eddie Murphy's tongue-in-cheek throwback to Oscars 2022
"I've been doing this for a long time so I could stand up here and keep saying thank you until they play the piano. But I'm gonna wrap it up and just say something to all the up-and-coming dreamers and artists that are in the room tonight. I want to let you know that there is a definitive blueprint that you can follow to achieve success, prosperity and peace of mind. Pay your taxes, mind your business, and keep Will Smith's wife's name out of your (expletive) mouth!" —Eddie Murphy's brief speech accepting the Golden Globes' Cecil B. DeMille Award honoring lifetime achievement
Will the Golden Globes be back (on TV)?
Amid the diversity controversy plaguing the HFPA, NBC canceled the airing of the award show. A pared-down event did take place in 2022 but it was neither televised nor live-streamed. This year, it's tried to come back with a bang but some underlying tension remains.
For instance, Tom Cruise, who gave back three of his Golden Globe awards in the middle of the brewing controversy in 2021, was not in attendance this year despite Top Gun:Maverick being in the running for best motion picture.
NBC's contract with HFPA was only for this year.
The 2023 Golden Globe winners in one chart