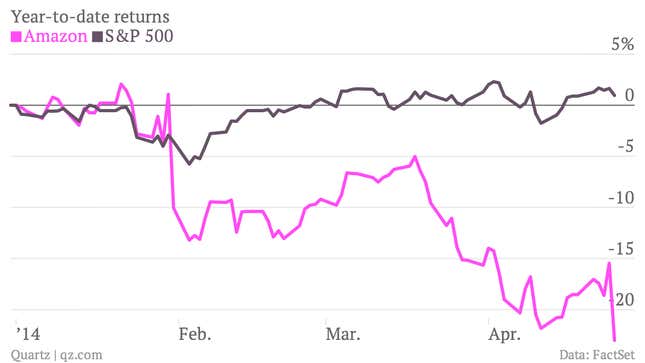 Amazon shares have had a terrible start to 2014. And today, it's gotten a lot worse.
Shares of the online retail behemoth are down about 9% today alone. They've fallen 23% in 2014, compared to roughly flat performance for the S&P 500.
As we discussed yesterday, the e-commerce giant's revenue growth has been astonishing for more than a decade. But Jeff Bezos basically doesn't care about profits. So, instead of letting those sales fall through to the bottom line, the cash flow is reinvested in lower prices for consumers and beefed up infrastructure, such as Amazon's fulfillment centers.
For years, investors have been more than happy to go along with that. Someday their patience will wear thin, and evidence of hard profits will surely be needed. It's too early to declare that day has come.  (Don't forget the stock is up more than 17,000% since Amazon's IPO in 1997.) But the current decline is worth keeping an eye on.