Figuring out when China will become the world's largest economy is a popular pastime among economists and laymen alike. Even as bad debts and property-market wobbles loom over its economy, China has steadily closed the gap with the US.
By one measure, the rubicon could be crossed as soon as this year. But this estimate has plenty of critics, and it includes the impact of statistical revisions that have inflated all developing economies.
Purchasing power parity, or PPP, is an economic concept that eliminates the variations in price levels for goods and services in different countries, which, in theory, allows for more consistent comparisons. After all, a Big Mac in China is half as expensive as the same burger in the US. On a PPP basis, China's economy was 87% of  the size of the US's in 2011, the World Bank's International Comparison Program reported today, up from 43% in 2005.
Given that the IMF reckons that China's economy grew by 24% between 2011 and 2014, and the US's by only 8% over that time, China's economy is "likely to overtake the US this year" on a PPP basis, the Financial Times concludes (paywall).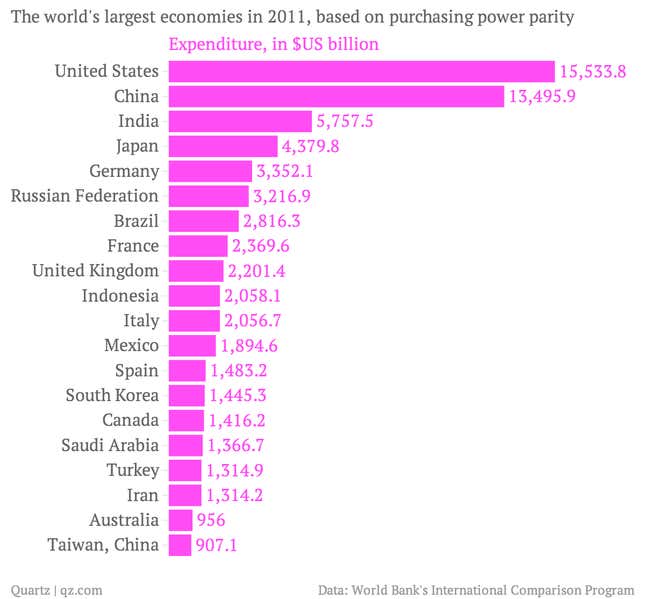 But PPP is far from foolproof, as the World Bank warns:
PPPs are statistical estimates. Like all statistics they are subject to sampling errors, measurement errors, and errors of classification. Therefore, they should be treated as approximations to true values. Because of the complexity of the process used to collect the data and calculate the PPPs, it is not possible to directly estimate their margins of error. Therefore, small differences in the estimated values between economies should not be considered significant.
In this particular report, the World Bank has also substantially changed the way that it measures developing economies from its 2005 report, by revising down the estimated cost of prices of goods and services. This ultimately makes the economy larger, when based on purchasing power. When the 2005 report came out, it did the opposite, substantially increasing those estimates, essentially shrinking China's economy by 40% overnight.
Using prevailing exchange rates, China's economy remains only around half the size of the US's. India also drops several places in the rankings, its nominal GDP worth around one-third of third-ranked Japan.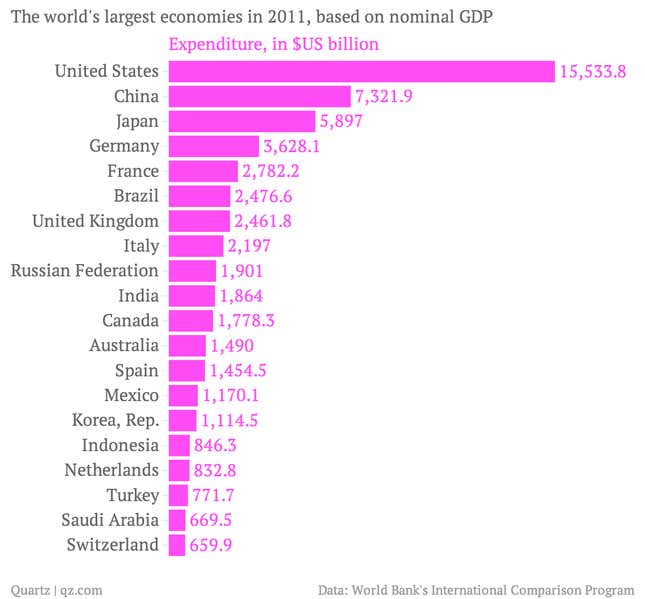 So although China may claim bragging rights as the world's largest economy on a PPP basis, it still has a long ways to go when it comes to more traditional measures of output. But there is one area where China recently surpassed the US—income inequality. A recent report showed that the gap between China's wealthy and poor just edged out the US this year.