China already has the world's longest high-speed rail network. And the country aims to more than double the amount of high-speed railway by 2015 from the existing 10,000 km (6,000 miles) to 19,000 km—and eventually 25,000km by 2020. Officials want to build everything from an undersea railway tunnel from the Chinese shore to Taiwan—twice the length of the Channel Tunnel between France and Britain—to 1,776 km of high-speed rail through isolated deserts in the west of the country.
In that context, it almost seems feasible that China would be considering a recently discussed project—13,000 km of high-speed railway that crosses from China to Russia and North America that includes a 200-km tunnel under the Bering strait. A railway expert at the Chinese Academy of Engineering told the Beijing Times that officials are having discussions about the project.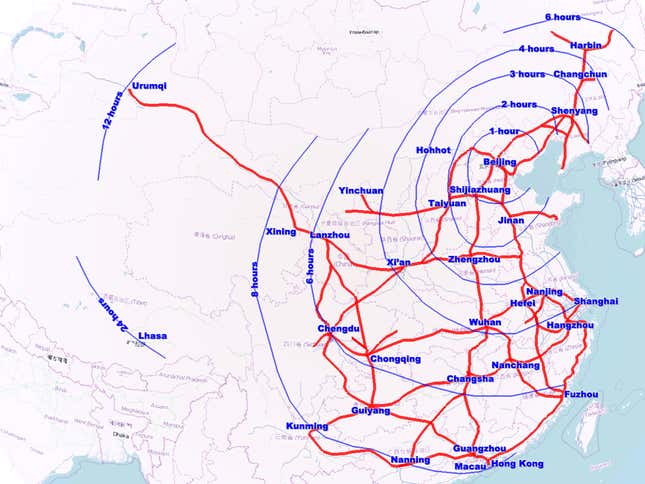 A railway from China to the US might bring the two countries closer, at least geographically, but it would be an absurd project. China is already spending an estimated $32 billion on an underwater tunnel that measures just 123 km long. And officials estimate that 1,776 km of railway being built from Lanzhou in the western province of Gansu to Xinjiang will cost about $24 billion, which is cheap compared to China's previous high-speed rail projects.
If those costs are any comparison, the so-called "China-Russia-Canada-America" line could cost north of $200 billion—$52 billion to construct an undersea tunnel to cross the Bering strait and $172 billion for the rest of the railway across land. That would account for well over half of China's already massive high-speed rail budget of $300 billion. China may be one of the best examples of countries that love mega-infrastructure projects, but even this may be too much.