It's looking like the first domino from Comcast's proposed takeover of Time Warner Cable is about to fall, with pretty much the entire financial media reporting over the past 24 hours that AT&T is closing in on a $50 billion bid for DirecTV.
Such a deal would lead to further consolidation in America's rapidly converging communications markets, and add to worries that there isn't enough competition. DirecTV has about 20.3 million video subscribers in the US, which makes it the second biggest pay TV business in the country behind Comcast.
As it happens, DirecTV also has a growing presence in Latin America. For example, it's the dominant player in Venezuelan pay TV: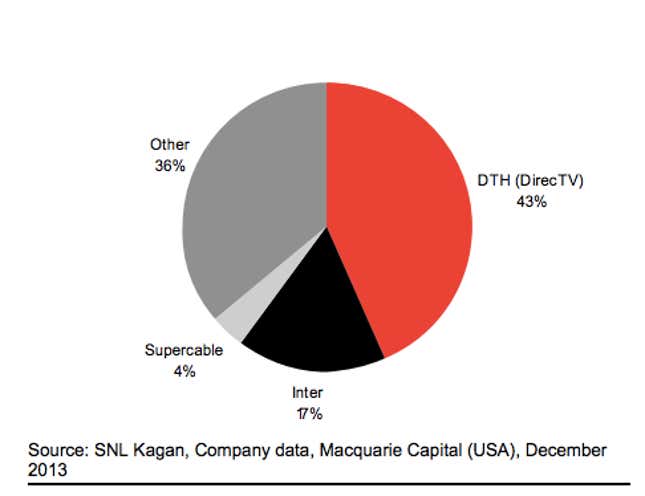 And it also has a presence in other Latin American markets that aren't in the throes of soaring inflation and fears the government will impose limits on profit margins.
All the same, AT&T's potential bid for the company is really about the US. It could bundle DirecTV's video product (including the popular NFL Sunday Ticket packages) in with its mobile subscriptions and/or landline broadband access. Bundling is a strategy telecoms and other subscription-based businesses use to hold on to customers—it's harder to end a relationship with a company when you are getting multiple services from it—as well as to drive growth.
Yet prominent analysts have questioned the rationale behind this rumored transaction. Craig Moffett, for one, says AT&T would be able to generate savings on programming costs, but overall,  doesn't think returns on the potential investment will be anywhere near "close to sufficient." (A spokesperson for AT&T declined to comment to Quartz)
And as Deadline points out, some people think the potential bid is really designed to entice a smaller satellite operator, Dish Network, to come to the table. Dish would be cheaper (it has a $27 billion market cap, compared to $45 billion for DirecTV) and the company has large stocks of spectrum with which AT&T could beef up its wireless networks as mobile traffic surges. Charlie Ergen, Dish's buccaneer billionaire co-founder, is fond of a deal; last year alone he tried to outbid Japan's Softbank for Sprint, and orchestrated an audacious grab for spectrum held by bankrupt firm LightSquared (he is personally LightSquared's biggest creditor). Ergin has already ruled out a deal between Dish and DirecTV, its competitor; whether he'd be willing to play ball with AT&T, at the right price, remains to be seen. But, the thinking goes, seeing AT&T swoop in to buy his rival might force him to act.
Either way it looks like AT&T, which was blocked from buying T-Mobile US in 2011 and effectively walked away from a bid for the UK's Vodafone (amid concerns over its involvement in US government spying) is finally gearing up to flex its financial muscle on a big transaction. Shareholders will be hoping it chooses the right one.