By tomorrow afternoon, it will be a full week since reports first surfaced stating that Apple is poised to buy headphones-cum-music streaming operator Beats Electronics for $3.2 billion. And the digital music industry remains utterly perplexed about what this rumored  transaction is actually about.
"The more informed you are about Apple and how music licensing works, the more confused you are by this deal" one well-placed industry source told Quartz.
But at the very least, investors don't seem to think the Apple-Beats tie up is bad news for the world's biggest pure-play digital music business, Pandora Media. That company's shares are up 10% since the Beats deal was reported, compared to a rise of about 1% for the broader market (and about 4% for Twitter, another prominent victim of the recent tech selloff ) over the same period.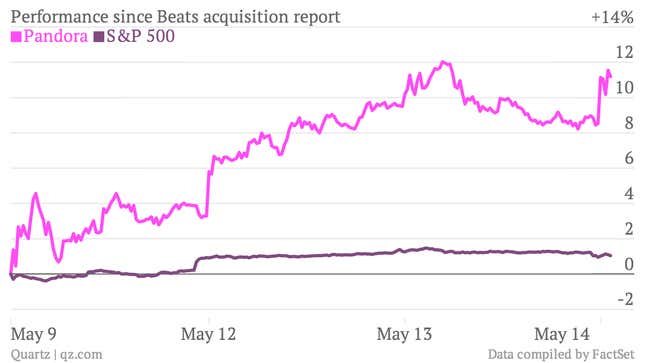 There are two ways to look at this. Apple's iTunes Radio was supposed to be a Pandora killer. It hasn't turned out that way, and the rumored Beats purchase, and Apple's apparent intention to overhaul its entire music strategy, are the ultimate proof of that. The other way to think of it is that Pandora's valuation should benefit from any Beats deal, because if a strategic buyer is prepared to pay up for Beats then someone might be prepared to do the same for Pandora.
We've already looked at some of the theories making the rounds on Wall Street and among investment banker types about why the Beats deal is apparently in the cards. They include the belief that Beats could be a launchpad for an Apple push into wearables, or a way to get its well connected co-founder, Jimmy Iovine into the company.
In the music industry, however, the rumor mill remains in overdrive. One industry source told Quartz there is a growing belief that Apple could use Beats as a springboard to get its music offerings onto mobile devices running Google's Android software. Back in the desktop and iPod era, iTunes shot to prominence once Apple made it available on Windows PCs. In mobile, iTunes remains limited to Apple's own iOS ecosystem, but Beats is already Android-enabled.
Until Apple speaks publicly on the matter, we won't know for sure.