Has Twitter reached a turning point? Shares in the social media company are up noticeably again today (by about 3% currently) after surging 11% yesterday. That was a rise off their lowest levels since last year's IPO.
Let's not get ahead of ourselves here—the stock is still down 45% this year. But only a few weeks ago, worries about slowing user growth and employees rushing en masse to cash out on their holdings once the "lockup period" expired were leading to proclamations of the death of the service.
We have argued that Twitter's biggest problem isn't actually growth—it's a perception issue. The company needs to convince Wall Street that its reach goes far beyond its monthly active user base. Think of all the embedded tweets in news articles and even TV broadcasts that people are exposed to: The challenge is figuring out a way to monetize that.
Analysts at Nomura, who upgraded their recommendation on Twitter shares to "buy" yesterday, fueling the stock price jump, seem to agree, at least in a roundabout way. They argue that Twitter is now priced as a "niche" service, when it actually isn't. And today, another investment house has reportedly upgraded the stock. The positive vibes this week started when Twitter struck a lucrative mobile advertising deal with the major agency Omnicom.
At Re/code's Code Conference in California last night, Twitter CEO Dick Costolo argued that the network's widespread presence in the mainstream media should help drive its user growth over time. "When there's unique global content coming in… that's conducive to bringing new users onto the platform," he said.
Twitter has been criticized by its power users for becoming too much like Facebook, but investors might welcome such a change. Costolo is on record as saying he thinks Twitter can achieve the "kind of margin profiles of our peer group" and Nomura seems to agree, arguing that Twitter's "relatively fixed operating cost structure" should lead to fatter, Facebook-like profit margins in the years ahead.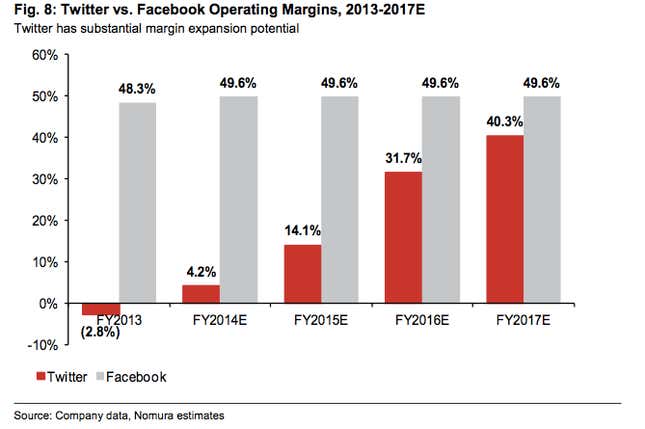 Facebook went through a similarly challenging period after its IPO, when people questioned its ability to transition to mobile (and even its long-term existence) as its stock price sank while employees were allowed to cash in on their holdings. But in subsequent months, the stock price bottomed, and has since recovered and then some. Now the company is performing strongly.
Whether Twitter follows the same path remains to be seen, but if it can continue to shift the balance of opinion on Wall Street, the light at the end of the tunnel could be fast approaching.